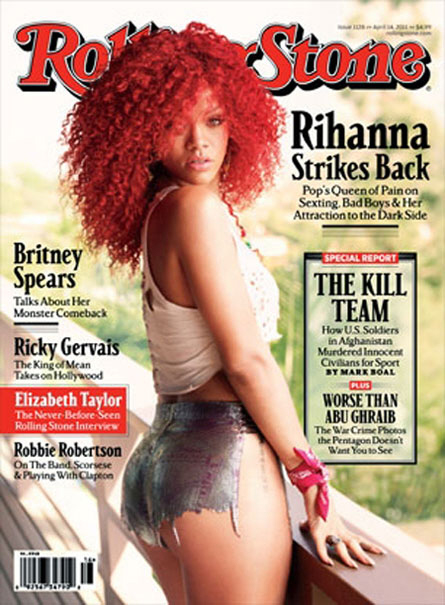 Several commenters yelled at me when I put the link to this Rolling Stone cover in yesterday's links, describing it as "amazing" and perhaps even "iconic". My point was that it's really one of the most striking cover shots Rihanna has ever done, and from a celebrity/entertainer who considers herself a powerful visual artist, that's saying something. Most of the imagery that Rihanna has used over the past few years has left me cold – she's gone through a bondage-y, domination/submission phase, she's played around with the idea of making herself into living, breathing Pop Art, and when all else has failed, she's just thrown on a giant Kool-Aid colored wig and some biscuit-flashing dress and called it a day. As I said, those images don't really matter to me, visually. I don't find them powerful, or interesting, or eye-catching, or even artistic or original.
But this… is interesting. To me, at least. I find myself fascinated by her ass, and enchanted by those faux-shorts. They're metallic, right? It's not, like, treated denim. They're actually some kind of metal made to look like denim. And the way it's cut on her hip… I could stare at this cover for ten minutes and still not figure it out. It's like they're metallic biscuit-covers, but they were made specifically for Rihanna's biscuits. Couture biscuit-covers/vagina-and-ass drapes. And I'm still looking!
Anyway, there aren't any excerpts from Rihanna's Rolling Stone interview… yet. They'll come out in the next few days.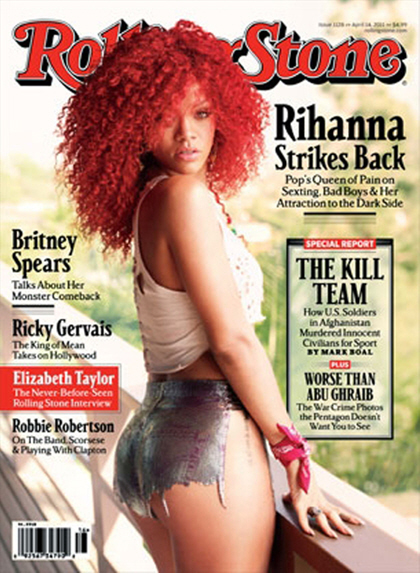 Photos courtesy of Dlisted/Rolling Stone.