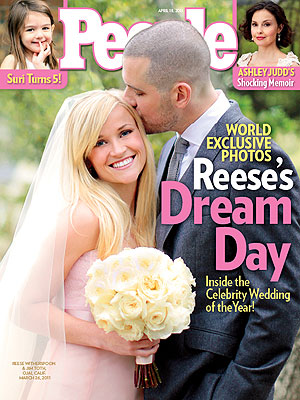 Back when we reported the news that Reese's wedding was about to happen, I said I would love to see some photos. Given how private Reese is, I expected her to release a single posed wedding photo, probably through the Associated Press, and to be done with it. Reese has a whole photo spread coming out in this week's People, though, and they just put the cover online. This confuses me for several reasons. First of all, it's Monday and we usually don't see the magazine covers until Wednesday. (Kaiser reminds me that they did that last week with Elizabeth Taylor's memorial issue.) Also, it doesn't seem like Reese at all! This is a move that "stars" like Carrie Underwood and Hilary Duff make. This isn't something that an A-lister like Reese needs to make public. Did she get a payday for this photo spread and is she going to donate the money to charity? She doesn't have to or anything, I just don't get it!
Reese Witherspoon's country-elegant March 26 wedding to Pennsylvania native Jim Toth, 40, mixed her Southern roots with inspiration from her 1920s ranch estate.

"Timeless California architecture, rustic materials and beautiful gardens," says a pal, gave the actress the perfect storybook setting for her special day in Ojai, Calif.

Wearing a custom-designed Monique Lhuillier blush-hued gown with a Chantilly lace corset bodice and full tulle A-line skirt, Witherspoon, 35, "wowed," says a guest. "She took your breath away." The gown was adorned with a double-face silk satin ribbon with cascading silk flowers, which matched the dress of Witherspoon's daughter Ava, 11, who served as maid of honor in her own custom Lhuillier.

The bride changed into a second Lhuillier design – a white silk minidress with a party skirt – for the reception.

"There was a real family feel," a guest tells PEOPLE. "There was so much joy in the room and a lot of laughter," adds another.

For exclusive photos of Reese's wedding – and all the details of her emotional, joyful ceremony – pick up the new issue of PEOPLE, on newsstands Monday!
[From People]
There are more details of Reese's semi-rustic kind of country-themed outdoor wedding in this earlier story. I'll buy this issue tonight if I can find it in stores. I'm really looking forward to seeing Reese's wedding photos, and I'm especially interested in the decor and feel of the reception. Still, I'm kind of shocked that she went this route. Maybe Jim convinced her to do it for her career. He does work for Creative Artists Agency after all.
Reese's dress is pretty and I love her simple hair and makeup, but why can't we see her new husband at all? Also, why did she wear a blush gown? Is she so traditional that she feels she doesn't deserve a white gown for her second wedding? I still really like Reese, but this People cover doesn't seem like her to me, nor does the fact that she's been hanging out with Chelsea Handler. Congratulations though, and she's definitely pleasing a lot of fans. Reese is currently promoting Water For Elephants, out April 22, and this ties in nicely with that. Kaiser reminds me that Reese's last movie bombed (remember How Do You Know? That was all she put out last year) and that could also be motivating her to go public with her wedding photos.
Here's Reese out shopping on 3/24. This was before she got married. Credit: WENN.com