Gwen Stefani covers Elle: "I'm very vain… I love the visual"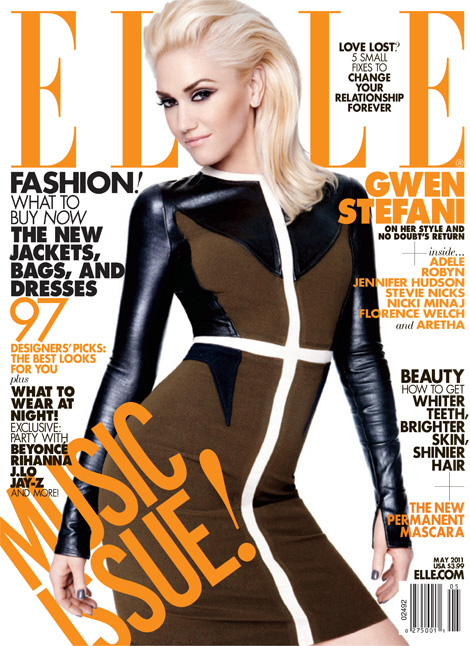 Gwen Stefani is the cover girl for the new issue of Elle Magazine – it's their music issue, and Elle did an unexpectedly great job with the photo shoot and profiles. In addition to Gwen, musical stars like Willow Smith, Adele, Robyn, Nicki Minaj, Feist, Stevie Nicks and Aretha Franklin are also profiled and photographed (full slideshow here, at Elle). Gwen gets the long interview, and since she seems to be one of those women some of you love to hate, I thought I'd give you her interview excerpts. I think she comes across decently here – she cops to being vain, she gets a bit touchy when Elle compares her to Rihanna and Gaga, and she gushes about Gavin:
Gwen on vanity & performing while pregnant: "It was horrible. Certain songs would make me want to puke. You feel pretty gross when you are first pregnant. You don't feel cute, you feel disgusting. You're getting fat. It was hard. I mean, I'm very vain. That would be my middle name. Of course I am, you know what I mean? I love the visual."

On writing hits: "I do! Why wouldn't you want that many people listening to the songs that you wrote? There's no way to go back after you have had it. So the intentions of even the solo records were always about trying to write those guilty-pleasure albums that just get in your head and you can't get out. I'm not cool, I'm not into the B-sides. Prince, who is one of my idols, gave me some advice when I worked with him: "Have you ever just tried writing a hit? Like, don't just try writing a song, try and write a hit song." I remember him saying that and me thinking, Yeah, you're right. Why would you write anything else?"

On Lady Gaga, Rihanna, Katy Perry: "I don't see myself in those girls. I usually put pants on. I see these girls as more going for the sex-symbol thing. I was more, in the band, like a tomboy. Of course, I think every girl is sexy, so there's going to be a little of that. But I see a lot of younger artists going more toward the sexy thing."

On Gavin: "The first time we ever kissed was right around Valentine's Day; we were in New Orleans on tour. I always think about that because it's unbelievable that we've been able to stay together. I feel so proud of us. It's one of my biggest achievements."

On pop music: "When we were growing up, some of the hits were legendary ones that you hear your whole life. But certain songs, I don't know if you'll ever hear them again. Because that's what that music is, like a guilty pleasure, it's right at the moment. It's like fashion—it's now, then it's gone."
[From Elle Magazine]
Aw, I don't hate her. I do think she probably has low self-esteem and yeah, she has a famewhore streak too. But the chick is talented – she's got pipes, and she writes her own music, and that's more than most pop stars can say.
Oh, I keep meaning to add this to a story, but I don't write about Gwen that often, so here you go – in an interview a few weeks ago, Gwen was talking about why she wears so much drag queen makeup and she said, "I wear make-up every single day. I like to wear make-up for Gavin and I don't feel energized until I've put it on, then I'm ready to go." She wears the drag queen makeup FOR Gavin? Discuss.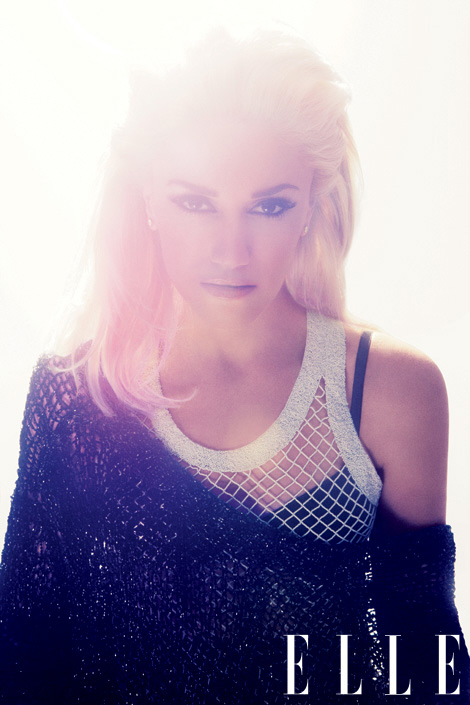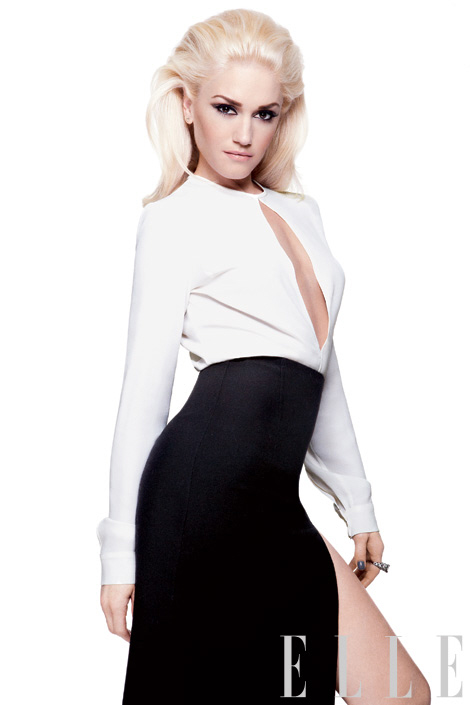 Photos courtesy of Elle.

Written by Kaiser

Posted in Gwen Stefani

- Friends reunion on Ellen [Popsugar]
- Lindsey Vonn watches Tigers kids [Lainey Gossip]
- George Michael fell out of a car going 70mph [D-Listed]
- Real Housewives of Orange County recap [Reality Tea]
- New Man of Steel trailer [Pajiba]
- Jared Padalecki's hot bod [Buzzfeed]
- Doctors confirm Taylor Swift's new boobs [Evil Beet]
- Catherine Zeta-Jones finished treatment [CDAN]
- Anna Paquin hates the paps [Celebslam]
- Lance Armstrong is gross [The Blemish]
- What is Barbara Palvin wearing? [Moe Jackson]
- This is Petra Nemcova? [SVC]
81 Responses to "Gwen Stefani covers Elle: "I'm very vain… I love the visual""