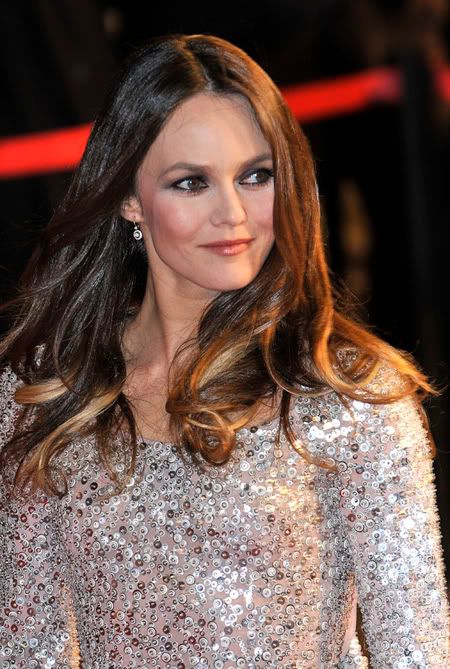 Vanessa Paradis and Johnny Depp have generally been pretty quiet about their ten-year-old relationship. They live a pretty quiet life in France with their two children; Lily, 9 and Jack, 6. For some reason Paradis has given an interview with Elle – very out of character for the private singer/actress/ model. Celebitchy thinks she must be promoting her next album.
Paradis talks about why she and Depp haven't gotten married yet, how they met, and says that their relationship works because they are good for each other.
"Each summer people say we're supposed to be getting married, but we don't talk about it that much," Paradis – Depp's girlfriend of 10 years and the mother of his two children – tells the U.K. edition of Elle in its November issue. "He's got me, and he knows he's got me." Adds Paradis, 35: "I love the romance of 'let's get married,' but then, when you have it so perfect … I mean, I'm more married than anybody can be – we have two kids [Jack, 6, and Lily Rose, 9]. Maybe one day, but it's something I can really do without."

When French singer-actress-model first met Depp, it was not quite love at first sight.

"We were in two different worlds – him in America, me in France – but we had friends in common," explains the current face of Miu Miu. "We saw each other sometimes over the course of four years. But then, the day we found each other in Paris, we were both in the same world and free and it was just instant. There was no more time to waste – just no way around it."

Asked if she's "tamed" the Pirates of the Caribbean star, whose previous girlfriends include Kate Moss and Winona Ryder, Paradis says: "Tamed. What's that? Like a lion? Noooo, no, we did it to each other. Maybe I'm a good girlfriend because I'm his girlfriend. I'm not sure I'd be a good girlfriend to anyone else; the same for him. It's difficult to explain, but it's something that's natural, obvious and beautiful."
[From People]
Paradis also notes that Johnny is "very charming" and understands why women the world over have a crush on him. These two have always been so cute together, and it seems like it's pretty clear they're together for the long haul, whether they formalize it or not. They seem to have a very close bond and have figured out how to balance fame with living a happy, close, quiet life.
Here's Vanessa at the NRJ Music Awards in Cannes, France on January 26th. Photographer: Pat Denton. Images thanks to WENN.