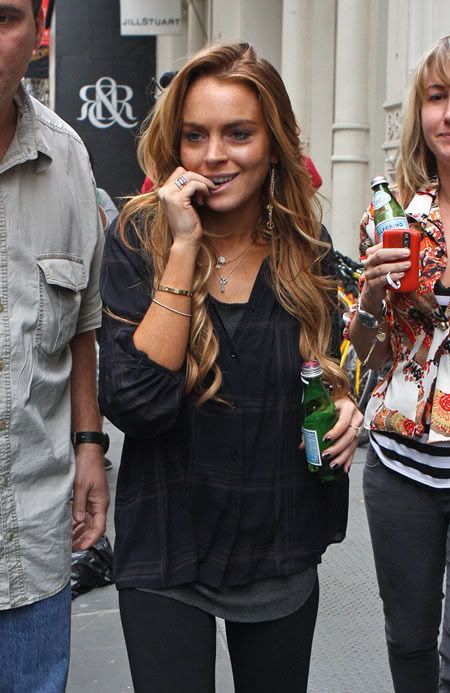 Lindsay Lohan has decided to keep her Halloween costume topical this year by dressing up as one of her most despised enemies. Paris Hilton? Nope, Sarah Palin. Lindsay has long shared her dislike for Palin via her MySpace blog. Which naturally caused quite the sensation. Not because it's celebrity news, but who in the political arena doesn't want to know what Lindsay thinks about a particular candidate? I mean she's such a good gauge of the average American.
Lindsay has decided to honor Palin by dressing up as her for Halloween. Not only is this topical, but it's one of the few political costumes that can easily be made skanky.
Channeling her rage against Republican vice presidential nominee Sarah Palin into something constructive, Lindsay Lohan is planning to dress up as the former Miss Alaska runnerup for Halloween, pals of the newly political actress tell us.

The costume will include the glasses, the perky red suit and ample cleavage.

Even better, Lohan gal pal Sam Ronson is thinking about dressing as Sarah's snow-machine-ridin' hunky hubby, Todd, to complete the package.

Lohan recently railed against Palin on her MySpace blog, calling her a "narrow- minded, media-obsessed homophobe."

Imitation is the sincerest form of flattery, but in this case we think Lohan is aiming for the jugular.

We wonder if they'll have lil' sis Ali strap on a belly and come out as Bristol Palin.
[From the Daily News]
Snaps to that last line. Considering the Lohan family's penchant for drama and attention, I certainly wouldn't put it past Lindsay to slap a belly onto Ali. That would get them on the top page of pretty much every blog.
Here's Lindsay Lohan with her assistant and a bodyguard, goes at the Kirna Zabete store in Soho today. Images thanks to Bauer-Griffin.