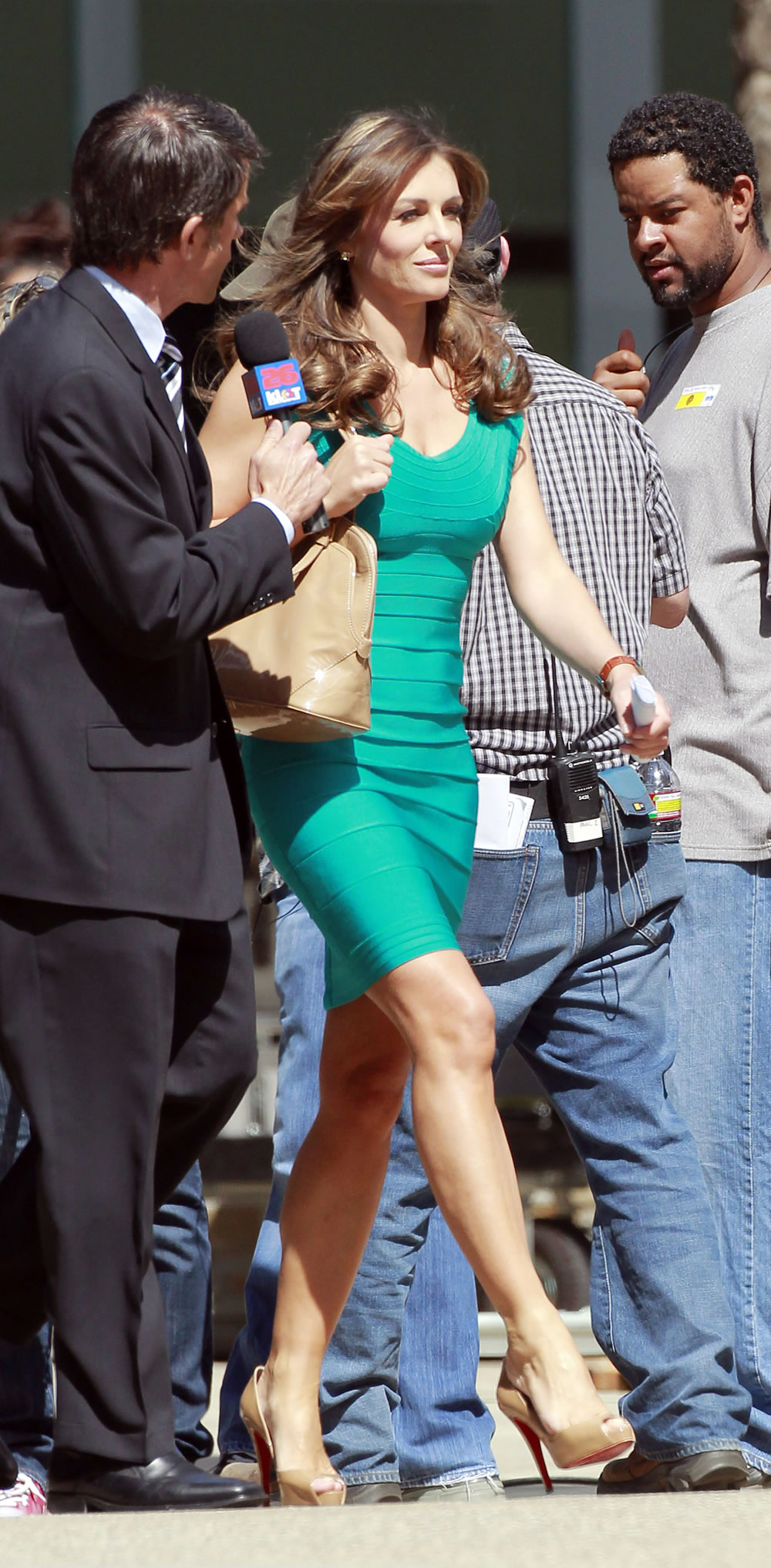 Some days, I truly wonder whether Elizabeth "Sleaze-E" Hurley (credit to Kaiser) is a real-life fembot (Model T&A400) because, let's face it, she doesn't just play one in the movies. In fact, Liz covets her mankiller reputation to a point where she doesn't find it at all laughable to divorce a man for "unreasonable behavior" when the unfortunate fellow, for all practical purposes, seemed like a perfectly decent and reasonable man for which to be married. Naturally, Liz had previously cheated with Aussie cricket manwhore Shane Warne on her then-husband Arun Nayar just for an ego boost and because it's really hard to be married to a millionaire when you were previously under the impression that he was a billionaire. In light of her own well-crafted persona, it comes as absolutely no surprise that Liz prefers the part of the villain when she "acts" in various movies and television shows:
Elizabeth Hurley says "less acting is required" when she plays the villain.

The actress-turned-fashion designer is renowned for playing Vanessa Kensington in the hit spy comedies Austin Powers: International Man of Mystery and the Devil in 2000 film Bedazzled.

The 45-year-old beauty recently shot the NBC pilot of Wonder Woman in Los Angeles, where she guest-starred as a bad character.

Elizabeth says she has most fun playing evil role and has even joked they are close to her own personality.

"I've played a few villains in my time and love it – less acting required. Just kidding!" she joked in an interview with Hello!

The stunning model says she was excited to appear in the Wonder Woman pilot. She has revealed she admires the work of the show's writer David E. Kelley, so jumped at the chance of guest-starring in the show.

"I met the head of Warner Bros TV when I was in LA in January, shooting a commercial, and he offered me Wonder Woman. I was really pleased as the writer, David Kelley has created such fabulous shows, like Ally McBeal," she explained.
[From Musicrooms]
Does Liz really think that "Ally McBeal" was a fabulous television show? Sure, the first season or so had possessed a very subtle charm, but nearly the entirety of the program was just a series of nonsensical scenes (and CGI babies) crafted around impossibly skinny women in short skirts. Well, no wonder Liz loved it. As for Liz's knack for playing the villain, I presume that it has less to do with whether or not she prefers those parts as much as good, old-fashioned typecasting.
Here's a photo of Liz at the launch of her new Belgium fashion beach store (plus some more of her on the set of "Wonder Woman" as well as in the company of the men she boinks), where she's going to sell an inexplicable amount of unexceptional $177 bikinis. Call me crazy, but these bikinis look like they could have come out of the latest Victoria's Secret catalog. Maybe they give your boobs magical powers or are otherwise infused with the Evil Essence of Liz. You just know that poor Liz can't stand to cover up her body next to these bikini models but couldn't quite muster up the chutzpah to slut it up next to two twenty-something nymphs. No payoff there, but hext to men of any age, Liz would've hoisted those puppies to the moon in full view.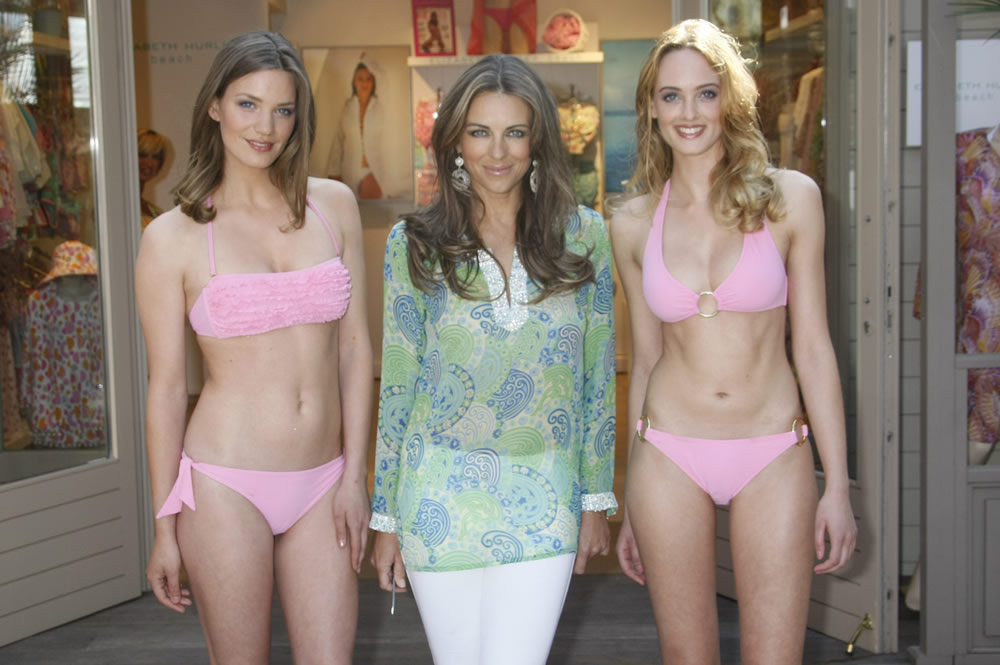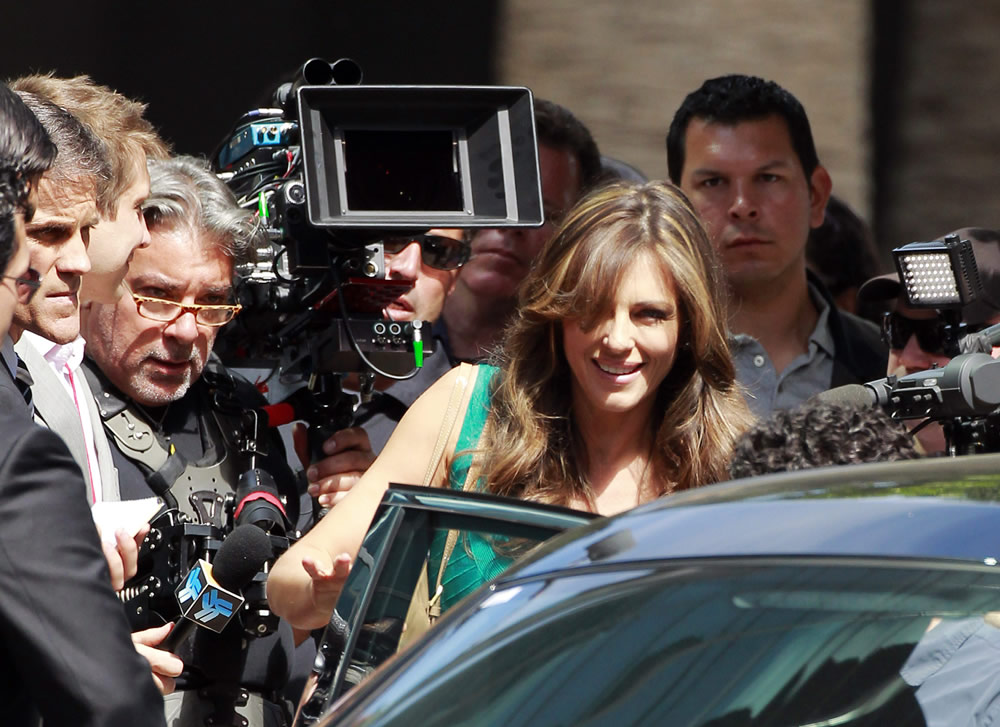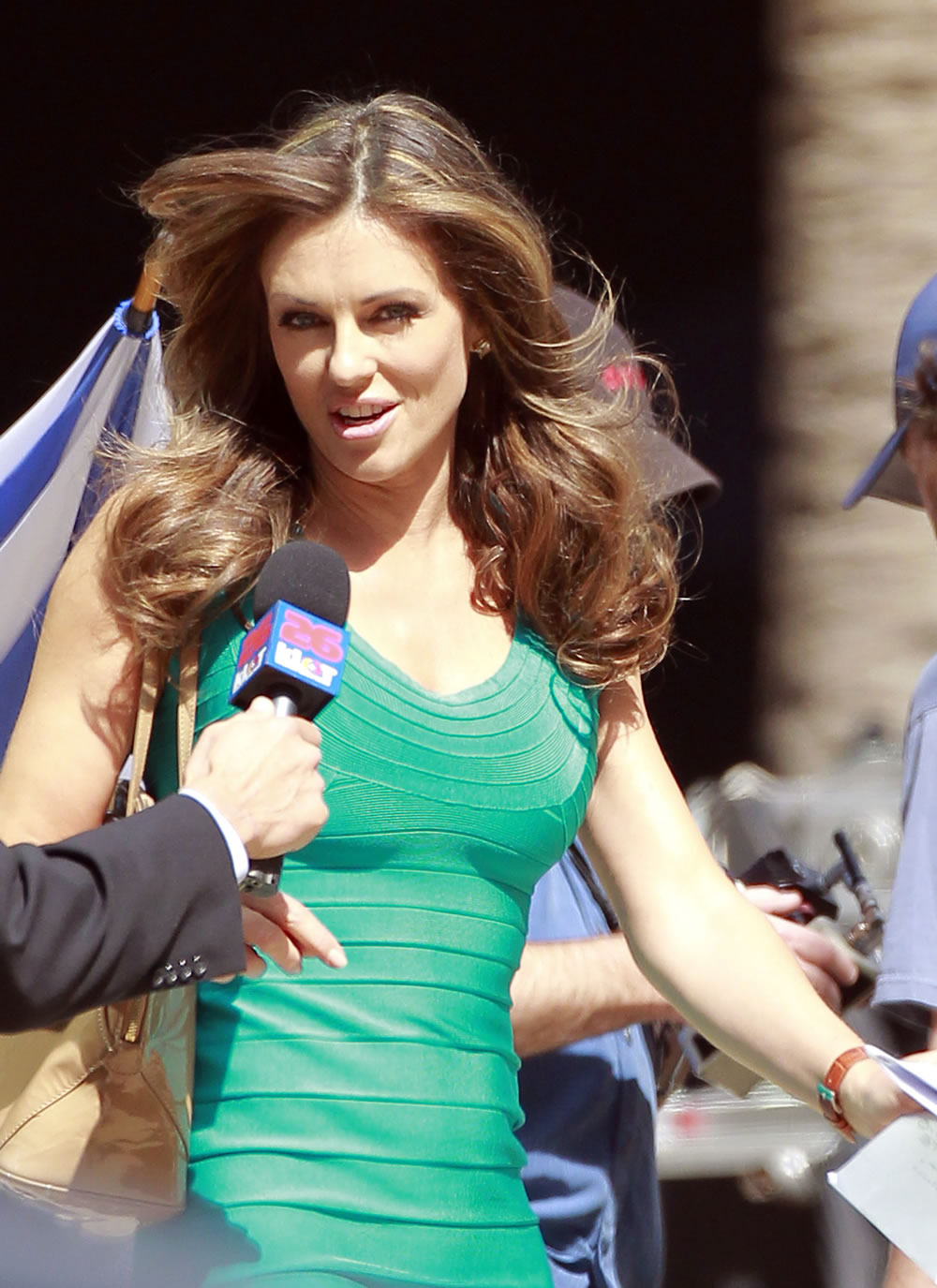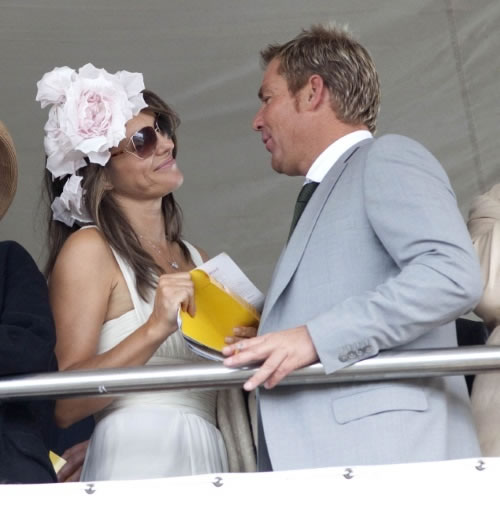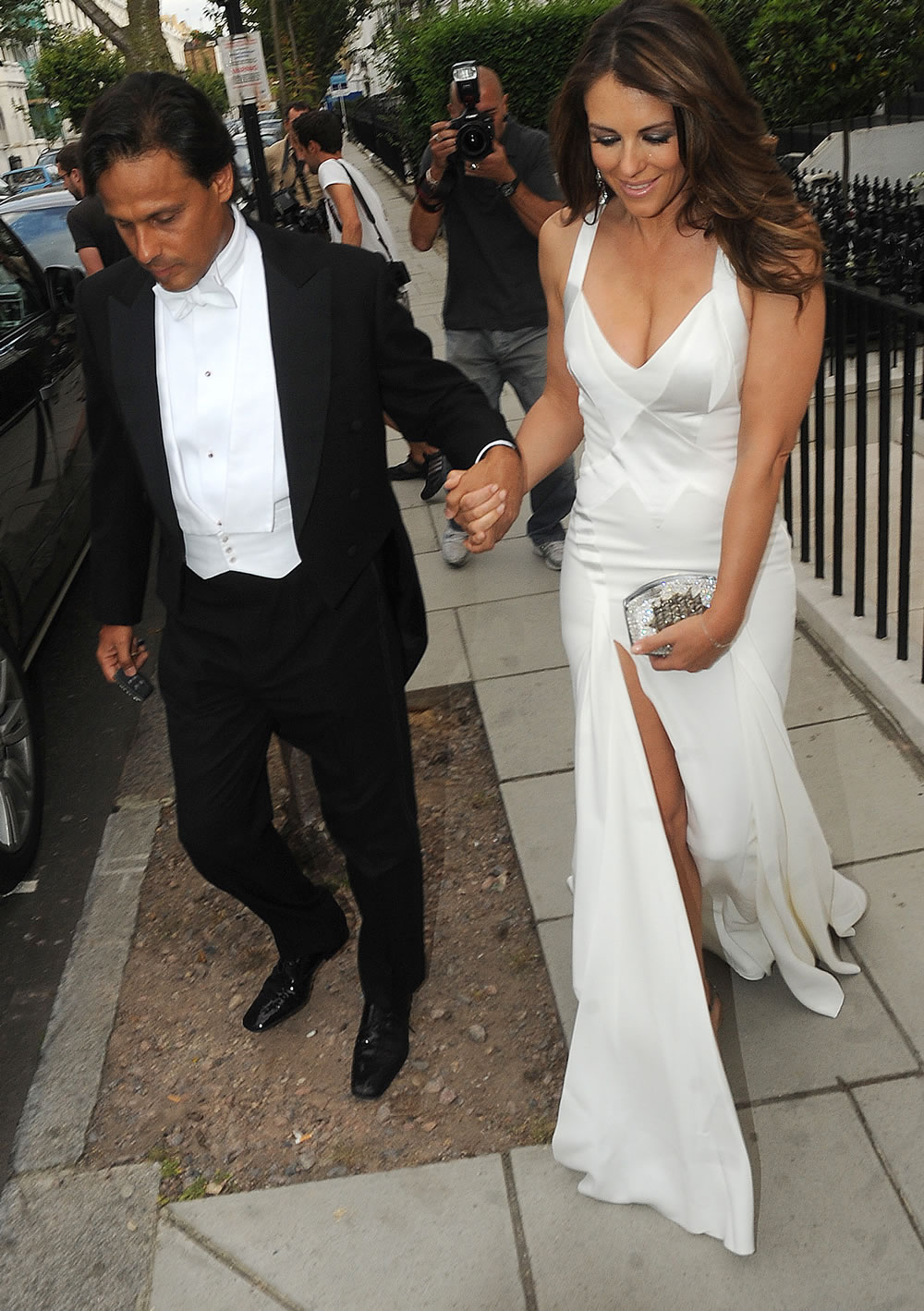 Photos courtesy of Fame Pictures and WENN