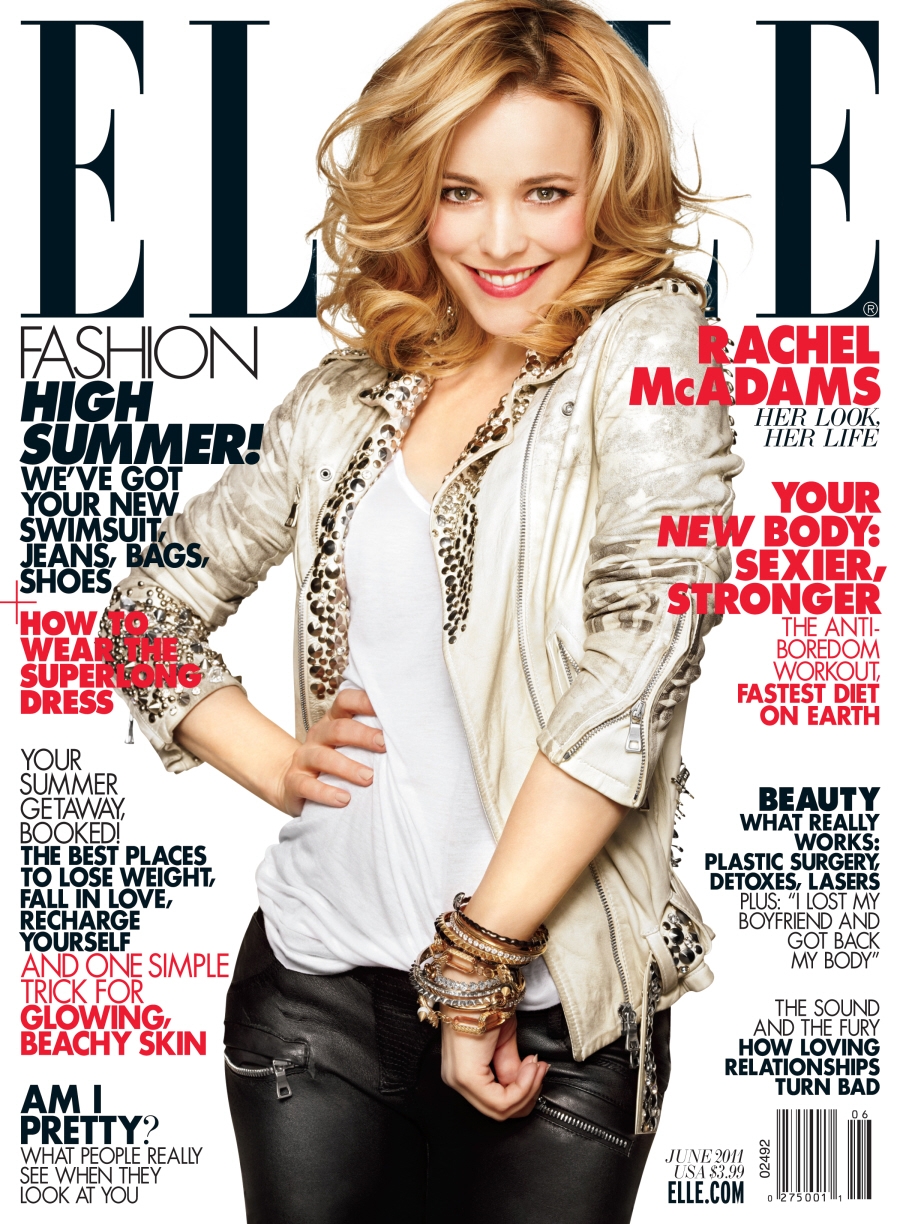 Rachel McAdams takes the cover of the June issue of Elle Magazine. She's promoting her work in Midnight in Paris, the Woody Allen film which is opening the Cannes Film Festival. She got to work with lots of good people in the film: Owen Wilson, Michael Sheen (who became her boyfriend), Marion Cotillard, and the First Lady of France, Madame Sarko, Carla Bruni-Sarkozy. As for the interview in Elle (read the full Elle excerpts here)… well, Rachel is a well-adjusted, emotionally mature, intelligent woman. Which means that her interviews are never really dirty or juicy or anything fun. But I still like what she has to say:
On working with Owen Wilson: "It's definitely a different dynamic from the last time we were together. It wasn't as fun being mean. I love that Woody likes good guys to be good guys and bad guys to be bad guys. Owen seemed to respond really well when I was a really bad guy."

On her role in Mean Girls: "With Mean Girls, I originally auditioned for the part that Lindsay Lohan played. I wouldn't have seen myself playing Regina at all. But when I read the script, I thought, Oh, this part is way more fun; I wonder who will play that.…"

On being a romantic: "I am. When Billie Holiday comes on, I can't help but be transported—and I'm sure it wasn't as romantic then at all—but that's the wonderful part of my job: dressing up and walking down the street in New York or Toronto, pretending I'm in the '40s."

On finding inspiration in her parents' marriage: "[They are] Still together and still in love. I'm very blessed that way. I had a great example of love in front of me, and that's probably what makes me such a romantic, because I've seen it firsthand."

On her expectations for relationships: "You grow up and you assume that everyone is like that, and you quickly realize that they're not, and then you have those days when you wonder if you're going to find it for yourself. It's such a hard thing to find. I think it was more that realization that rocked me."

On being hesitant to take on certain roles: "Sometimes I don't think I'm the best person for the job. That was the case with Morning Glory. Sometimes I think, Really? You see me as this? Just because I don't see myself that way, does that mean I shouldn't do it? I tend to go, Is this the right decision? What are the ramifications of doing this part? You can start to overanalyze. But once I make the decision, it's full steam ahead."

On the critics' reaction to Morning Glory: "It's funny, because so many people said to me, "It's the kind of film you don't see anymore, done in a way that isn't done anymore." I thought that was a really positive thing, but apparently not. I only hear these businesspeople: "Well, no one was sure who it was for."
[From Elle]
Oh, I loved Morning Glory! Have I talked about how much I enjoyed that film? There was a sweetness to it, and yes, there was something old-fashioned about it. It sort of reminded me of an old Katherine Hepburn movie – Rachel played the spirited, intelligent workaholic who threw everything into her career. I guess Harrison Ford was the Spencer Tracy character, the curmudgeon, the jackass who didn't see what was right in front of him. I'm making it sound like there was something sexual between Harrison and Rachel, but there wasn't it. It was just a really solid romantic comedy with an interesting female lead and solid character work by Harrison, Diane Keaton, Ty Burrell, Patrick Wilson and several other great people.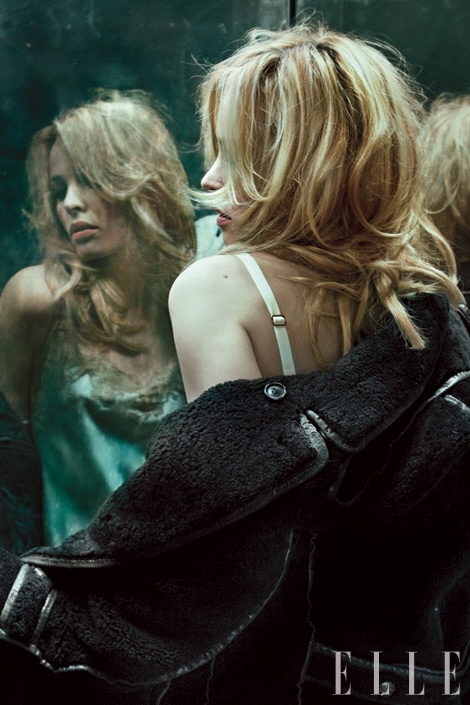 Cover & additional image courtesy of Elle.