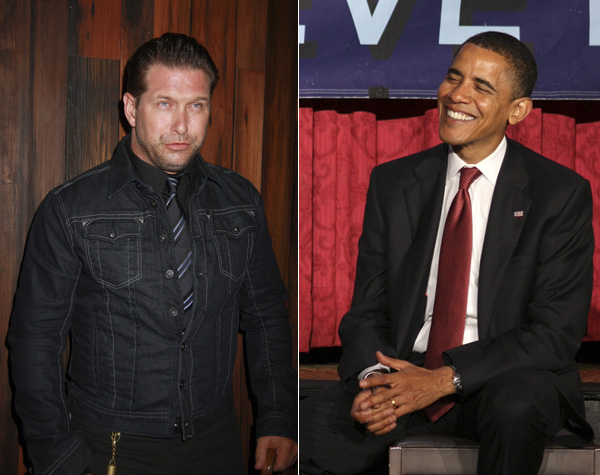 In July, actor and Baldwin brother, Stephen Baldwin said if Barack Obama was elected, he would leave the country and move to Canada. Baldwin was quoted in the New York Post today as going a few steps further and, while at a gym with his good friend Michael Lohan, calling Barack Obama a "cultural terrorist" and challenging him to a fist fight.
"I'd like to knock some good sense into Barack," Alec's right-wing bro said at the Printing House Gym in the Village. "I wouldn't hurt him. But if he wins the election, he'll hurt me. He's a cultural terrorist."
[From The New York Post]
"Cultural terrorist," I don't even know what that means, but I sense a new Republican rally outburst coming. That word seems to bring the crazy out in what McCain called the "fringe peoples". The New York Post's Page Six went further into Baldwin's comment with his belief that his beat down would change Obama's party affiliation, as well as his fear of getting in the ring with VP nominee, Sarah Palin.
"I think by the time I'm done with him, he'll be a Republican," Baldwin crowed as he sat ringside in a Manhattan gym with pal Michael Lohan, who's training for a charity fight. As for going a few rounds with Sarah Palin, Baldwin scoffed, "Oh, I wouldn't fight the Barricuda Bear, c'mon. You see her shoot that gun the other day? C'mon!"
[From NYPost Page Six]
This is a prime example of a celebrity not doing a candidate any favors by opening their mouth. Baldwin sounds like he's being facetious, but he's not, and that's the problem. Calling out a Presidential nominee doesn't make you sound like the brightest crayon in the box, and calling Sarah Palin "the Barricuda Bear" just makes you sound stupid. It's right up there with the idiocy of the fringe peoples yelling threats at rallies. I'm not saying his politics are stupid, I'm saying the way he's expressing them is stupid. C'mon, indeed!
For what has got to be the first time ever, Michael Lohan did not appear to make a statement of his own. Maybe sitting next to Stephen Baldwin was statement enough. It's certainly enough to make me see what kind of company Baldwin keeps and in turn, take him even less seriously.
Stephen Baldwin is shown at the Hard Rock Hotel Las Vegas on 7/19/08. Presidential candiate Barack Obama is shown on 7/10/08 in NY. credit: PRPhotos