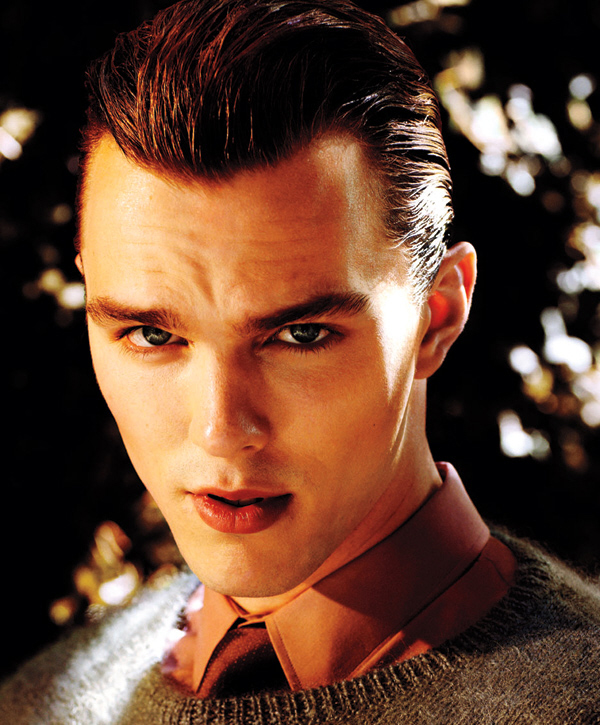 As I mentioned over the weekend, I saw and loved X-Men: First Class. Michael Fassbender dripped with hotness and rage, James McAvoy dripped with goodness and sanctimony (Prof. X is Mr. Morality, after all), and The Bacon was chewing the scenery like a champ. Amongst that mature dong buffet, it's amazing that a young whippersnapper was able to come along and wow me with his hotness. But there he was… Nicholas Hoult as Dr. Hank McCoy/Beast. For most of his scenes, Hoult is wearing 1960s Buddy Holly glasses and a lab coat, and he looks absolutely delicious. And then he turns (SPOILER) blue and furry. And he's still kind of hot, honestly. If you don't recognize his name or his face by now – he was the little boy in About a Boy. He was also the young baby gay in A Single Man. And he was in the original UK TV show Skins. He's six foot three, "gangly" (in his words) and one of the hottest young men coming up in the industry. He gives a charming interview too! I'm assuming he did this cover shoot and interview for Blackbook to promote X-Men… good deal. He photographs beautifully! If you'd like to read the full Blackbook piece, go here. Here are some highlights:
Hoult on his first lead role, Jack and Giant Killer: Later today, Hoult will fly back to Surrey, where he's currently filming the big-budget fable Jack the Giant Killer, a retelling of Jack and the Beanstalk for the Xbox generation, which also stars Ewan McGregor and Stanley Tucci. Hoult plays the film's title character, a farm boy who risks his life to save a princess from a two-headed giant. Of his first leading role, he admits to feeling the weight of a studio on his shoulders. "I was very nervous at the start—I'm still nervous—but I try not to let it get to me," he says. "Thankfully, Bryan [Singer] is fantastic." That would be Bryan Singer, the alpha filmmaker who, in addition to directing Jack, also helmed X-Men and X-Men 2, and is a producer on this summer's X-Men: First Class, in which Hoult also appears.

Auditioning for X-Men: First Class: Hoult was in Australia… when he was awakened in the middle of the night by a phone call from his agent. It was good news: he'd been invited to screen test for X-Men: First Class. He boarded the first flight to London to meet with director Matthew Vaughn. "I thought it went terribly," he says of his audition. He thought wrong. A few days later, he was on yet another flight to Los Angeles to get fitted for prosthetics. In X-Men: First Class, a prequel to the billion-dollar Marvel franchise, Hoult plays Hank McCoy, a brilliant scientist with a scholarly accent who mutates into the fuzzy blue creature known as Beast. (For the audition, Hoult did his best impression of Stewie, the diabolical baby from Family Guy, but in preparation for the role he watched countless episodes of Frasier in order to learn from its lead actor, Kelsey Grammer, who embodied Beast in 2006's X-Men: The Last Stand.) "People were stroking my fur on set without even realizing it," Hoult says.

Being a working actor from a young age: Since he first appeared in About a Boy, steady work has kept Hoult from enrolling in university. Still, he says, "I try to keep learning in other ways, like talking to my little sister about history, or reading her essays." Hoult, who recently landed a plum role in Warm Bodies, Jonathan Levine's zombie love story, continues to live with his parents (his mother is a piano teacher and his father is a commercial pilot) in his hometown of Wokingham in South East London. He's in no rush to move out, especially since he'll spend nine months in Australia next year on the set of Mad Max.

He's anxious and nervous in real life: "[I don't like the red carpet because] there are so many people watching you." Hoult revisits his fear of being watched several times during our interview, a bizarre, if not unfortunate sentiment for an actor. "I enjoy the acting part," he says. "But then I forget that people are actually going to watch it."

Filming sex scenes for Skins: His knack for transformation is most glaring—computer-enhanced mutation notwithstanding—in the no-holds-barred British teen soap Skins. As the shameless schemer Tony Stonem, a role that elevated him to heartthrob status back home, Hoult flashed a mean streak that bordered on nihilism. Tony used his looks and confidence as weapons to dominate—and sleep with—his friends, essentially the opposite of flesh-and-blood Hoult, who comes off, if anything, as overly polite. When he filmed his first of many sex scenes for that show, he did so with the help of some liquid courage. "We grabbed a couple glasses of vodka and some champagne at 8 in the morning, and we just went on and did it," he says.

Moving on from Skins: Hoult was relieved when his stint on Skins ended after its second season—"It was the right time to move on," he says—but was wracked with nagging self-doubt about whether he'd ever work again. "I still worry that I'm never going to get another job. Whenever a new film comes out, I always worry that it's going to be the one people look at and go, 'Don't ever hire him again.'"

Working on A Single Man: "I was doing my American accent, and Colin [Firth] was doing his usual English accent, but I was letting mine slip. I remember thinking, Uh oh, I'm in trouble. But Colin is very relaxed and free, which made my job easy. There's a fantastic subtlety to his acting, like you can read every thought and emotion that passes through his mind."
[From Blackbook]
He's charming. I wonder if he's still with Jennifer Lawrence? They were still happening that last I heard, although they haven't been photographed together, not even surrounding the X-Men: First Class publicity. In the film, they're kind of sweet on each other too, and as a couple, they're just… lovely to look at. I want to think that the sex is hot. How could it not be?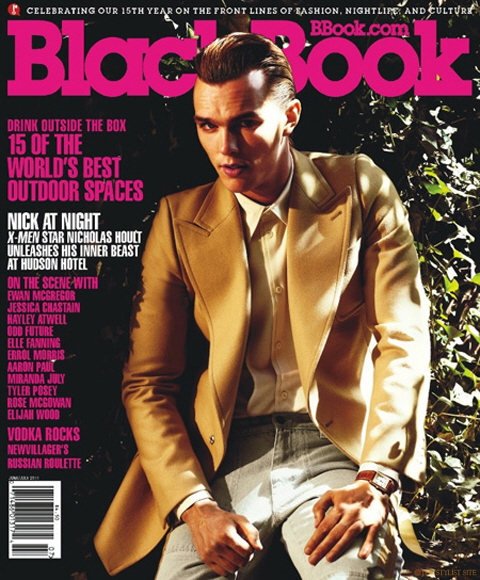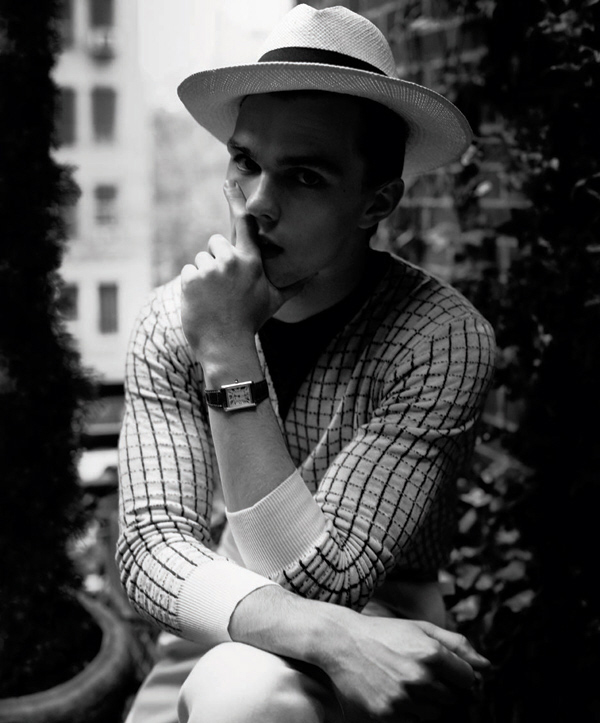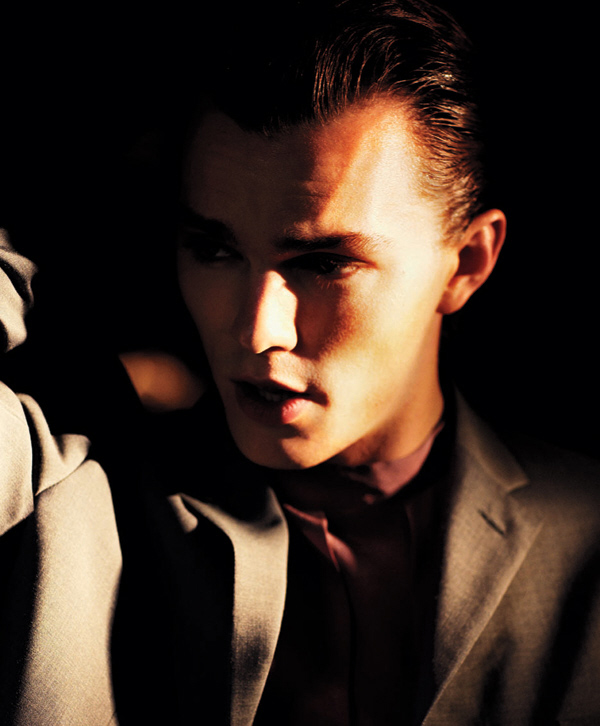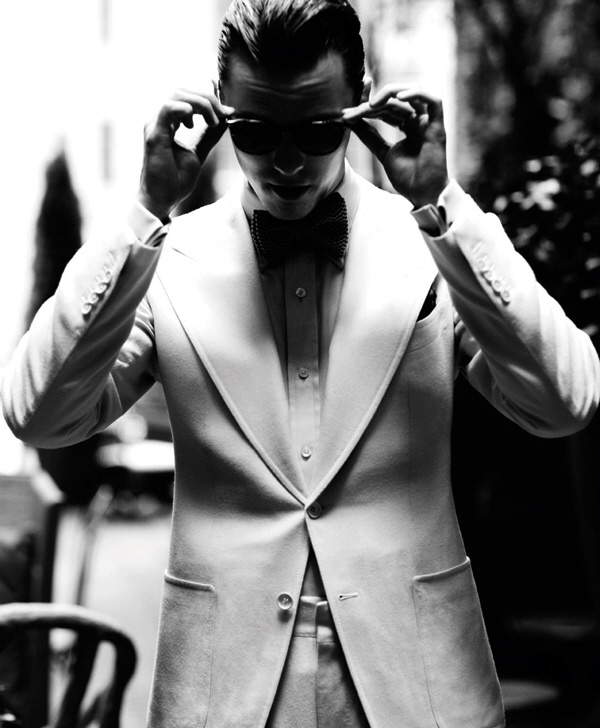 Photos courtesy of Blackbook.