Visit msnbc.com for breaking news, world news, and news about the economy
The prolific Duggar family and 18 of their 19 kids were on The Today Show this morning to promote their latest book, A Love That Multiplies. I just caught their interview with Kathy Lee and Hoda when I switched on the TV. NBC didn't put that one online yet, but they do have another interview that the family did earlier with Matt and Meredith. (that video is above.)
Some of the other times we've seen the Duggars on The Today Show they've been announcing one of mom Michelle's many pregnancies. She's made it clear that she will keep trying as long as she can, and repeated that this morning. To Kathie Lee and Hoda, Michelle said "We would love more, they're precious gifts," and added that this was the longest time she's gone between pregnancies. Michelle, 44, had her 19th baby prematurely in December, 2009. Little Josie was just 22 ounces at birth and had to be cared for in the neonatal unit of the hospital for four months until she was released. She's thriving now and the Duggars are ready for another one. It might not happen for Michelle, but she's about to welcome another Duggar baby soon anyway. Her daughter-in-law is due to have her second child in just two weeks.
The Duggar kids told Matt and Meredith that they wanted to have large families when they get older. One of the older daughters said it's nice to have your best friend be your sibling, and when Matt asked if any of them wanted to have smaller families no one raised their hand.
Dad Jim-Bob explained that the book is about "why we do what we do" and "what makes us tick" along with the "Bible principles behind" their life philosophy. He explained that they make ends meet by staying out of debt, renting out properties and "buying used and saving the difference." You can read an excerpt from the Duggar's book on The Today Show website. It's the part leading up to Michelle's premature labor with Josie. She had pre-eclampsia and almost died, but thankfully both Michelle and the baby recovered and are fine now.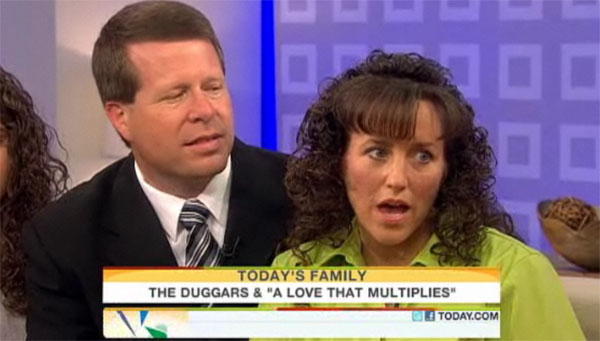 On a purely superficial note, why has Michelle reverted back to her permed hair with the round 80s bangs? Her hair was looking slightly improved lately, and she was brushing her bangs to the side like her lookalike daughters, but this is disappointing.
I honestly don't know how I feel about the Duggars. Michelle kind of creeps me out with that baby voice and the kind of delusional way she seems to operate in the world, but she's happy, she seems to adore her husband and her kids seem happy and well behaved. I've tried to watch their show but frankly it's just too boring.