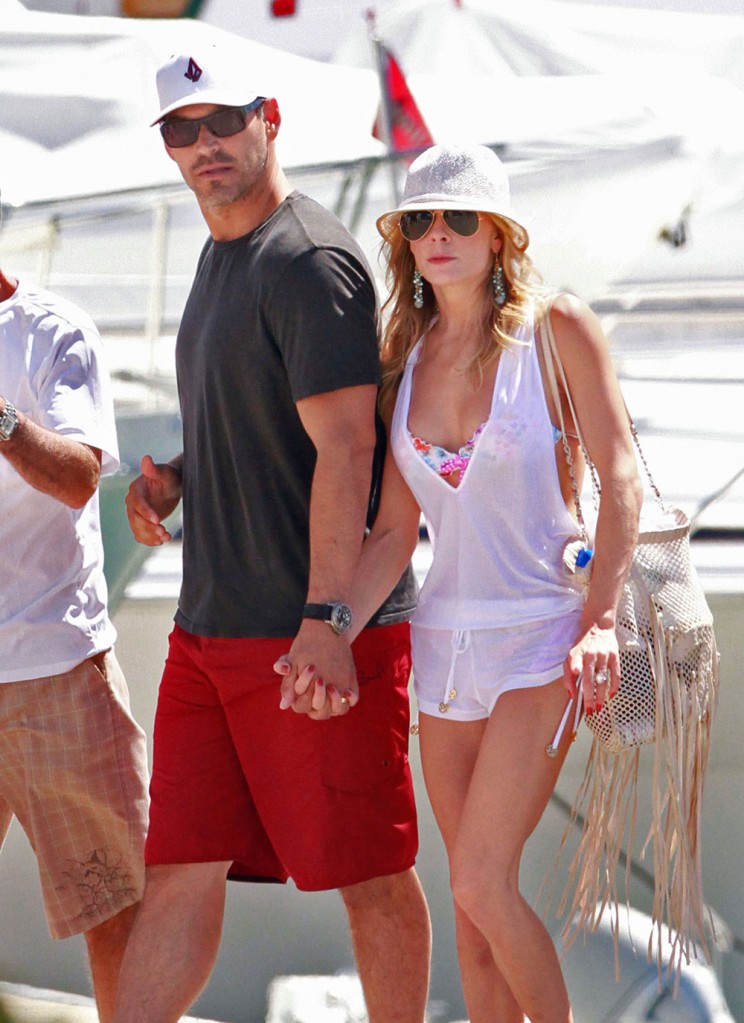 In our thread yesterday on the story about LeAnn Rimes talking about her emaciated "I'm so healthy, lol" bikini body yet again, a lot of you mentioned that there's a new sex tape story about LeAnn. Of course this is coming out now, post-wedding to Eddie, when LeAnn isn't getting enough attention for her antics and her husband's ex Brandi Glanville is about to star on Real Housewives of Beverly Hills. Do you remember how much publicity those RHOBH bitches got last season? Brandi is about to blow up in the press and LeAnn knows it. This has got to burn LeAnn up. She's already copying Brandi's outfits down to the shoes and accessories, she got the same boob job from the same surgeon, and she copied Brandi's wedding to Eddie using the dress designer and ceremony details. So Brandi's pending fame has got to be getting to LeAnn and coincidentally there's a new "nude tape" story that someone first posted online on some forum. Uh-huh.
The thing that gives this story some merit is the fact that Star spoke to LeAnn's ex husband, Dean Sheremet, and his vague answer as to whether there is are any sexy J-Lo style recordings kind of lends credence to this story. They make it sound like Dean leaked the story and LeAnn is the victim. You never know with her though, and I have a tendency to distrust any story that gives her publicity. Plus her people were all over that right away.
"I found a memory stick to a digital camera," an Internet forum poster who goes by the screen name OneMoreVol wrote. "It had about ten 15-20 sec videos of [LeAnn] shot by her then husband. She's in her bedroom…" The home video captured her "[bending] over in front of the mirror" in her thong, and other private poses.

LeAnn's ex, Dean, spoke exclusively to Star about the video that he filmed. "We were married for eight years, we did a lot of sh*t," he hinted. "I honestly don't even remember. I'm sure it was fun and innocent."

Even so, after the Web user posted a teaser of the video, which was found in a moving truck in 2008, LeAnn's legal team was ready to strike back before the full tape goes public and everyone sees her – in the poster's words – when she had "some meat on her hips, and it looked more like cottage cheese than meat!"

In a May 26 cease-and-desist notice obtained exclusively by Star, the Web user was told: "Your posting establish that you came into possession of these materials by virtue of finding lost property which should have rightfully been returned to Ms. Rimes."

Dean, however, doesn't share LeAnn's concerns about the steamy video leaking. He explained coolly, "Things like this happen."
[From Star Magazine, print edition, June 20, 2011]
Given the context, given the crazy, I don't believe this. Star is painting Dean as the guy leaking the tape but maybe he's just like "whatever, she bugs me." Kaiser feels sorry for LeAnn and thinks that if this is really happening as it's claimed that it's not LeAnn's fault for recording some sexy videos with an ex husband. The scenario with Dean leaking the videos just doesn't seem as likely as LeAnn clamoring for publicity and attention as always. Like she would love to have some sexy videos out there, wouldn't she? This isn't even a sex tape.
In an inset to this article, Dean kind of goes off on Eddie and how he was cheating on his wife to be with Dean's then-wife LeAnn. He said "That's not how a man acts. A real man would have waited to pursue a relationship… I don't trust him as far as I can throw him." As for the end of his marriage, he says "It wasn't how I thought it was going to go down after eight years." Isn't that how it usually goes down with a divorce though? Like the person seems to change overnight as far as your perspective on who they are.
Here are LeAnn and Eddie getting papped on their honeymoon in Cabo San Lucas, Mexico on 5/26/11. LeAnn and Dean are shown on 5/31/08. Credit: Fame Pictures