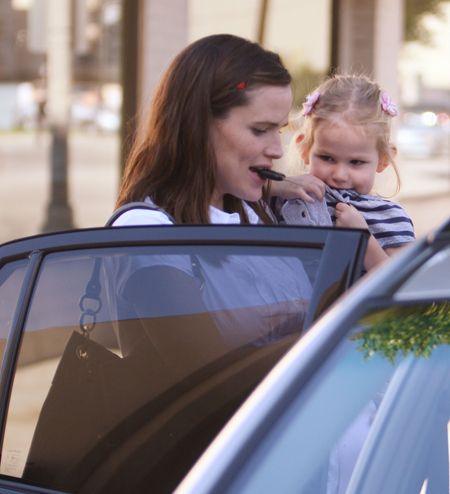 I've pretty much decided that I want Jennifer Garner to be my mother. From what I can tell, it's a pretty sweet gig. Your dad is Ben Affleck so you know you're going to be set in the looks department. You won't have to stress all that much when you hit those early teenage years and nothing goes together right; because you know that genetically you are set.
Your dad may go into politics one day, and he can probably get you into J-Lo concerts for free. And your mom occasionally works on shows where she kicks people's asses, and then takes you to Color Me Mine and assorted play groups.
Except for the occasional mishap when Jen lets Violet lock her out of the car, she's seems to be pretty much the perfect mom. Yet not so much that she's annoying about it. But she truly seems incredibly happy all the time, and by all appearances she's one of the most involved celebrity moms out there.
Here's Jen and Violet yesterday leaving the Treehouse Social Club in Los Angeles. I just lost 20 minutes exploring their website – it's pretty much a kid play heaven. And I am now definitely ready to be 3-years-old again. Images thanks to WENN.