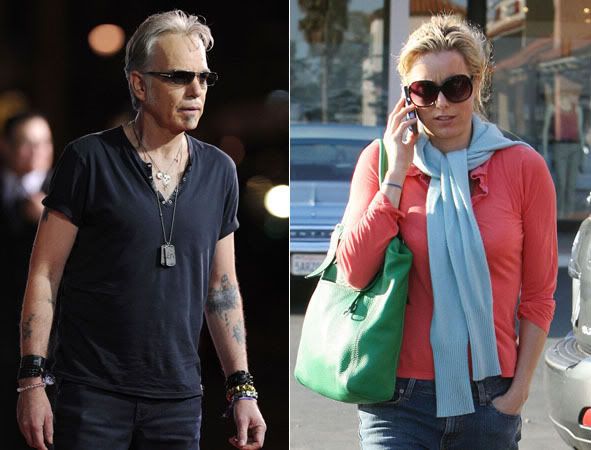 Billy Bob Thornton was cited as the reason for the recent split of Tea Leoni and her sex-addict recovering husband David Duchovny, after Duchovny alledgedly found steamy text messages from Thornton to Tea. Thornton and Leoni recently filmed a movie together and the actor says that the rumors of them having a relationship are not true.
Billy Bob Thornton has denied he is romancing Tea Leoni.

The 53-year-old actor, who was reported to have been secretly dating Tea after meeting her on the set of their new film 'Manure', insists their relationship is purely professional.

Billy Bob's representative said: "Billy and Tea are friends. They recently completed shooting a film together."

Tea – who has been married to David for 11 years and has two children with him – further fuelled relationship rumours by praising her 'Manure' co-star.

She said: "We have this incredible cast with Billy Bob Thornton, who is maybe my new favourite person in the world."
[From 92.9 Entertainment]
While I'm sure that statement didn't help to quell the rumors, it's hardly the kind of thing one would say about a secret lover. It's more a "working-with-him-was-inspiring" kind of comment than a "sleeping-with-him-is-hot-and-dirty-and-I-love-it". Tea has remained silent about everything, from her husband's rehab for sex addiction to the latest rumors of infidelity on her part. She seems to be handling all of it with a sense of decency.
But the silence doesn't help Billy Bob, and he's to the point where he'd like to just hang up the famous. Having been married to one of the most controversial and discussed women in the world, Thornton says it's easy to try to wish yourself into obscurity. He seemed to lap up the publicity to me, it was usually him doing the talking during their "we had sex in the car on the way over" phase, but he kinda tried to drop out of the picture when the divorce came along. Thornton says now, he would rather leave the fame behind and just be in a band.
I always want to be annonymous in every aspect of my life," said Billy Bob at the Country Music Hall of Fame's All For The Hall benefit in New York, where he was singing with his band, the Boxmasters.

"I've been famous for a long time — I'm tired of that s**t. I just want to be in a band."

But the Eagle Eye star, who won an Oscar for Switch Blade, says that once you've chosen a life in the spotlight, there's no going back.

"You can't not be famous once you are. Once you've screwed a bunch of pretty girls and won an Academy Award, you're screwed," complains Billy Bob.
[From OK! Magazine]
I'm going to go out on a limb here and suggest to BBT that he stop making movies if he's looking to get out of the fame business. It wouldn't take as much as he thinks it would for his star to flame out.
Here's Billy Bob Thornton outside an appearance on Conan O'Brien on 9/23/08, credit: WENN and at the Eagle Eye premiere on 9/16/08, credit: WENN and BauerGriffinonline. Tea Leoni is shown talking on her cell phone while out with her kids in Malibu on 6/1/08, credit: WENN. I know some of you can't resist the hotness that is BBT.