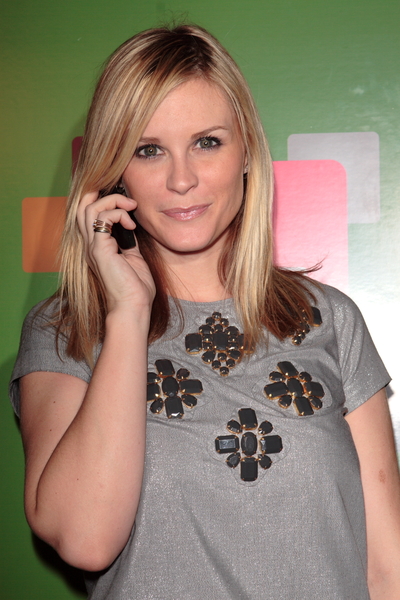 Bonnie Somerville, most recently of Cashmere Mafia, but most well-known as Mona, who dated Ross while Rachel was pregnant with his baby on Friends, and singer in the Hugh Laurie/James Denton "Band from TV", and her boyfriend, Walter Stewart, were held up at gunpoint right outside a celebrity event. Stewart was shot in the back and Somerville's purse was stolen.
The former "Friends" guest star (who played Ross' girlfriend Mona on the show's eighth season) and a male companion were leaving the T-Mobile G1 launch party at Hollywood's Siren Studios, when they were accosted. According to her rep, the two were held at gunpoint and Somerville was forced to hand over her purse, while her friend was shot. Somerville's friend was hospitalized following the incident.

The story was first reported by TMZ, who also noted that while Somerville believed her friend was shot with a BB gun, a valet said he was shot with a .22.

While the Los Angeles Police Department could not disclose the identities of those involved in the incident, a spokesperson could confirm to Access that a white male was shot after an attempted robbery by two black male suspects shortly after 2 AM, at 6002 W. Sunset Blvd. – the location of the party's valet parking, just a half-block east of the event. The victim was transported to an area hospital, while the suspects fled the scene.
[From Access Hollywood]
The party was attended by young celebrities including Mischa Barton, Christina Millian, Adam Gregory and Britney Snow. It's unknown if Bonnie was targeted or if the thugs just saw a celebrity attended event and decided to be famous. They did the mugging and shooting in front of plenty of witnesses and it looks like they got away because they clearly weren't afraid to use their weapon.
TMZ reports that Walter Stewart is in stable condition at Cedars-Sinai Medical Center.
Bonnie Somerville is shown in the header on the night of the shooting, 10/17/08, at the T-Mobile G1 Launch Event. Credit: Tina Gill / PR Photos. She is shown below on 9/24/08 at the opening night of Haven club in NY. Credit: Bauergriffinonline.com