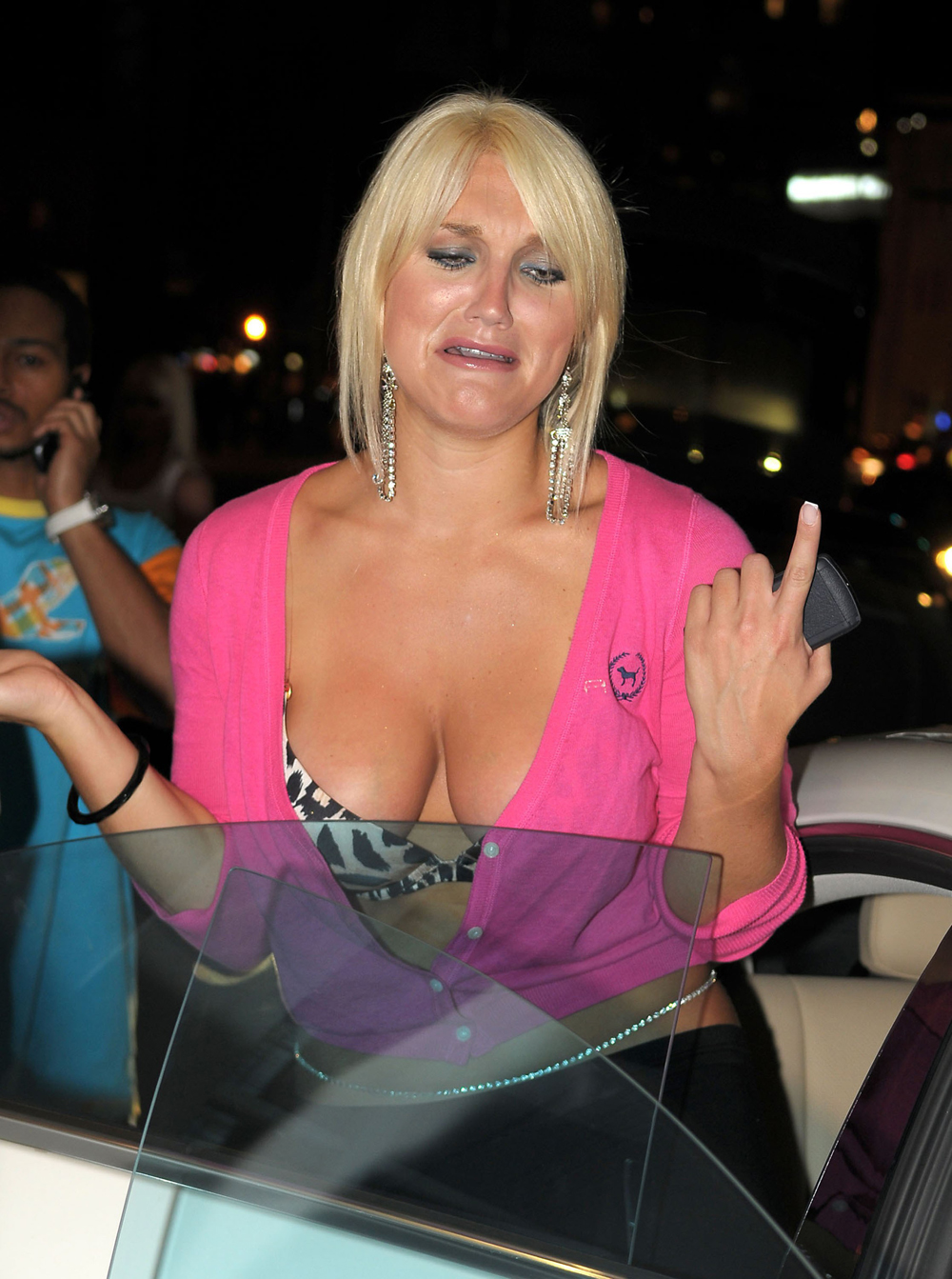 Today I realized that it is physically impossible to write an article about Nick Hogan – or the Hogan family in general – without starting it off "Poor Nick Hogan," followed by a bunch of comments about how hard his life is. But it is truly next to impossible to say anything about them that isn't dripping with sarcasm. The other options are to be all-out mean or…. well to lie. There's nothing good or redeeming to say about anyone in that family.
Brooke Hogan has the misfortune of not just being a member of that family but also being phenomenally, shockingly, "how are you able to breathe?" stupid. So she's written a little blurb on her MySpace page about how little jailbird brother Nick is getting out of prison tomorrow. And just how hard it's been on her. And on her family in general, but mostly it's about Brooke, and all that she's gone through. There's a mention of John Graziano as an afterthought, but that's about it.
Brooke Hogan's brother Nick is leaving jail tomorrow – and she can't wait. "I can't even tell you, as a sister, how exciting this is for me!" she writes on her MySpace Celebrity page. "Nick and I are like best friends…and I can't believe how long I've gone without him."

Nick, 18, has been serving eight months in jail after pleading no contest to reckless driving charges stemming from an August 2007 crash that left his best friend, John Graziano, in critical condition. Thanks to his good behavior behind bars, he is being released from jail three months early.

"Not seeing him for six months has been really, really hard," Brooke writes. "He always knows how to make me feel better or make me smile when I need it, and it's been tough without having him there to hug me just at the right time, or crack a joke when I'm havin' a bad day."

She continues, "There have been a lot of supporters and a lot of haters that have come up to me and said things that have helped and things that made me feel like I couldn't make it through another day… Some people wish terrible, terrible things on us and say the most nasty comments that I can't even repeat on here… It really hurts.

"I understand people have their own opinion, but most of the people that come up to us don't know the whole story or how much we really, really love John [the victim]," she says. "It's really sad because we're not bad people. We're just going through a really hard time, and so is John's family.

"All I ask is, instead of making this harder and putting evil things out there, you pray for John, and for us, and leave words of inspiration," she writes. "John is gonna walk out of that hospital and things will be OK again. I know his strength, and I know he can do it with our prayers."

Before signing off, Brooke writes, "I just can't wait to see my Nicky! I'm gonna make him every kind of food you can possibly think of! He's been living on bread and potatoes so far and I know some Mac-n-Cheese is gonna hit the spot! LOL"
[From Us Weekly]
Brooke already had some serious haters pointing her way before Nick nearly killed his best friend. People couldn't stand her personality on her family's ridiculous T.V. show – but it was her so-called singing career that really made her the butt of jokes. Along with looking like a tranny version of her father. Frankly the last thing this girl needed was more attention for people disliking her. But that's her own doing – she's constantly going on ridiculous MySpace rants about how awful everything has been for her family and how hard it is on them, yada yada yada. The essential point is that all that matters is the Hogans, and why doesn't the rest of the world see that? What jerks.
I still wish really terrible things on this family, and hope every single moment of happiness that they would ever have experienced is sent the Grazianos way instead. If Brooke feels the need to request prayers, she should leave her family out of it and request that they go towards the victim, not the criminal.
Here's Brooke Hogan outside the Setai Hotel after attending the Bejeweled Swimwear show at Funkshion Fashion Week in Miami Beach on October 1st. Images thanks to WENN.