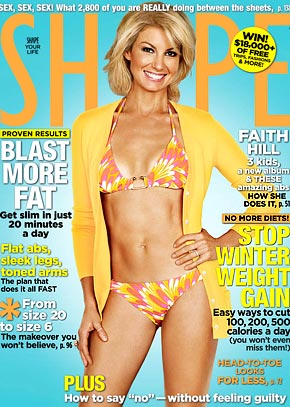 I'm always amazed that any celebrity would even own a bikini. Tara Reid is a perfect example of why you're just asking for trouble – the combination of a zoom lens and bad lighting can kill a career. Yet most of them seem to spend ¾ of their summers gallivanting around in little more than tiny triangles of fabric. And if you're that brave – more power to you. Even if you are Tara Reid.
Country singer Faith Hill is donning a bikini for a magazine cover – for the first time ever. That's pretty awesome. Hill is 41 but appears at least 10 years younger, and she looks absolutely amazing.
Faith Hill's beautiful face has adorned covers of CDs and magazines before, but for the first time ever she's posing in a bikini. What gave her the bravery? Pilates. "I could bend in ways I haven't been able to since I was a teenager," the Nashville-based star tells Shape magazine for its December issue (on sale Nov. 10). "My husband [Tim McGraw] loves it!"

There was another consideration: knee surgery in January forced her to cease exercising for six months. "I had never gone that long without doing something," she says. "I was not happy." In July she and McGraw began a daily routine that included four miles on the elliptical, light weight lifting, crunches and push-ups.

"I found I slept better, had more energy and was stronger," says Hill, who then increased her regime to include Pilates classes three times a week. "It was so hard, but ultimately so worth it. My core is much stronger, and my arms are more toned. In fact, wearing a bikini on a magazine cover is my 41st birthday present to myself."
[From People]
If I looked like that at 41, you could not pay me to keep my clothes on. I would be beyond immodest. Hill does have a cardigan over her bikini. It's cute and matches nicely, but a little uncommon. It makes me think she's still a bit uncomfortable with a few parts of her body, and that's probably why she wore it.
I don't blame her, I'm just surprised – if nothing else a retoucher can get rid of any imperfections. Nonetheless, she looks amazing and clearly worked hard for it.
Here's Faith Hill and husband Tim McGraw enjoy a family outing with their three daughters in June. Images thanks to Bauer-Griffin.