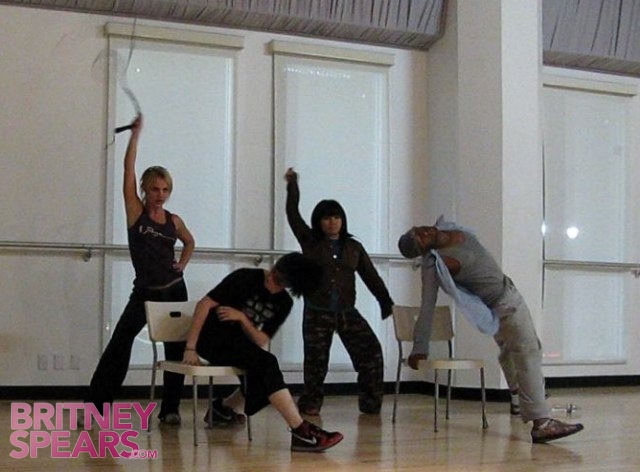 Britney Spears' official website got a major update yesterday with some pictures of Brit and her dancers practicing a routine for her concert tour. It looks pretty hardcore (and a tad dangerous) too – Brit's holding what appears to be a real whip.
Gimme more! Brit was snapped rehearsing her latest dance routine — holding a whip.

The Spears Comeback Train is rolling on full steam ahead — she's reportedly signed Wade Robson, the man behind her raunchy video "I'm a Slave 4 U," to choreograph her world tour. She will reportedly hit the road in March next year.

Meanwhile, Brit's driving-without-a-license trial has come to a grinding halt — jurors are at a deadlock! Jurors in her trial went home today without reaching a verdict after announcing they were stuck on a 10-2 vote. They'll reconvene tomorrow.

Britney, 26, is charged with driving without a California license.
[From Extra]
It really is amazing to see how incredible Britney looks. Her body appears the same as it did years ago – she's obviously worked incredibly hard to get it back into such crazy shape.
TMZ is reporting that the jurors in Britney's trial are deadlocked, and they theorize that confusion of dad Jamie Spears' testimony is partly to blame. Apparently Jamie has a very, very thick southern accent, and the website claims the jurors couldn't understand much of his testimony. A court employee now has to read it back to them. TMZ loves to make fun of the Spears family for their southern roots, so it's hard to tell to what extent they're joking. I doubt Brit's trial is hinging on even a very thick accent, but it probably doesn't help speed things along.