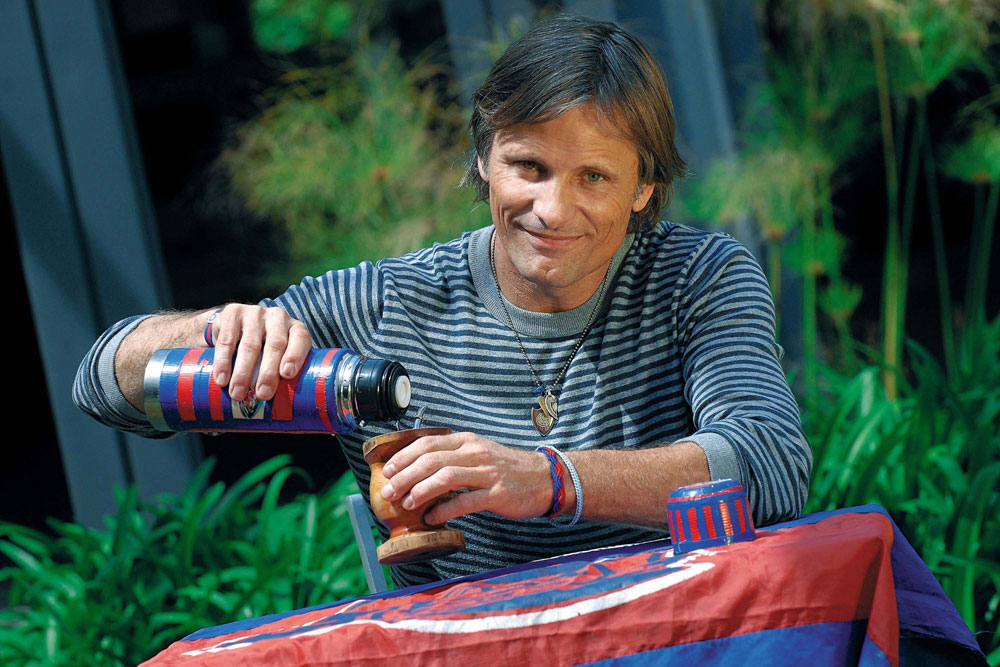 Several big stars turned 50 this year — Madonna, Prince, Sharon Stone, Alec Baldwin and Ted McGinley, for instance.
But the fairest of them all marked the half-century mark on Monday. Happy birthday, Viggo Mortensen!
After decades in the business, Viggo is at the pinnacle of his career.
He started out as a supporting actor with Demi Moore in G.I. Jane, Denzel Washington in Crimson Tide, and Gwyneth Paltrow in A Perfect Murder. (Tabloid sidebar: It was rumored an affair with Viggo caused Gwyneth's break-up with Brad Pitt.)
But the past few years have vaulted him to leading man status in gritty, hard-hitting roles. Since playing Aragorn in The Lord of the Rings, he has earned accolades in A History of Violence and even an Oscar nod for Eastern Promises.
He recently starred opposite Ed Harris in Appaloosa, and has two films coming out soon. He'll play a reluctant Nazi in Good, and the nameless central character in the movie I'm most looking forward to, The Road.
Also, he's still sex on legs.
And still controversial. He's always been down-to-earth yet outspoken about his political beliefs. He actively supported Dennis Kucinich, and recently wrote an analysis of the current Presidential race on his publishing site, Perceval Press.
Steal from the poor and give to the rich: this is the policy that we have in recent days seen the U.S. Government unhesitatingly and irresponsibly sanction by bailing out the big gamblers and law-breakers with tax-payer money. At least now this short-sighted and destructive approach to governance is undeniably out in the open. We saw this happen in the 1980s with the savings and loan scandal and bail-outs, and we are seeing now, as we saw then, people like John McCain, Phil Gramm and the usual assortment of corporate pirates get off scot-free and continue on their paths of self-advancement and cronyism. The mismanagement and plundering of our nation's wealth and the cavalier drive to burden future generations of its citizens with crushing debt have been hallmarks of U.S. government practice for quite some time, but never to the unprecedented degree that we have experienced during the eight years that the Bush Administration has plundered the treasury for the benefit of a tiny, very wealthy minority. Hopefully voters will keep this in mind when deciding whether they wish to continue in the same vein with McCain, or give change a chance to happen with an Obama administration. Perhaps, too, the mainstream media outlets, in response to the now undeniable financial and moral crises we face, will get back to allowing issues more pressing and significant than the personal and ethical foibles of Ms Palin to take precedence in their daily election "coverage". I have my doubts about their willingness to do so, but there is always hope.
[From Perceval Press]
In these tabloid-as-PR times, Viggo is the antithesis of a Hollywood star. He rarely makes the tabloids, which he claims is because he's too boring. He was married to musician Exene Cervenka, and the two have a 20-year-old son together. I can't find any recent information on who he's currently dating. He did make the gossip pages a few years back at the height of The Lord of the Rings mania when he was rumored to be dating Before Night Falls director Julian Schnabel's 20-something daughter Lola.
There have also been a few ripples that he is seeing his two-time co-star, Spanish actress Ariadna Gil.
Throughout his career, he's worked with big-name actors and big-name directors, yet brings his own research to every role. He reportedly traveled Russia to learn the nuances of the language and culture for his role in Eastern Promises. He claims to have learned this independence over the years of working with directors whose priority isn't directing.
Most directors are jerks. They may be talented. But they may also not be very good at or interested in talking to people. Too often, when making films, energy is expended on quibbling and miscommunication rather than productively telling the story….Of course, some of us actors can sometimes be jerks too.
[From Another Man, print edition, Autumn/Winter 2008 issue]
Viggo compliments directors David Cronenberg and Peter Weir. He doesn't name names, but some other directors he's worked with include Ridley Scott, Peter Jackson, Tony Goldwyn, Gus Van Sant and Tony Scott.
Now that Kucinich is out of the race, Viggo is supporting Barack Obama.
I hope the movement that Obama created, as happened with Robert Kennedy, will prod him to go a little further in some areas than he would have, particularly in Iraq….Robert Kennedy wasn't particularly opposed to the Vietnam War, but he changed his position as a result of the pressure from the ranks of his supporters. I'm hoping that's what will happen.
[From Another Man, print edition, Autumn/Winter 2008 issue]
Viggo was getting Oscar buzz for The Road, but the release date has been pushed back, so he probably won't qualify for the awards this year.
I do love me some Viggo and hope he continues to make great movies for years to come, but if he only makes one more movie ever in his career, please let it be to reprise Aragorn in the Lord of the Rings prequel.
Viggo Mortensen is shown in scans from An Other Man Magazine and on 10/15/08 in Buenos Aires, Argentina. He is "wearing San Lorenzo de Almagro football club colours whilst promoting his new movie appaloosa." He is also shown at the Rio de Janeiro Film Festival on 10/8/08 and at the Apaloosa premiere on 9/17/08. Credit: WENN