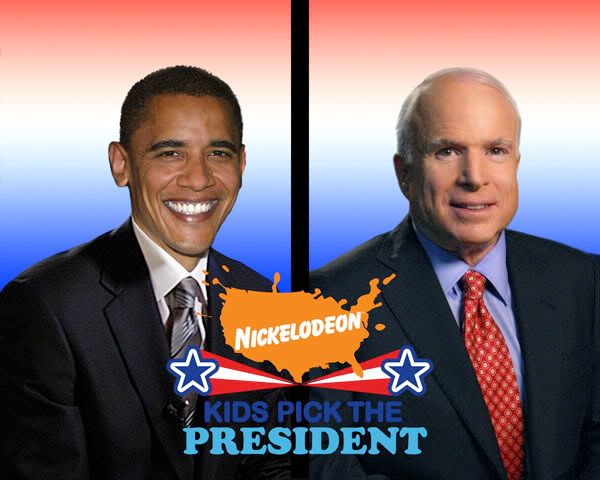 Nickelodeon's Kids Pick the President has accurately picked the next President of the United States four out of the last five elections, and this election year the kids picked Barack Obama. With a record number of votes, over 2.2 million, lodged on Nick's internet voting, Obama edged out John McCain 51% to 49%.
Designed to empower kids and introduce them to the democratic process, Nickelodeon has held these Kid's Picks since 1988 and hopes it increases the odds that kids will vote when they're old enough.
On Monday, Oct. 20, at 8 p.m. (ET), Linda Ellerbee, the Emmy Award-winning host of Nickelodeon's Nick News, announced the winner of the sixth Kids Pick the President "Kids' Vote" on Nickelodeon.

Said Ellerbee, "It's important to take note of who won the 'Kids' Vote,' simply because so many kids vote the way their parents will. But what really counts is this: they participated in democracy. They voted. How can this be anything but good?"

The "Kids' Vote" is the culmination of the network's year-long Kids Pick the President campaign, which was conceived to educate and empower kids across the country. This year's campaign kicked off in January with the first-ever "Kids' Primary", which resulted in kids accurately predicting Senators Obama and McCain to win their respective party tickets. Leading up to the Kids Pick the President online vote, Nick News aired four election-themed episodes including: "Kids Primary"; "Election Issues"; Tales from the Trail"; and "Kids Pick the President". Additionally, this year Nickelodeon hit the campaign trail with its Election Connection Team-Lily Collins, Lil' JJ and Pick Boy-providing kids with an insider's look at the Democratic and Republican National Conventions through blogs, interstitial programming and PSAs.
[From Breitbart.com]
I fully support any efforts that perpetuate voting! I think it's a fantastic idea to introduce the process to children, giving them a voice, and teaching them how to fulfill their responsibilities as a citizen once they're old enough. I'd venture to say that being given the opportunity to express themselves as children definitely does encourage them to express themselves as adults. I think I'll be a little more tolerant of Nickelodeon the next time SpongeBob SquarePants is blaring from my TV.
In other campaign news, Barack Obama has cancelled his scheduled appearances on Thursday and Friday to go to Hawaii to be at the bedside of his grandmother who is reportedly very ill. Madelyn Dunham, Obama's grandmother, who has been a very influential part of the candidates life, was recently released from the hospital but it's widely believed that for Obama to take leave of the campaign trail things must be grave. The most the Obama campaign will say is that her condition is "very serious." Obama will speak in Indianapolis on Thursday morning and head to Hawaii directly afterward and intends to be back to the scheduled dates on Saturday.
Picture note by Celebitchy: Here are some photos of Barack Obama, his running mate Joe Biden and their wives at the Democratic National Convention on 8/27 and 8/28/08. I also threw one in there of him swimming in Hawaii on 1/10/08 for good measure. Here are more photos of Obama shirtless. Credit: Fame Pictures