Eminem performing on 04/12/06 on MTV's TRL. Credit: WENN
Anyone who watched the 2002 MTV Video Music Awards remembers the dog attack suffered by Eminem and his very serious reaction to it. The only problem was, the dog was a hand puppet, better known as Triumph the Insult Comic Dog, a rubber rotweiller on the end of a guy's hand, who chided Eminem on his beef with musician Moby.
Eminem says he's still embarrassed that he let a rubber puppet get the best of him. In an excerpt from his new book, The Way I Am
, Eminem laments about that time in his life, saying that he has always had anger issues and drinking was exacerbating them. It didn't take much to set him off, even looking at him wrong, and he would lay into people until he felt he'd made them feel accountable. He says afterward he would apologize and feel like an idiot, but couldn't find a way to stop it.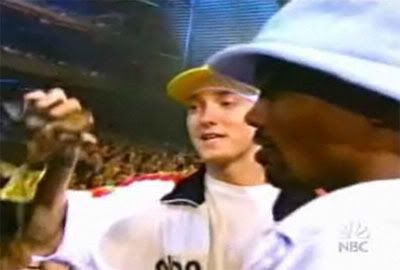 You all saw the Triumph thing go down at the MTV Video Music Awards, right? That's a pretty perfect example. I mean, there I am, sitting in my seat, and they announce that I'm up for an award, presented by Christina Aguilera. I had said some things about her in the past, Moby had said some things about me, and I had said some things back about him. So I'm sitting there next to Proof, and they bring in Moby and sit him like two rows directly behind us. So now I'm like, Okay, what's going on? What are they trying to do? I've got Moby behind me, and Christina up onstage, and then this dog puppet gets up in my face. I'd been so busy touring and doing my own s— that I hadn't had time to watch TV, so I had no idea what that dog was. All I saw was Moby and Christina and this dude who's sticking his hand in my face, trying to be funny. I didn't even see the puppet, you know? My natural reaction was, "Get the f— out of my face. Get your f—ing hand out of my face." And that's when I kind of lost it and a half. I should have kept my composure, but instead I stuck my fingers basically on Moby's nose. Right in his face, like, "F— you."

When they told me I won the award, I went up there and gave Christina a hug, because there wasn't a real beef with her. I was just dissing her to separate myself 'cause I didn't want to be classified as a pop artist. When I hugged her, I thought I was being as mature as I could be. But when I got behind closed doors in the green room, I threw a fit. There was a cooler with drinks in it, and I asked if anybody wanted to grab a water or something. Nobody did. So I picked up the cooler and threw it against the wall and kind of f—ed up the whole room, basically.
[From The Way I Am via Entertainment Weekly]
It's not new news to anyone, I'm sure, that Eminem has an anger management problem, but it might come as a surprise to some that he's writing a book about it. He's a highly intelligent guy, he writes his music and, like rap or not, you can't deny he's intensely talented but with obvious emotional problems. He never hid his emotional problems, either, which made him pretty hard to respect as a person sometimes. Some of his most popular songs were direct results of them and they drew alot of criticism.
It always seemed to me that his emotions ran a little strong, regardless of what they were, and the puppet fiasco was a result of that. It's encouraging to hear he was and is embarrassed about it. I certainly would be.
Here's the video of Eminem at the 2002 MTV VMAs with Triumph, as recapped on Conan O'Brien:

Triumph Vs. Eminem – The funniest bloopers are right here
Inset image is a screencap of Eminem's Triumph incident. People Magazine has a new photo of Eminem taken October 15. If he did gain weight as was rumored he has since lost most of it.