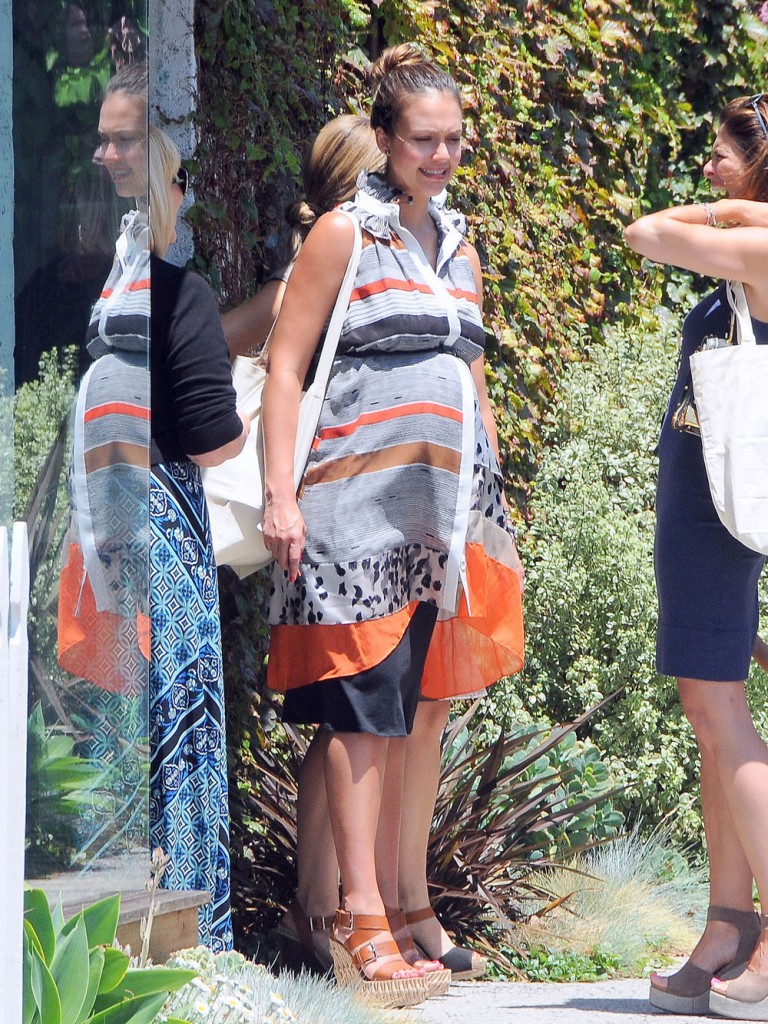 A very pregnant Jessica Alba was a guest on The Tonight Show last night. She was promoting Spy Kids 4D, which has this "extra dimension" in that there are scratch and sniff cards for viewers to experience certain smells shown on screen. Joel McHale is in this mess too, which is out August 19. I watched Alba's interview and she didn't say much that was interesting. She did reveal that she's a somewhat strict mom, which we've heard from her before.
On Honor's style
She loves to wear dress up. I had to explain to her that only certain types of girls are allowed to wear plastic heels outdoors, so she's allowed to only wear her plastic princess heels indoors. I can't really tell her why yet.

On giving time outs with the lights off
I'm definitely the disciplinarian. We don't believe in like spankings [or]… hot sauce. My daughter, we give her time outs whenever she's naughty… Just time out in the bathroom isn't bad enough. Even though she's in a lit bathroom that has big windows and it's a big bathroom it makes it seem that much worse… with the lights off. She freaks out… We have a nice little chair that's her size. [for Time outs]
[From The Tonight Show, video above]

Alba's segment was right before registered nurse and sex expert Sue Johanson came on. Johanson had been on for a few minutes and had very frankly answered a bunch of questions about sex when Leno asked Alba if she had any questions for her. Alba wanted to know if there was any way to harm the baby during sex. Johanson basically said "no" and that the uterus was pretty solid. She explained "that baby is in there, and that baby ain't going nowhere."
"As someone who's in the later stage of pregnancy, is there any way to harm the baby during intercourse?" Alba asked.

"That baby is in there and that baby ain't going nowhere until it's ready," Johanson assured her. "That uterus wall is just like that," she said knocking the arm of her chair. She then painted a picture of the cervix smiling from intercourse and things got a little weird.
[From AOLTV]
Alba's question may sound crass to some, but it was nothing compared to what Johanson was saying. She had been talking about penises, orgasms and masturbation for a while and she went on about it. I'm not familiar with Johanson and she was cracking me the hell up. There's just something so funny about an older lady talking about sex. She answered a question about whether men can fake orgasms. "Yes, but they can't fake ejaculation. It has a very, shall we say distinctive odor." A 68 year-old widower wrote in to ask if he'd ever have sex again and she said "Boy I hope so, here I am honey." Johanson is 80!
When I was that far along pregnant I wasn't interested in sex. I could barely get comfortable in bed and had to use one of those full body pillows to sleep with. Jessica looks big and she said the baby was due "soon," but didn't give a time frame. She wouldn't say whether she was having a boy or a girl, which she seemed to know but not be willing to reveal publicly. (Hollybaby is reporting that she confirmed it's a girl, but if you watch the clip that's not the case at all.) I'm not going to fault her for asking about pregnant sex. Given the context it seemed like a totally legitimate question. I will say that my opinion of her wasn't changed much after seeing this interview. Pregnant or not she's not the most likable person.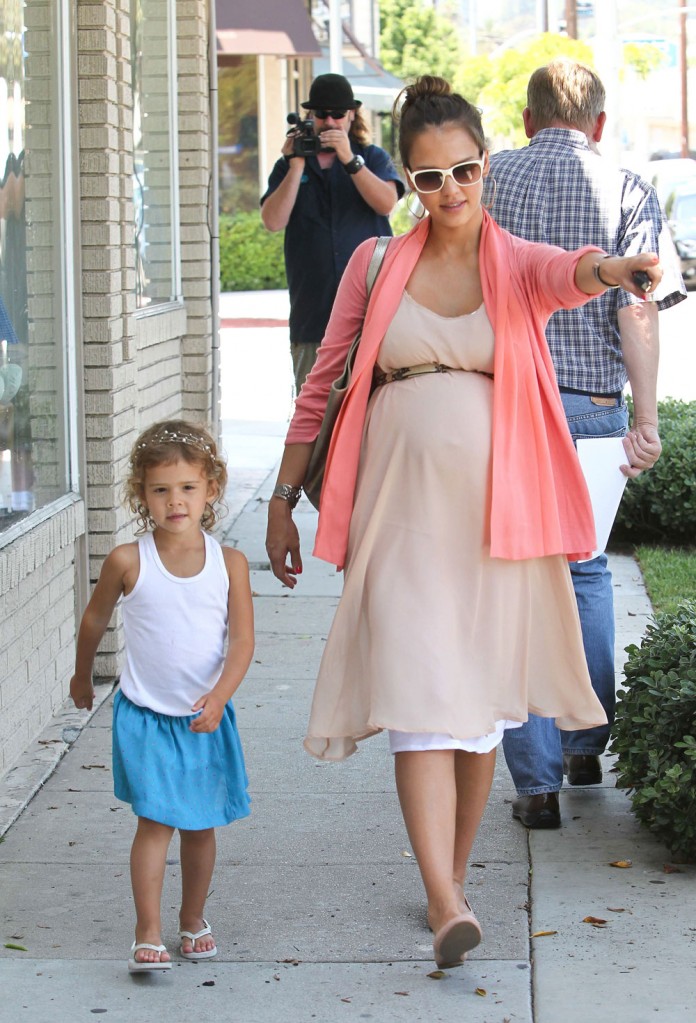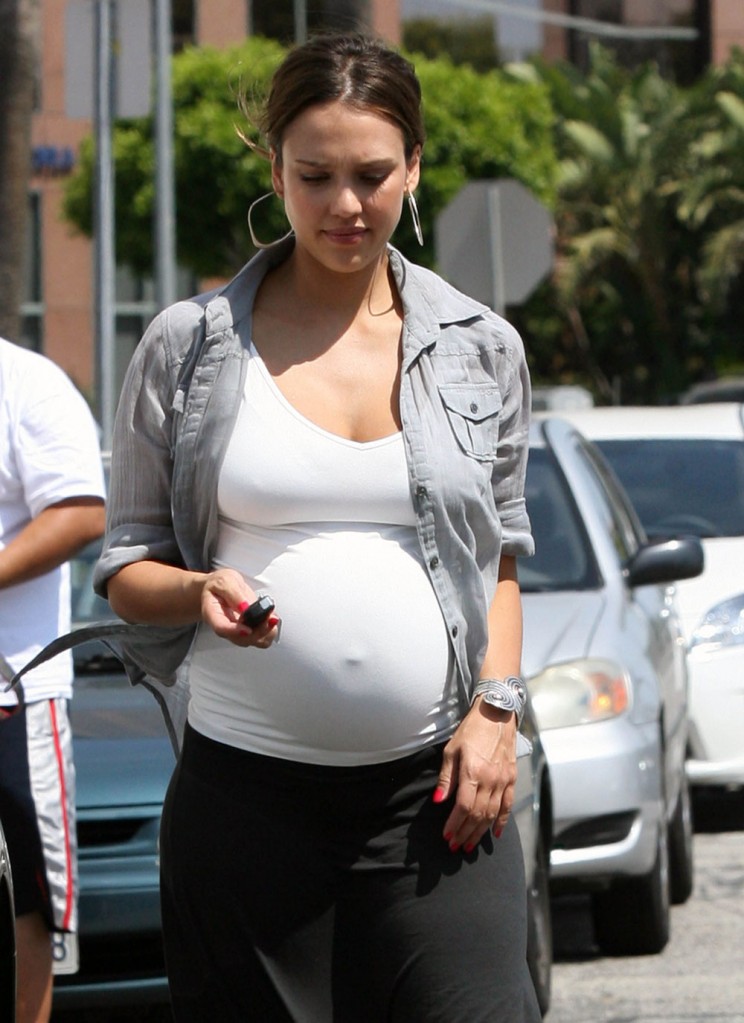 Alba is shown on 7/10, 7/8 and 7/6/11. Credit: Fame