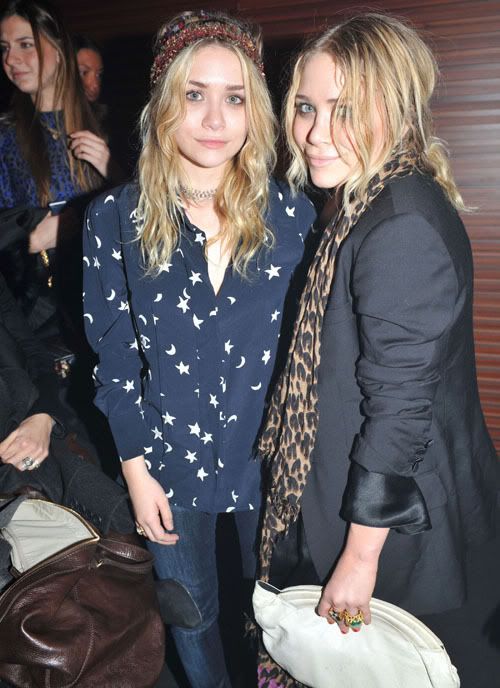 Considering how obsessed Hollywood is with motherhood, pregnancy, and babies (how many "bump watches" have we had to endure?) it's nice to see a young celebrity with other things on her mind. And I never thought I'd write anything complimentary about Mary-Kate Olsen. The famous twin is on Oprah today along with sister Ashley promoting their new (and well received) book Influence

. Mary-Kate told Oprah she doesn't plan on getting married or having kids.
Mary-Kate and Ashley Olsen don't see eye-to-eye when it comes to marriage and kids. In their new coffee table book Influence, designer Karl Lagerfeld asks the two if they plan on having families. They both look at each other.

"I don't feel the need to get married," Mary-Kate says. "But Ashley wants children. I'll be a great aunt or godmother."

"To my child," Ashley interjects. Don't expect Ashley to walk down the aisle anytime soon. "I don't even have a boyfriend," she says in the interview (which took place before she started romancing current beau Justin Bartha). "You have to plan that first, right? Figure that out first?"

Meanwhile, the twins appear on Thursday's Oprah Winfrey Show and discuss their decision to live apart. Was that a good thing, Winfrey asks. "Absolutely," says Ashley.

"We're sisters. We're twins. We work together, and I think to live separately is just — it gives you your space," Mary-Kate says. "I mean, she lives a few blocks away, but it's just — it's nice … to go home [and be alone]. Adds Ashley, "We're with each other even after work. We should probably just be living together!"
[From Us Weekly]
The Olsens are actually very involved in all of their side projects and fashion lines. They've created incredibly impressive businesses and work hard. They may catch shit for a lot of their celebrity antics, but they're some of the few celebs I can think of that work hard on their own clothing lines instead of just slapping their names on other people's work. Certainly they have employees that do a lot too, but they're hands on and have more business sense than a lot of people twice their age.
Though I swore I wouldn't I will definitely be checking out their book. They truly are impressive moguls for their age and it's gotten some great reviews. It'll be interesting to see who they've been influenced by. They've already gone from Walmart to high fashion, so their fashion futures look pretty bright.
Picture note by Celebitchy: Mary-Kate and Ashley Olsen are shown at a Fendi Boutique Opening in Paris on 3/1/08. They're also shown below on the same day with Karl Lagerfeld and Amy Winehouse. Look at how great Amy Winehouse looks. Credit: Fame Pictures