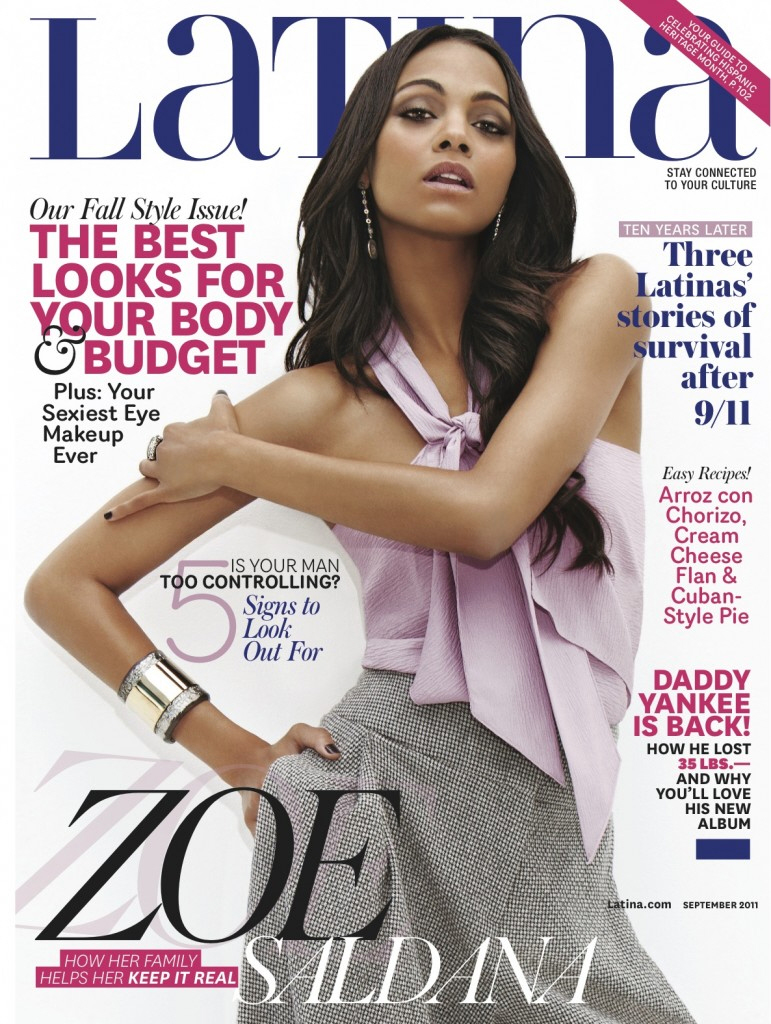 Yesterday, CB and I debated whether we should cover Zoe Saldana's appearance at the Teen Choice Awards. CB's take was basically that Zoe isn't really important, in that people don't give a crap about her in general. My take? The people who do care enough about her only care enough to dislike her. Personally, I tried to like Zoe, but after that horribly annoying Calvin Klein commercial (which she "wrote" herself), I find her somewhat insufferable.
Anyway, CB and I ended up ignoring Zoe yesterday, so now there's even more to love (or hate) today. Zoe covers the September issue of Latina Magazine to promote her new film, Colombiana. The trailer is below – it's like The Professional meets La Femme Nikita, with a heavy dose of been there, done that. Don't get me wrong – it's certainly interesting to see Zoe try to take on this kind of stunt-heavy lead role in her own action film, but this doesn't look very good:
See? It doesn't look bad per se, it just looks repetitive, derivative and kind of tedious. As for Zoe's Latina interview, she doesn't come across too badly here:
Stunning Afro-Latina actress Zoe Saldana graces the September 2011 cover of Latina magazine's fall style issue, available on newsstands August 16th. The 33-year-old Dominican and Puerto Rican star of this month's Colombiana opens up to about how she nearly had an emotional collapse after catapulting to superstardom with Avatar, the highest-grossing movie of all time, and what helped her stay grounded.

On dealing with her newfound fame: "The year after Avatar was just emotionally overwhelming. I was traveling all over the world, waking up in different time zones. Your body gets exhausted, and by the end of the year I just collapsed."

On coming close to a total breakdown: "I was in Paris training for Colombiana, sitting in my hotel room, and I couldn't stop crying. I couldn't stay awake. I must have slept for an entire month. It took me the rest of the year, even as I was working and shooting Colombiana, to pick myself up. Thank God my family was there."

On the post-Avatar effect: "I just want the best filmmakers in the world to tell me, 'You're good, kid, you're legit.' The recognition will never get old, and I'll never get accustomed to it. I don't ever want to, because that will mean I'm taking it for granted. That's why I work, not for the luxuries or the awards."

On the simple joys of life: "I just stay at home and do absolutely nothing. When I was younger, that would have made me feel like such a failure. Now that I'm older, I know what it means to shut down. I don't shower if I don't want to. I don't answer e-mails. It's a healthy way of being selfish. You know you're old when gardening, the Food Network and voice notes from your nieces and nephews blow your mind."

On her small circle of friends: "If you surround yourself with good people, if you're having a bad day – which everyone does – they will protect you, and it will never reach any kind of surface. But if you surround yourself with people who don't really love you and care for you, they'll be the first ones to expose you. That's dangerous."

On the key to her 12-year relationship with actor Keith Britton: "I think the only reason we've made it this long is because we don't listen to anybody but ourselves. We've still managed to sustain a relationship in a world where half of the people we know are divorcing or going through problems. It's like that song we both love by Frank Sinatra – we did it our way!"
[From Latina]
Her description of the "simple joys" sound more like depression, right? I like to be low-key and sit around watching the Food Network too, but I still answer emails and take showers. As for how difficult it is for Zoe to be so famous – er… she knows that most people can't pick her out of lineup, right?
Here are some photos of Zoe at Sunday's Teen Choice Awards. Her dress was Lanvin – it's pretty but kind of meh, much like Zoe. She looks a bit like Jada Pinkett Smith, right? Which is why it's extra weird that Michael Vartan is Zoe's love interest in Colombiana, considering he plays Jada's love interest in HawthoRNe.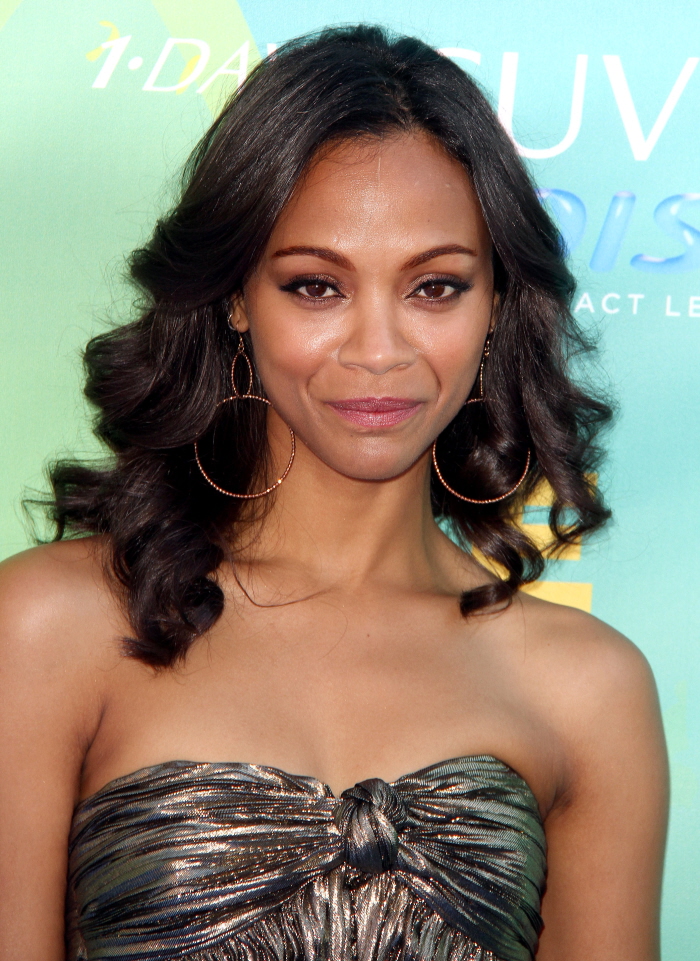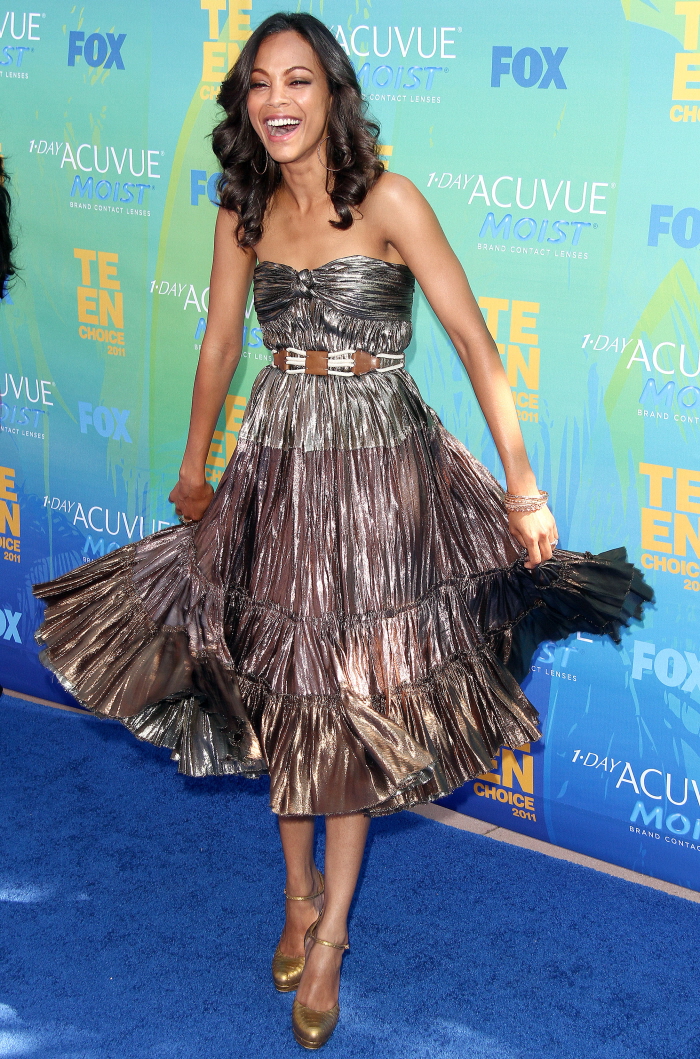 Photos courtesy of Fame.