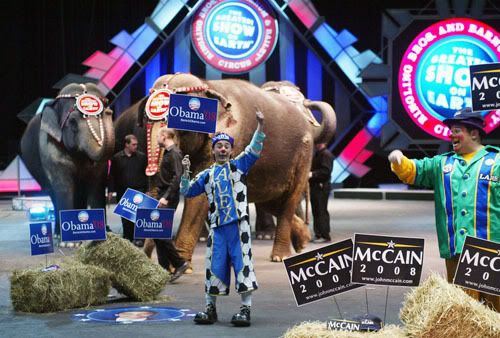 The Ringling Brothers and Barnum & Bailey Circus is known as The Greatest Show on Earth but a former employee, in conjuction with the American Society for the Prevention of Cruelty to Animals, Animal Welfare Institute, Fund for Animals, Born Free USA and Animal Protection Institute are ready to claim in federal court that that it's not the greatest place on earth for elephants. The lawsuit claims that the circus violates the Endangered Species Act by training their Asian elephants with cruel and inhumane methods. The suit claims elephants with Ringling Bros. circus are trained and disciplined with sharp bull hooks and by isolating and chaining the elephants for sometimes days at a time.
"We look forward to finally having the opportunity to establish at trial that Ringling Bros. inhumanely and unlawfully mistreats the endangered Asian elephants it uses to perform in shows all across the country," said lead counsel Katherine Meyer of the law firm Meyer Glitzenstein & Crystal. "The elephants not only deserve to be treated in a humane manner but they are entitled to be protected under the law and we hope that they will be afforded such protection once this case finally comes to an end."

Over the years, the plaintiffs have amassed a wealth of evidence to support their claims including photographs, video footage, internal Ringling Bros. documentation and reports from the United States Department of Agriculture. In addition to such evidence, eyewitness testimony from former Ringling Bros. employees and testimony from leading elephant behavior experts will be presented by the plaintiffs at trial.
[From Breitbart.com]
As an elephant enthusiast, I stopped going to the nearby zoo a couple years ago because the last time I went a young elephant was chained in a small dirt area in the grass. The elephant was rocking back and forth. I watched him for 45 minutes, just rocking. He reminded me of an autistic child trapped in his own mind, unable to escape the loneliness and torture of being cut off from the rest of his world. I cried the whole time I watched him and when I asked a zoo worker why he was just being left there I was told that he was being moved and the transport wouldn't be ready for a couple days. Anyone who would talk to me told me it was fine and it wasn't hurting the young male elephant. I looked in his eyes, for a long time, that elephant was in emotional pain.
Elephants have powerful emotions. If you've ever watched a documentary about them, you'll have seen the way they fiercely protect even the young of other elephants, as a group, and how they so sorrowfully mourn the passing of one of their own. Even elephants they don't know, if they come across the dead body, they will gather and cry for that elephant. They're incredible creatures and don't need the kind of tactics used by Ringling circus to learn anything.
I have always loved seeing the elephants at the circus, they're my favorite animal, I can't help it. One of my favorite memories of my childhood was riding the elephants at the circus fieldtrip. But the thought of what they've endured just isn't worth it. I don't know what the fine or punishment Ringling Brothers and Barnum & Bailey Circus and Field Productions could face, but I pray it's steep and severe. Maybe we could all take a poke or two at them with a bull hook while they're chained to the ground for days.
Here is more information about the abuse of elephants by Ringling Brothers.
Photos are from "Ringling Bros. and Barnum & Bailey Circus presents 'Bellobration!' at the Verizon Center" in Washington, DC, on 3/28/08, which included signs for the candidates in the Presidential election. Credit: Carrie Devorah / WENN