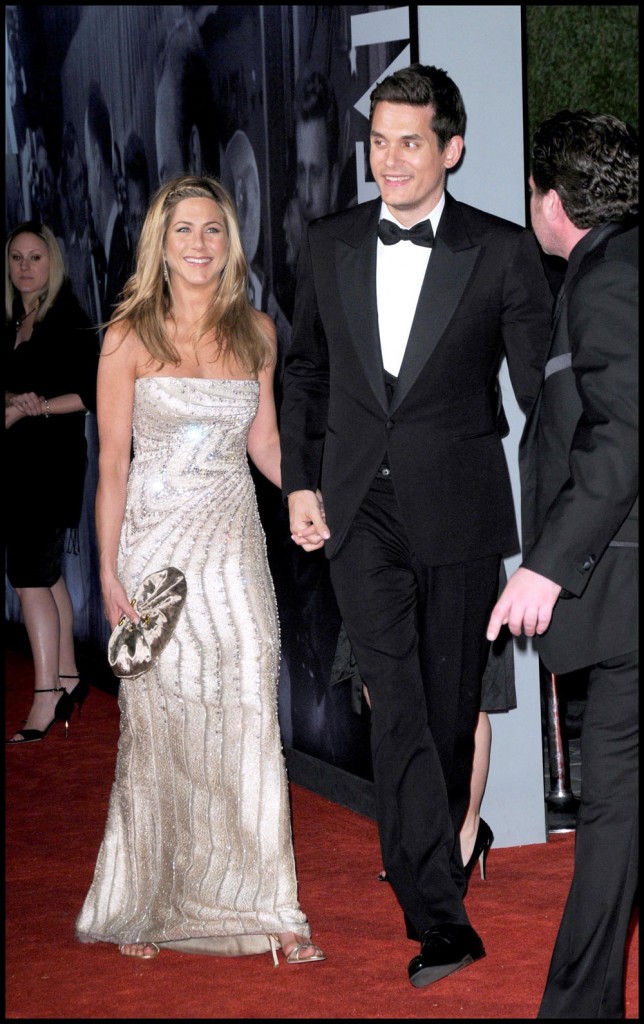 Mayer and Aniston at the 2009 VF Oscar Party
You know that Jennifer Aniston's rep is feeding stories to US Weekly. So that makes this story making fun of her ex John Mayer's weight gain all the more delicious. It's funny, and it's bitchy and I picture Aniston drinking a cocktail and chatting on the phone with Huvane, telling him that Mayer texted her and getting lots of help spinning this story into Mayer as a sad sack loser, pitiful with regret at losing Aniston. I doubt this is the case at all, but he was a real ass to her in the press and turnabout is fair play. This isn't the first we've heard of this. The Enquirer ran a similar story about a month ago on Mayer trying to with Aniston back. Here's the story from US Weekly:
A source says the singer, who put the final kibosh on his one-year romance with Aniston in March 2009, still pines for her. "She was the one who got away," says the friend. "He's definitely not thrilled to see Jen in so many photos with a new guy – especially one who is a cooler version of him." Now spending his time gorging on pizza bites, Hot Pickets and Smucker's Uncrustables while writing new tunes in his home in L.A.'s Pacific Palisades, Mayer, 33, is ahem, heavy with regrets. "He's just eating microwave food and getting chunky," the pal adds of Mayer, who had notoriously held an impromptu street press conference to discuss an initial split with Aniston in 2008. "Seeing Jen happy now isn't easy. He cared about her more than any of his other girlfriends."
[From US Magazine, print edition, August 29, 2011]
That's awesome, right? They get so specific about the junk food that Mayer prefers that it's like a commercial. "You too can drown your depression at being an oversharing douche by popping some Uncrustables in the microwave! It's like a little PB&J pie of happiness."
How do they even know which microwave crap Mayer is eating? He's no longer on Twitter and doesn't blog anymore. Is he texting the details to Aniston? "I miss u so much. Just 8 hole box of uncrustables lol!"
Mayer was looking heavier earlier this year, but he lost a lot of weight recently. Even when he was "chubby" as this article claims, he wasn't bad looking. He kind of looked like when Johnny Depp was heavy, except with none of Johnny's redeeming qualities.
Here is is on April 30th: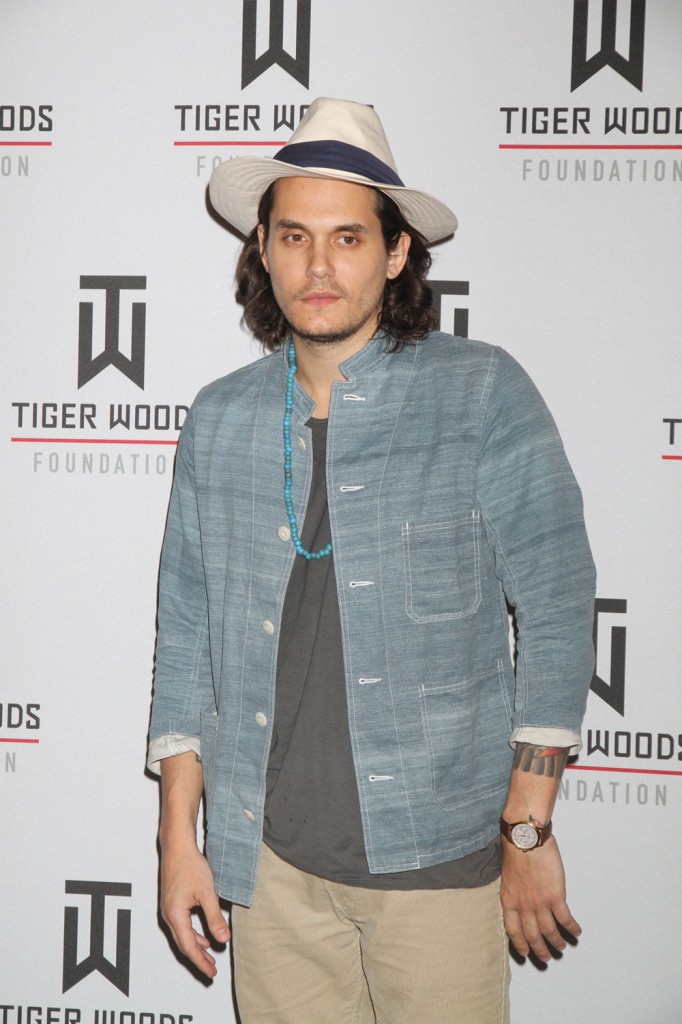 And more recently August 4th. He's lost weight and he wasn't bad before either.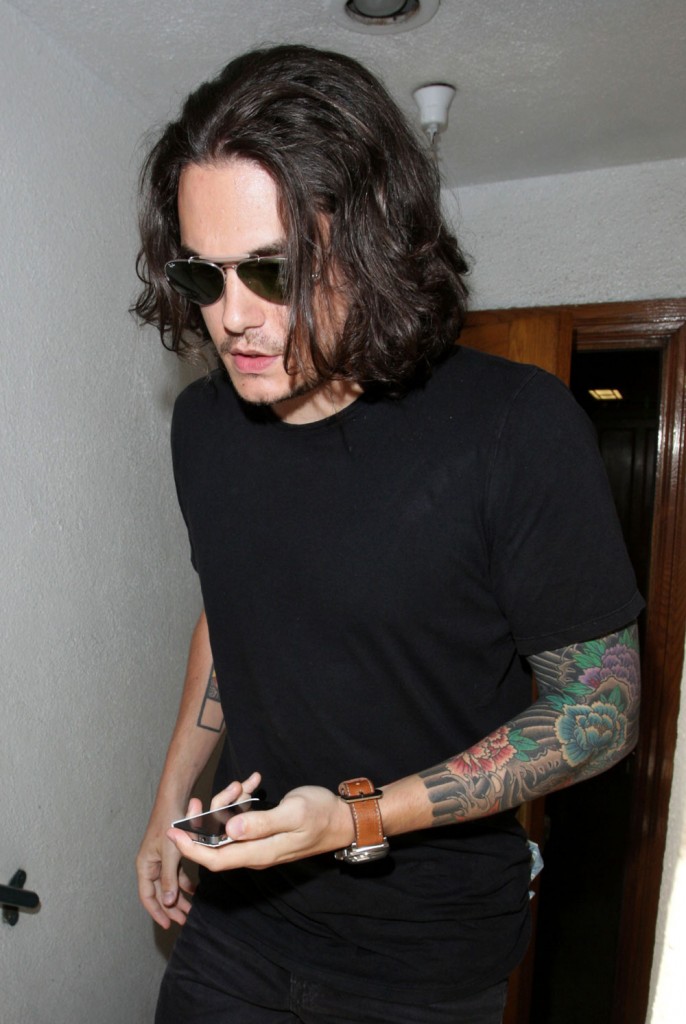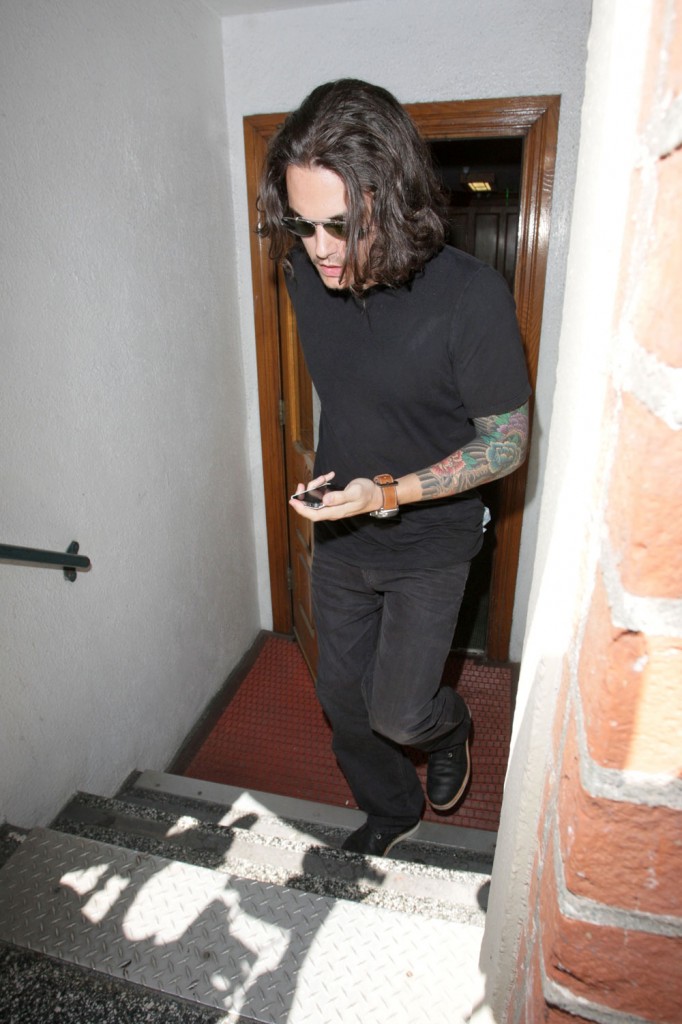 Photo credit: WENN.com