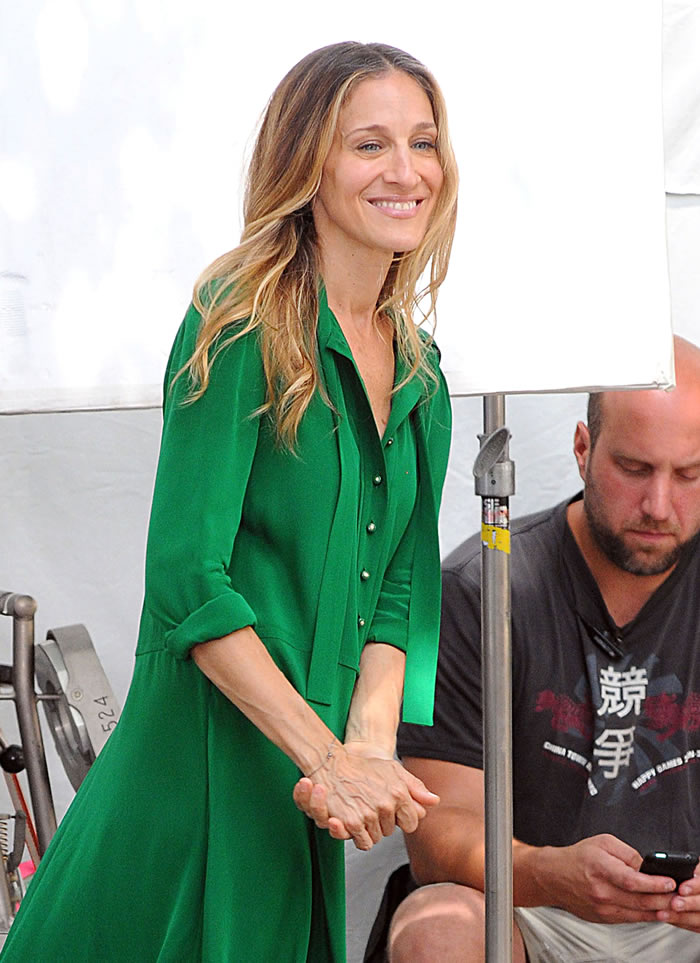 Sarah Jessica Parker is still engaging in wall-to-wall promotion for her upcoming movie, I Don't Know How She Does It, which (as Kaiser points out) looks exactly like "SATC" only she's Miranda. So while she's not busy actively refusing to split the atom of her marriage to Matthew Broderick, SJP is doing more interviews about what it was like to grow up poor and how wonderful it is to be rich now. Okay, she doesn't actually talk about how great it is to a Salma Hayek degree or anything, but SJP clearly does reside within a wealth bubble despite her humble upbringing. Still, SJP insists that she's not all about the money because, as she puts it, the goal was always to be a "great actor" instead of thinking about the cash, which is just an incidental benefit, right? You be the judge:
On Her Acting Philosophy: "I didn't plot a future like this, although I know some people do. When Matthew and I started working, all we knew is that we wanted to be great actors. I don't think I ever thought about money or that people would know my name." Her face electric with enthusiasm, she adds, "I loooove the work!"

On Growing Up Poor: Money was tight. "We were very aware of it," says [SJP's Brother]. "We saw the guy come to turn off the electricity, and my mother had to convince him not to because of the children." As Parker says, marveling at her own financial transformation, "When I was a little girl getting free lunches in Cincinnati, could I imagine being on a list in Forbes magazine?"

On SJP's Real-World Suggestions On Set: "She's so personable and friendly, a very solicitous kind of person," says Doug McGrath, the director of I Don't Know How She Does It, adding that Parker offered real-world suggestions on the set, like "most mothers would hold on to a stroller with both hands." The actress says she relates to the character she plays in her new film, especially the "coordination on the level of a military operation" required to run both career and family.

On Juggling Family & Work: "We've had two occasions recently where both Matthew and I were working, and it was so hard on the kids," Parker says. "Especially James Wilkie, because he can really articulate how he feels about our absence. On the other hand, there are big chunks of time when we're home a lot more than conventionally working parents. So you hope to make up for it." She and Broderick employ babysitters, but they don't have live-in help. "We love closing the door and having the only people in the house be our three children and us. It's such a good feeling to know that we're competent and capable and that it's private," she says. A typical evening at their Greenwich Village townhouse goes like this: "I give the girls their bath every night. Matthew cooks amazing things-last Saturday, pasta amatriciana and broccoli rabe, plus fennel sausage that he made. He does complex things, and I make simple things for the children."

On How SJP & Broderick Have Changed Each Other: Parker laughs, ticking off a disparate list of things Broderick has helped her appreciate: baseball, Parmesan cheese, color ("Matthew's mother was a painter, and he taught me to love colors and break all the rules"). She also says that "he's given me a little cynicism," noting that she used to take the world at face value but that her husband is more skeptical. "I'm less Pollyanna now. That's probably healthy."

On Refusing To Do Nudity: "When I did Sex and the City, I told Darren [series creator Darren Star], 'I'm just not comfortable with it. It's not some righteous thing, I'm thrilled if other people do it.' He said, 'Great, no problem.' And on another movie, it came up and I said no and they said fine. There might have been [a role] I lost because of it, but I don't think so-I think people would have said, 'Would you reconsider?' Now I'm so old, I think I should have done it when I was young."
[From Parade]
Well, I can heartily agree with SJP that on-screen nudity is definitely not for her, and I promise that my opinion has nothing to do with her age or her looks otherwise. She's just so skinny that, no, I really don't have any desire to see her naked. However, I do find the "Pollyanna" remark to be quite strange, but perhaps it's just a word that she uses a lot. In her August Vogue profile, SJP also made a "Pollyanna" reference about borrowing expensive clothes by saying, "Not to sound too Pollyanna about it…" Yet now, she's claiming to be not-so-Pollyannaish. What does it all mean? Also that bit about how most mothers use both hands to push strollers seems rather tedious at best. Did the filmmakers really need to be told this information? Who knows. Anyway, I hate to nitpick (really), but most mothers also wouldn't leave their infant twin daughters behind while they jetted off to Europe for a few months to film Sex and the City 2. Just saying.
Here's SJP looking like a clothes hanger on the New York City set of I Don't Know How She Does It. Matthew might very well be an "amazing" cook, but I doubt that his wife eats hardly any of that wonderful food.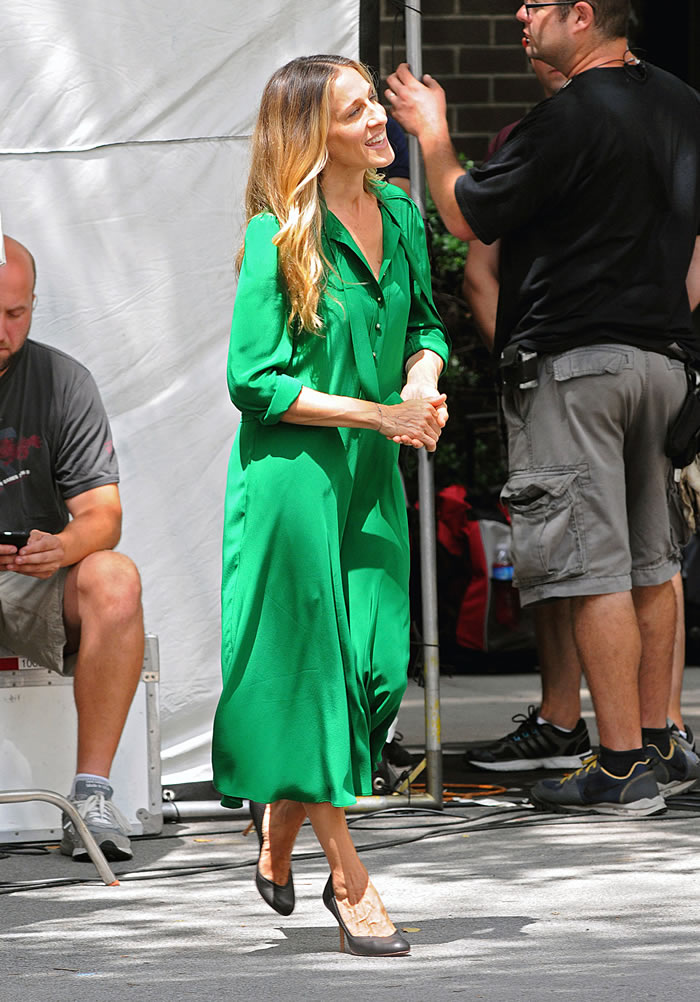 Photos courtesy of Fame