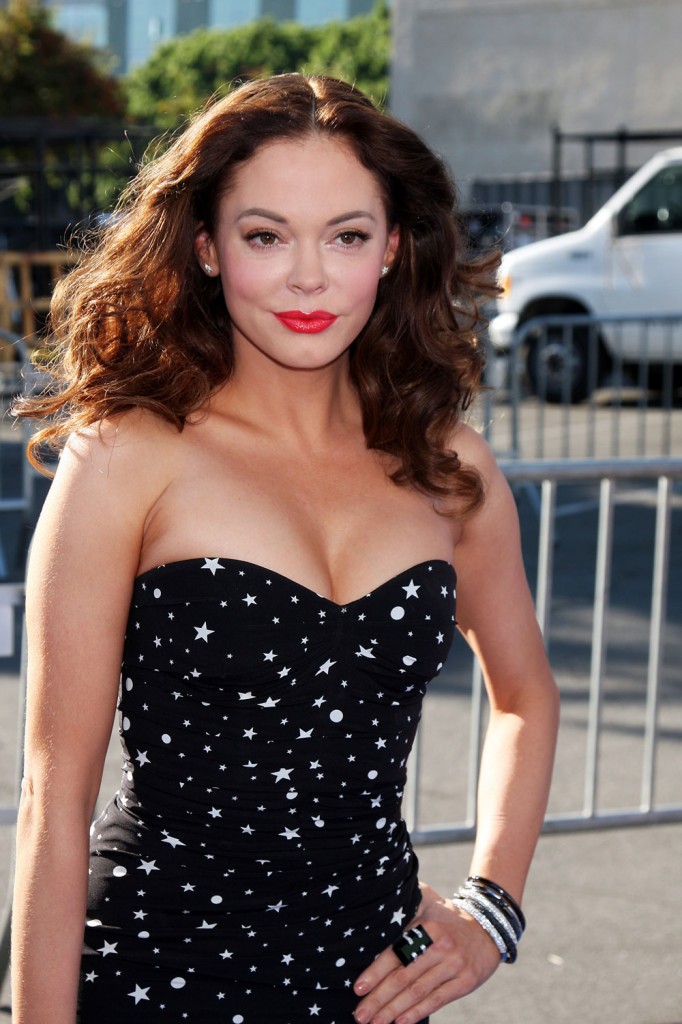 Rose McGowan is in that Conan the Barbarian movie that totally tanked at the box office. So she did an interview with People, and she earned an inset on the cover featuring their Kim Kardashian wedding extravaganza this week. Yahoo! has the details of her "escape from a cult," and while I was hoping it involved a recent tell-all scrape with the Co$, it's actually about a polygamist cult her family was involved with when she was a child. The story is really harrowing, with Rose and her family leaving in the night and getting pursued by the cult members. Apparently her dad was worried that she would get sexually abused, because the cult advocated relations with children. That gives me the willies.
McGowan, 38, spoke with People about how she spent her childhood in the Children of God cult. The sect is a "polygamous cult that blended free-love attitudes with Christian proselytizing." At age nine she escaped the cult with her father after he became fearful that Rose might be sexually abused.

While in the cult, McGowan tells People she was often either angry or terrified. "You weren't allowed to have imperfections," she explained. "I had a little wart on my thumb, and I remember walking down this hallway — a door opened and some adult grabbed me and just cut it off with a razor blade and stuck me back out in the hallway with it still bleeding."

McGowan also describes watching how the men in the cult treated the women. "At a very early age I decided I did not want to be like those women. They were basically there to serve the men sexually — you were allowed to have more than one wife." The cult's women would sometimes travel to area bars to try to recruit, an act known as "flirty fishing."

McGowan's father realized he had to leave when he was asked to draw cartoon literature that advocated child-adult sexual relationships. Soon after, Rose, her father, and some siblings left the cult in the middle of the night. They hid in a stone house, and avoided the cult members who came looking for them. "I remember a man trying to break in with a hammer," McGowan said. The Children of God sect has since been renamed The Family International and has "renounced its advocacy of sexual sharing" and adult-minor sexual relationships.

Eventually, McGowan settled with her father in Washington, where they worked on their relationship. "We became really close when he was diagnosed with pulmonary fibrosis at age 60," she said. Her father died in 2008. Today, she is close with her siblings, who she describes as "the most together, offbeat, funny, regular-ish people." Her mom is also happily married.

But McGowan has no illusions that things could have ended very differently. "As strong as I like to think I've always been, I'm sure I could have been broken. I know I got out by the skin of my teeth."

For the full article, pick up the September 5, 2011 issue of People magazine.
[From Yahoo!]
That's creepy as hell! You wonder how seemingly well-adjusted people get involved in stuff like that. A while ago I read an excellent book called Cults in Our Midst that explained how cults recruit and operate. I would recommend that book to everyone. Cults offer a sense of instant belonging and often "love bomb" inductees to give them a feeling of unconditional acceptance before sucking them in and indoctrinating them. (Here's a link to different cult characteristics that are pretty fascinating.)
I'm not a fan of Rose McGowan at all. She most likely hooked up with director Robert Rodriguez when he was still married, (they're over now though) and she's jacked up her face beyond recognition lately. She claims that she had to get repairs done to her eye after a car accident, but it clear there's much more going on with her than just that. Plus she looks smug and stuck up her ass all the time. I wouldn't be surprised if she has some kind of pill addiction. She doesn't look sober at all to me. But she has a really compelling story, I'll give her that. Thank goodness her family got out when they did.
Rose is shown on 8/14 at the Do Something Awards (polka dot dress, credit: WENN.com) and on 8/11 at the Conan premiere (mermaid dress, credit: WENN.com). She's also shown looking really brown on 8/23/11. Credit: Fame