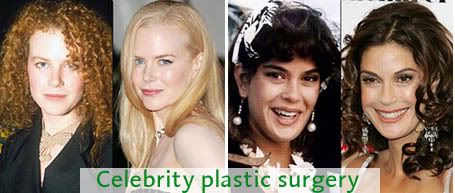 SkyShowbiz had this gallery of celebrity before and after pictures and it struck me how much some of their faces had changed. No one can blame celebrities for getting plastic surgery and I'm not bashing them for making that choice. Plastic surgery is a cultural phenomenon influenced by a perfectionist society obsessed with beauty. (Yes that's not big news and this reads like a high school essay.) It's also something that you might consider if all your friends and colleagues were doing it. My mom had a face lift mainly because her best friend had one. A friend of mine who lives in California had a nose job, and I didn't think she needed one, but all her friends had work done and it seemed perfectly normal to her.
I'm not a person who is going to age gracefully and I plan on getting a facelift in 20 to 30 years. Maybe there will be less cutting involved at that point.
You can access the galleries through the images below. In some cases the celebrities have admitted to having work done. I just eyeballed the pictures and made judgment calls. If you have more information or a different opinion about a particular celebrity please comment with it. I don't think I'm right in every case and am open to other opinions.
It's telling how most of the "natural" celebrities in the gallery are men.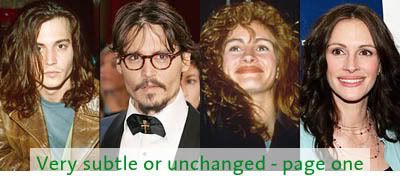 Very subtle or unchanged: page one

Very subtle or unchanged: page two