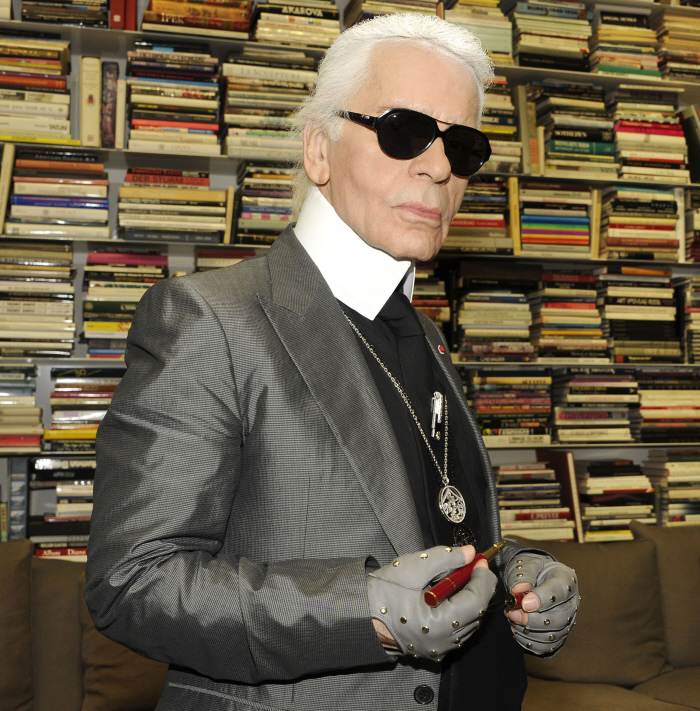 I kind of love how accessible Karl Lagerfeld has been recently. I feel like he's really beginning to enjoy the press aspect of his job, and he enjoys the response he's getting to his now-frequent interviews – which just proves that Karl surrounds himself with ass-kissing sycophants, because Karl's interviews are famously INSANE. Anyway, Lagerfeld gave a new interview to Style.com, and it is epic. I can't even cover all of the parts I love, but you can read the whole thing here. Here are some highlights:
On his collaboration with Macy's, and his thoughts on department stores: "I learned a lot of things, [but] the work of the American department store is something I knew quite well from the past. They made European designers in America, because [these designers] had no advertising. It was not like today. They made the shows, and really promoted them, and educated the American public about European design. That was another world, another time. But that does not diminish my sympathy for department stores… People don't shop the same way. There was no Internet. We live in another world. It's a new start. What I love best in life is new starts."

On people seeing behind the sunglasses: "You don't ask a marionette what a marionette really thinks. I'm totally myself. I became 100 percent my image, so maybe there's nothing else behind it. It's like talking heads."

High/low fashion, and middle-class fashion: "I loved to do H&M because it was an experience. People like me were supposed to be into exclusivity, unapproachable. That's what I hate most. I think it's very démodé. T-shirts for ten dollars are even more fashion today than expensive fashion. But the middle has more problems. That's a point we don't talk about. The middle has not so much class, in terms of fashion."

Does Lagerfeld "try" to create an image for himself? "I don't even try. From you to me, I don't know anything myself. I am flattered, because I don't understand. I don't sing, I'm not an actor, I have no scandals, I am a decent working-class person and people are interested in me, which I think is extremely flattering. I can say what I think. Maybe I should think deeper and open my mouth not as quickly."

On boredom: "I'm not scared. How can you be scared of being bored? Only boring people are bored. When they say they are bored, the only thing I can say is, "It's right, you're boring, too." Because there is so much to do, to read, to know, the idea of being scared of being bored doesn't even enter my mind, because the day only has 24 hours, my dear."

On TV: "I like if I'm on TV; watching it is not my specialty. I prefer what I see in my mind—I get second-rate images delivered there for free. But I'm not too bad on TV. I commented on the English [royal] wedding for the [French] state channel. Normally they don't have a huge audience, but with me doing it, we had nearly 50 percent and the others had only 30 and 20 percent. An event like that is fun to do because I can make jokes, and jokes of the lowest kind are not against my mentality. But I don't want to do it all the time, hmm?"

The fashion of no-fashion: "That is a fashion, too. The fashion of no-fashion is another fashion. I agree. But I think it's horrible that people have to be told. Don't smoke! Everybody knows it's bad for the health. But they have to forbid it. But I'm a bad example. I never smoke, I never take drugs, I'm never drunk, because I like only what I'm doing—work, reading, learning, sketching, taking photos. For the rest, my lack of passion or interest for this kind of thing makes it perhaps too easy for me to judge others. I'm surrounded by people who drink and take drugs. It doesn't bother me at all, even when I know it's bad for them. I'm not teaching them."

The royal wedding of Kate & William: "Sure, sure, sure. I do the things they ask me. But this was not a collection, this was the choices of this kind of woman for this kind of ceremony: the bad proportions, the ugly hats, the short skirts on fat legs. [When asked about the "fairy-tale" aspect of it]. But royalty is very trendy, no? Now it's in. It goes back to the very values you talked about before, you see? The old game coming back. People are excited by it. There is no political ideology for the moment, so they have to turn to something they can identify with."

On empires: "I don't want an empire. I work for several empires."

On Dominique Strauss-Kahn: "I love DSK. I love his wife. They are great people and when they came back to Paris I sent them flowers. But you know, for people in politics, it's very embarrassing. On the left they had hoped he wouldn't come back, because I think other people want his job. And on the other side…but even in America, Clinton survived his blow job."

On DSK and whether his actions were consensual: "They all do it in the political world. They get horny from politics, from power. And he had unbelievable charms. He is really charming. He's fun, he's great. He's a sweet guy—as long as you're not a woman. That's the problem."
[From Style.com]
My favorite comment is the one about the royal wedding - "the bad proportions, the ugly hats, the short skirts on fat legs." It seems like Karl hates the British royal family – but he's down with Monaco! He's friendly with Princess Charlene. The worst comment was all of the stuff about DSK, though. I hate when people gloss over sexual assault like it's the same thing as a consensual act, but maybe Karl was offering us a hint of DSK's character – "He's a sweet guy—as long as you're not a woman. That's the problem."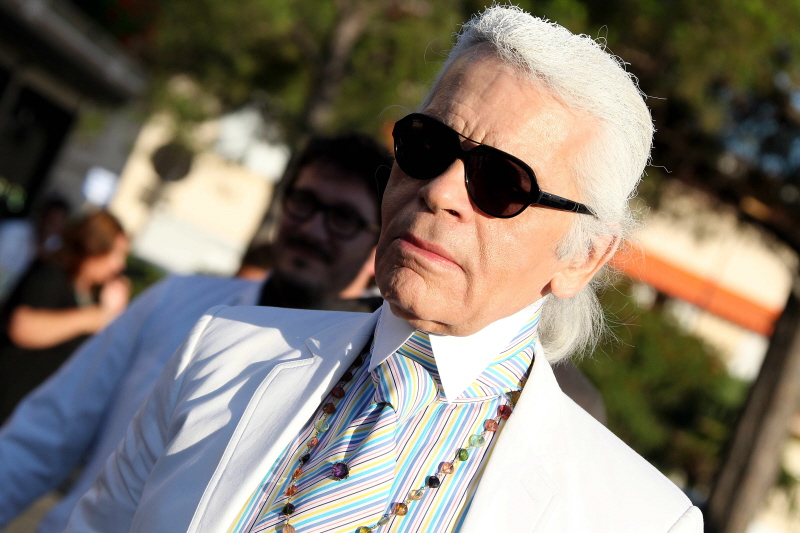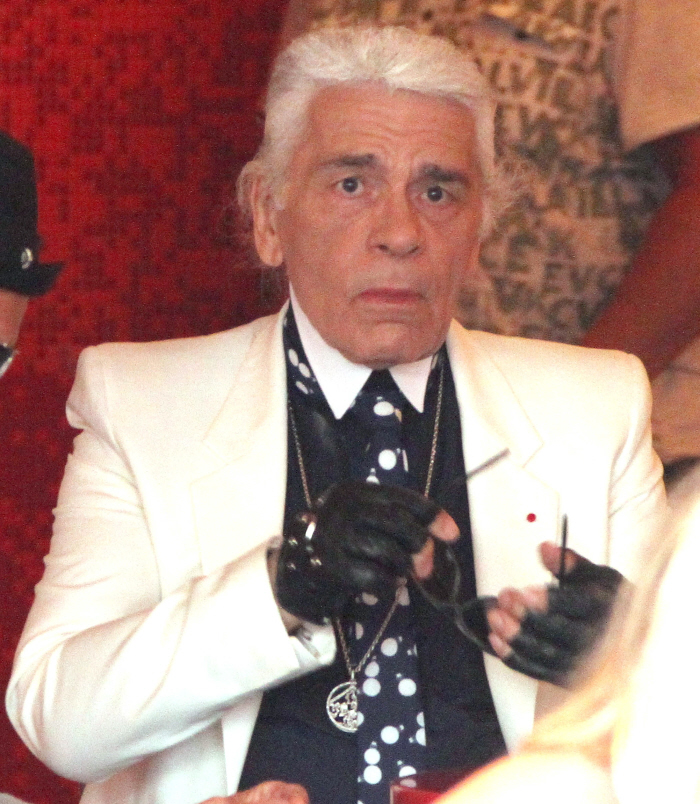 Photos courtesy of Fame & WENN.