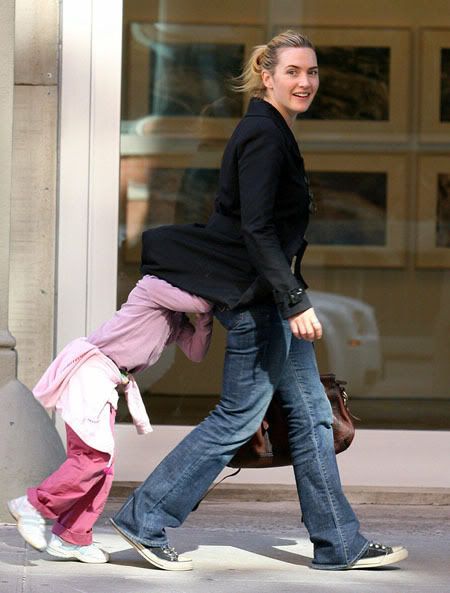 Kate Winslet has announced that she'll take a year hiatus from acting to focus on her role as mother to her two children, Mia, five, and Joe, two. The 31 year-old actress says that she wants to spend time with her family. Playing a cheating wife and preoccupied mom in "Little Children" helped Kate realize what's important in life:
"It was such a cathartic experience to portray somebody who can't cope with her life that it reminded me how much I need my own children.
"That's why I've decided to take a year off to be with the kids and watch them grow and just enjoy the feeling of being very motherly." It is going to be a big change for Kate, who celebrates her 31st birthday this week.
She has made three films in the past year and is continually being offered new roles but Winslet is convinced that she is making the right decision – and that she will have no problem returning to work.
"I've done enough good work in my career not to be worried or torn about not working," says Winslet, who has previously received four Oscar nominations.
"My life is very good and I need to switch off from movies and just be a parent for a while." Kate has two children – Mia Honey, five, from her marriage to director Jim Threapleton (the couple divorced in 2001), and Joe Alfie, two, with her Oscar-winning director husband Sam Mendes.
That's really thoughtful of Kate and she sounds like a great mother. As a stay-at-home mom to just one toddler, I can say that it's a lot of work and it's not as predictable as a nine to five. I love being with my son but I wouldn't mind taking a year off to work outside of the house – especially if I had a job like Winslet's. It seems like the grass is always greener.
Here is lovely Kate at the "Little Children" premiere and out with her daughter, Mia. [via]