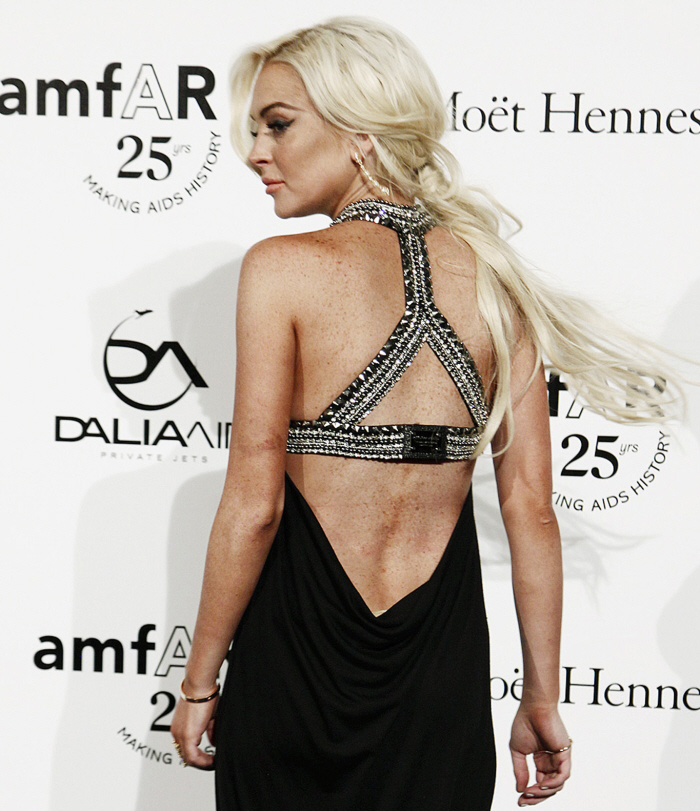 Throughout the week, we've been keeping tabs on Linnocent's "boyfriend" situation. As soon as she got to Milan to work as a "model" for Philipp Plein, she and Philipp began looking extra friendly, and they were photographed hand-in-hand and all cuddled up. Some of you think he's gay. I disagree. I think he's straight, and he's a Euro-cheeseball who wants to make a name for himself as an international player by "romancing" Linnocent. It's his money, so whatever. Allegedly, Lohan's getting $500,000 to model and "date" him. And then on Wednesday night, Linnocent showed up in Paris, looking like an escort and once again, walking hand-in-hand with a sketchy Euro dude, this time a "businessman" and club owner.
If all of this seems like the whirlwind, jet-set activities of an international call girl on the run, ding ding ding, you win the door prize. Linnocent was likely "escaping" a situation in New York City, where it seemed like her long-time john/boyfriend/lover Vikram Chatawal was attempting to put their arrangement on the backburner. Page Six reported last week that Vikram's (admittedly estranged) wife came into town, and was upset to see a crackie escort living in her home (Vikram had installed Linnocent in his apartment). Anyway, Star Magazine has some interesting details about Vikram and Linnocent's relationship, including Linnocent's alleged claims to friends that she is NOT in fact an escort.
Lindsay Lohan is living the life of a lucky girl in love – with millionaire hotelier Vikram Chatawal spoiling her rotten with swanky dinners, putting her up in his posh apartment and whisking her off on pricey getaways.

"She treats him like her suger daddy, and everyone knows it!" reveals an insider. But the actress claims to friends, "I'm not a call girl!"

As pals question all the over-the-top pampering, Lindsay says they're not lovers. "Lindsay is telling everyone who will listen that she and Vikram are only close friends," an insider tells Star. "Nobody is listening to her!"

But for a friendship, Lindsay sure is reaping a lot of benefits. The actress has been plagued by financial woes and legal troubles recently – and now she has Vikram to foot the bill. He has even gone so far as to send [Lindsay] off with his credit cards for a New York City shopping spree.

While the actress' rep also denies any romance between the two, insiders continue to insist otherwise…

"Lindsay's been hooking up with Vikram for months, and they have a mutually beneficial relationship," the insider adds. And for the troubled star, the timing couldn't be better.

"As her career and star power disintegrate and her bank account diminishes, Lindsay needs a man like Vikram in her life to be happy!" the insider quips. "She should just admit it."
[From Star Magazine, print edition]
In case you need to see the photos of Linnocent bending over, doing some lines and then making out with Vikram in his apartment, go here to The Superficial. I think they speak for themselves, but I always enjoy a good crack delusion story. I mean, of course Linnocent and Vikram are "just friends". I always invite my "friends" into my home, ply them with coke and liquor, have sex with them and then give them my credit card to go on a shopping spree. Doesn't everyone treat their "friends" like that?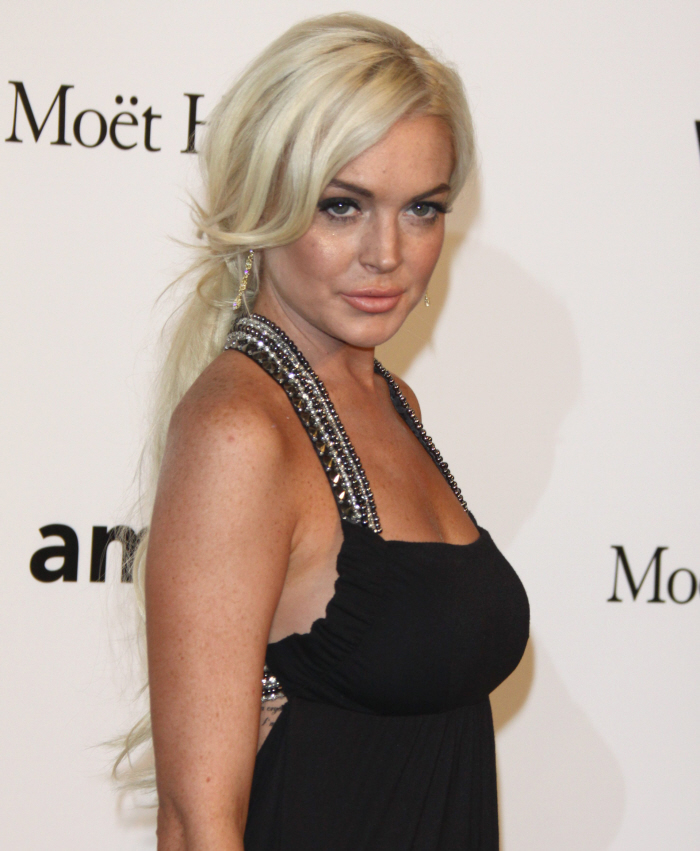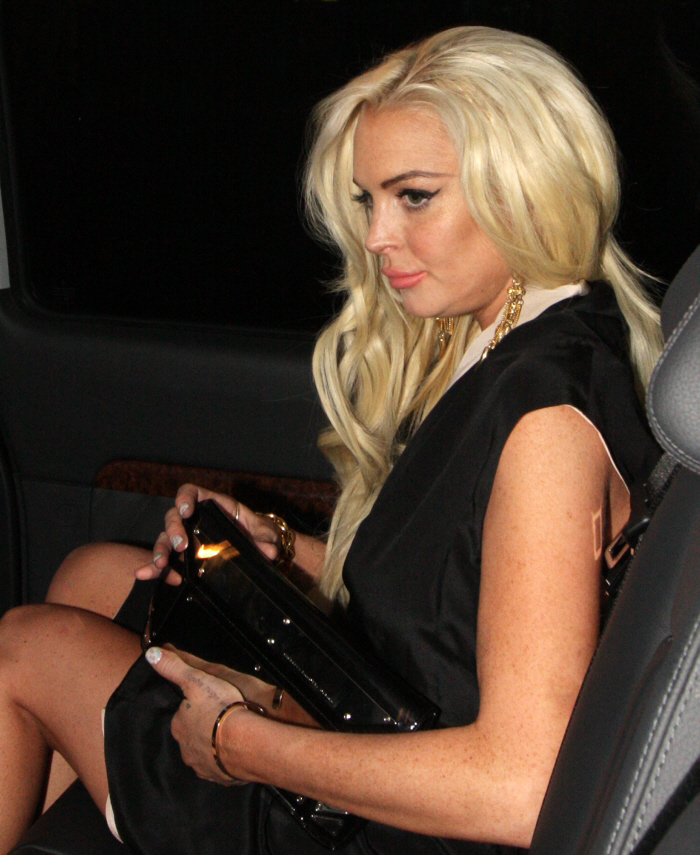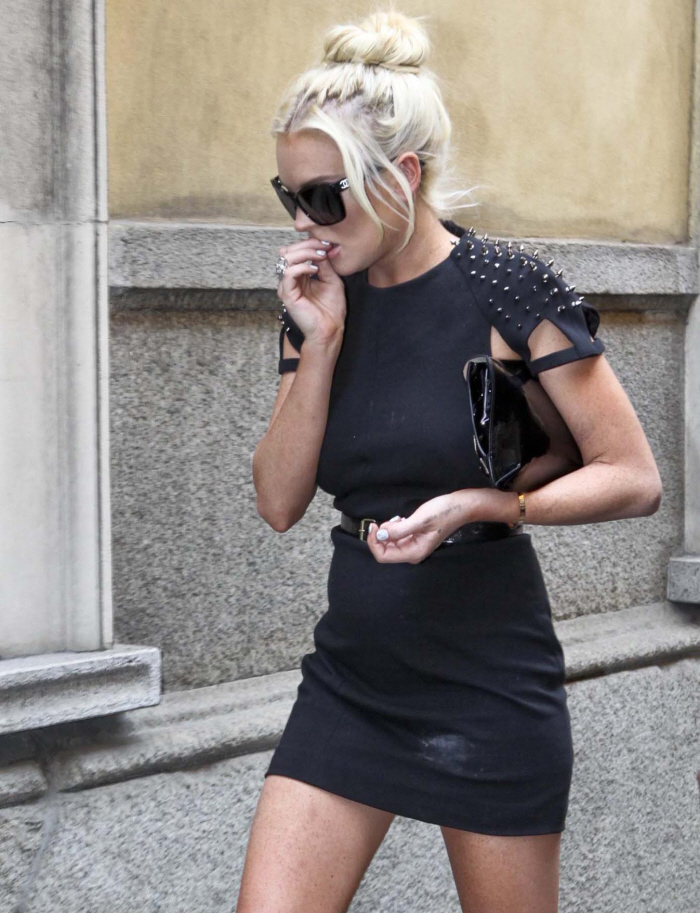 Photos courtesy of WENN.