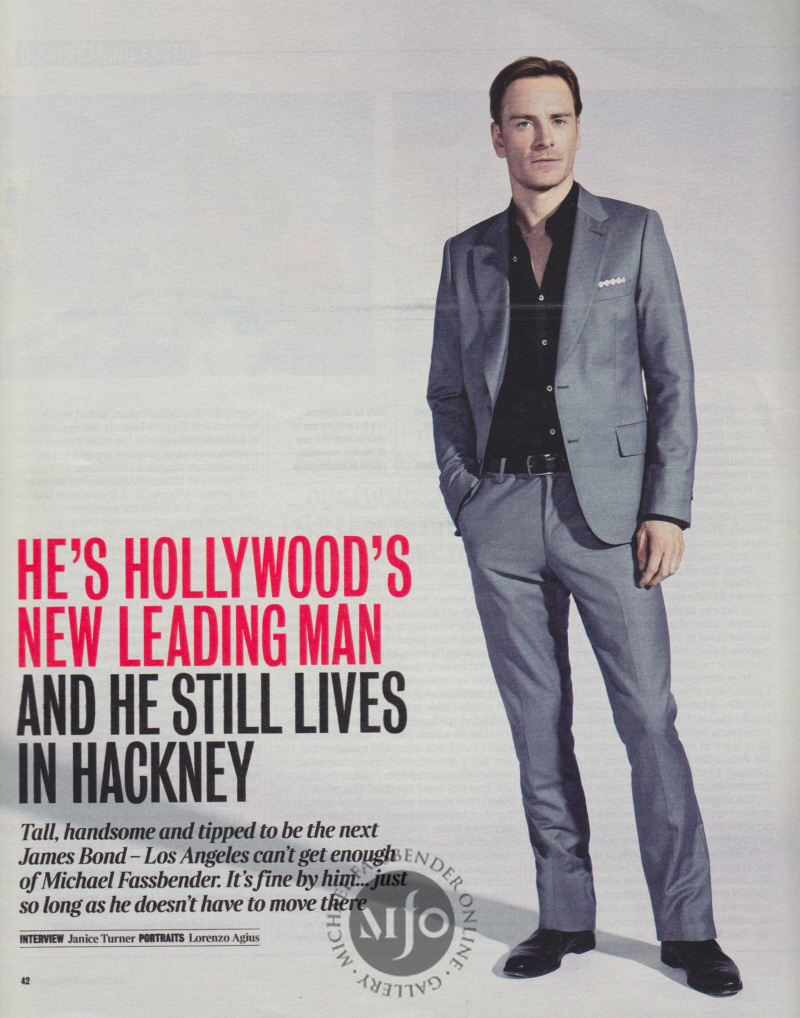 Oh, Fassbender, my love for thee is constant and unyielding, a persistent weed in your rolling field of ginger wheat. Also, I like your dong. You know what's funny? By far, the most mail I get is from the Fass-loonies, and yet not all of my posts about Fassie are big comment-getters. Why is that? Are you Fassloonies just lurkers, unsure of whether or not you should openly declare your love, especially given my slut dagger threats? You bitches have got my number! Seriously, though, there's enough Fassie to go around. He's mine, but I'll share him (sometimes). So all of ye Fassloonies, cometh. Speaking of coming (srsly), Michael has a newish interview in The Times (Magazine). I read the print edition yesterday, and there are some juicy quotes in here. I love his interviews so much – Michael is…real. Sure, he has moments where I think he's slightly pretentious, but for the most part, he's just a good actor who doesn't mind talking about himself, and he's got a very well-adjusted outlook on life. He's not angsty, he's not morose, but he's not uncomfortably happy either. He's just funny, wry, intelligent and rather kind. I love him.
On his Prometheus hair (short and blond): "I thought I looked like a ten-quid rentboy."

On flying below the radar, unlike his 'Basterds' costar Brad Pitt: "A young female fan base is the toughest to slip and slide away from. I don't suppose Robert Pattinson could just stroll down to Tesco without getting mobbed. It is nice to be able to go out and continue to observe people, a luxury as an actor."

On his family's financial troubles when he was young: "I'd ask for trainers or fashionable clothes and be told we couldn't afford them. It teaches you a lot. It surprises me the people of my age who turn around and say, 'It's not fair!' I learnt that very young. You always have to be smiling and happy when you're in front of the house, no matter what is going on in the kitchen or in your own life."

On his extreme weight loss for Hunger: "It's pretty frightening. I started to understand how mentally all-encompassing it becomes and what it must be like for people with eating disorders. I was kind of monk-like. It was like 40 days and 40 nights alone in the desert…"

On LA: "I'm afraid of what I could become if I lived in LA for too long."

On being self-reliant and liking solitude: "I think that is my trump card in this industry. That when I put my mind to something, I go for it uncompromisingly."

On relationships: "If you have a relationship you can work around it by focusing on the time you have together, which helps you not take each other for granted."

On Fass-babies: He sounds far from wanting to start a family, asking how with such a haphazard life, away for weeks or rising at 4 am, he could be a good father. "I'd want to be able to put them before everything else. But at the moment my job is the most important thing for me. I want to give it everything I can."
[From The Times, print edition]
So… when Michael and I marry, I won't get pregnant right away. That's fine with me. I'll enjoy "practicing" with the Fassdong for months. Years, even. All in the name of his career! What do you think about his comments about relationships and babies? As much as I enjoy joking around about The Fassbender, I don't actually get the impression that he's a womanizer. I think he's very confident with women (obviously, the man is sex on sticks), and he could very easily bed most women he comes across, but he doesn't. I never hear stories about him like I do with, say, Gerard Butler, or even Ryan Gosling. Either Michael is out there, boning everything that moves and he just keeps his junk tight, OR he's happier in a relationship, however transitory, and he's not out to get his rocks off with a different girl every single night. Sigh… single Fassbender. We need to introduce him to Rihanna. Imagining their sex life together… that's really, really hot.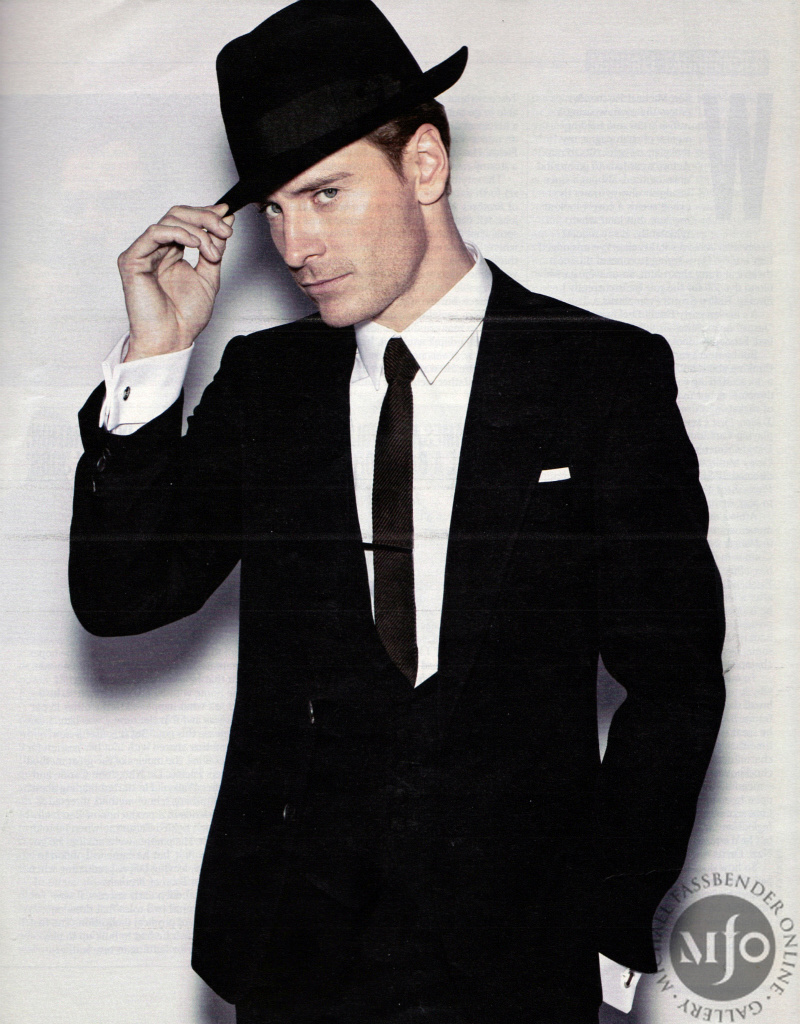 Oh, and Michael just signed on for another new film called 12 Years a Slave. It's being directed by Steve McQueen, the director of Shame and Hunger. McQueen and Fassie are tight, and you can read more about the project here. Brad Pitt's producing!
UPDATE: Um, the trailer for Shame just came out today. JESUS CHRIST, FASSIE. I won't be able to work for the rest of the day. Just… prepare yourselves. He pants throughout the whole thing. And when he whispers, "Slowly"… my biscuits were all "PRAISE JESUS!!" I am a believer. Fassie is magnificent.
Some new photos: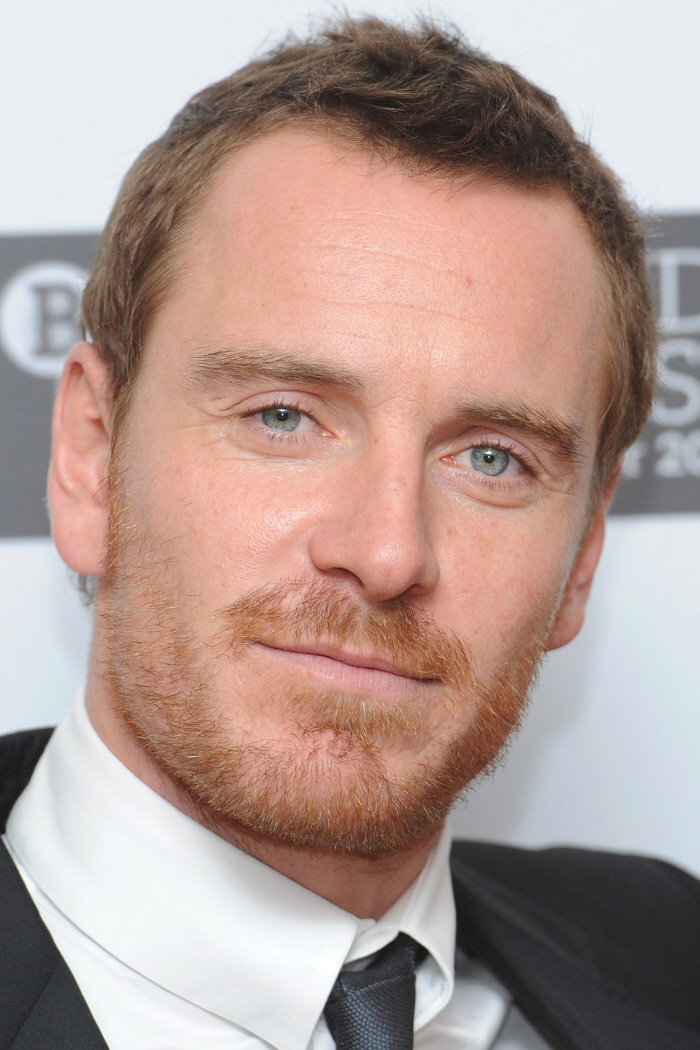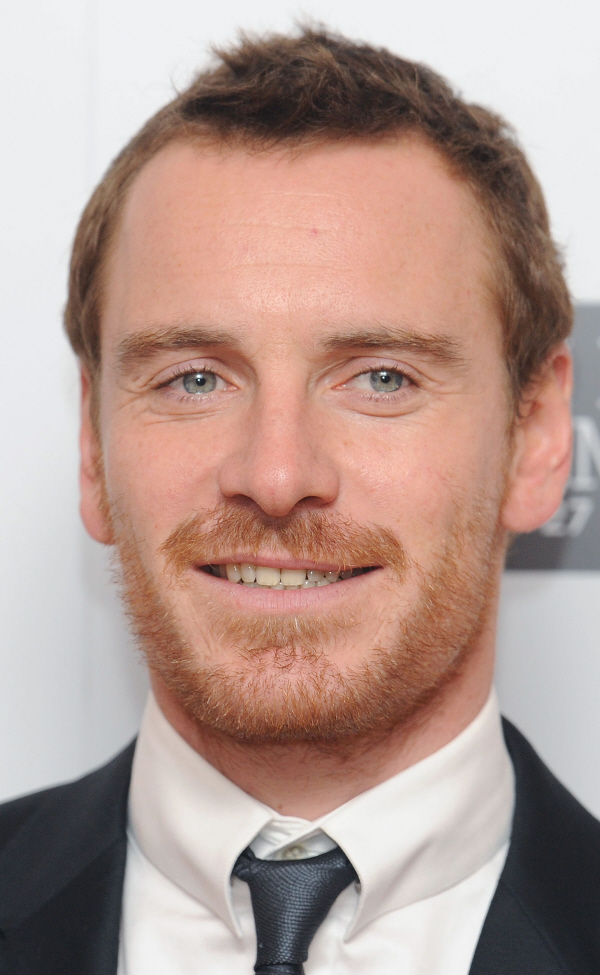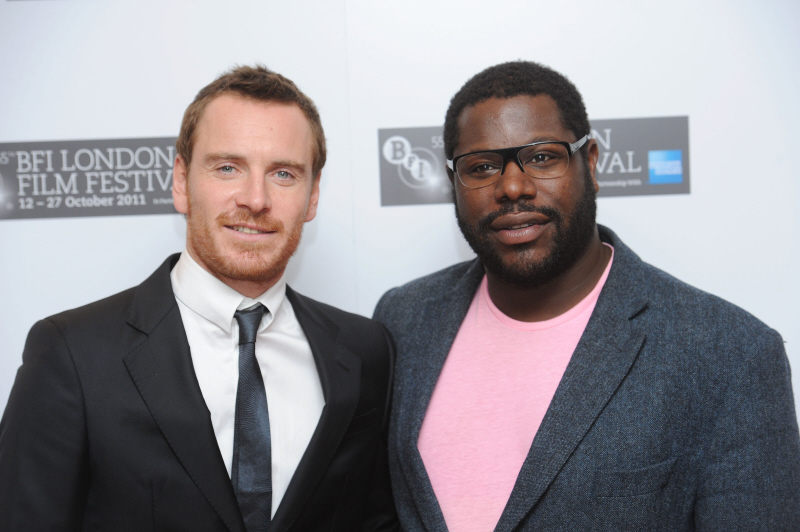 Some old photos: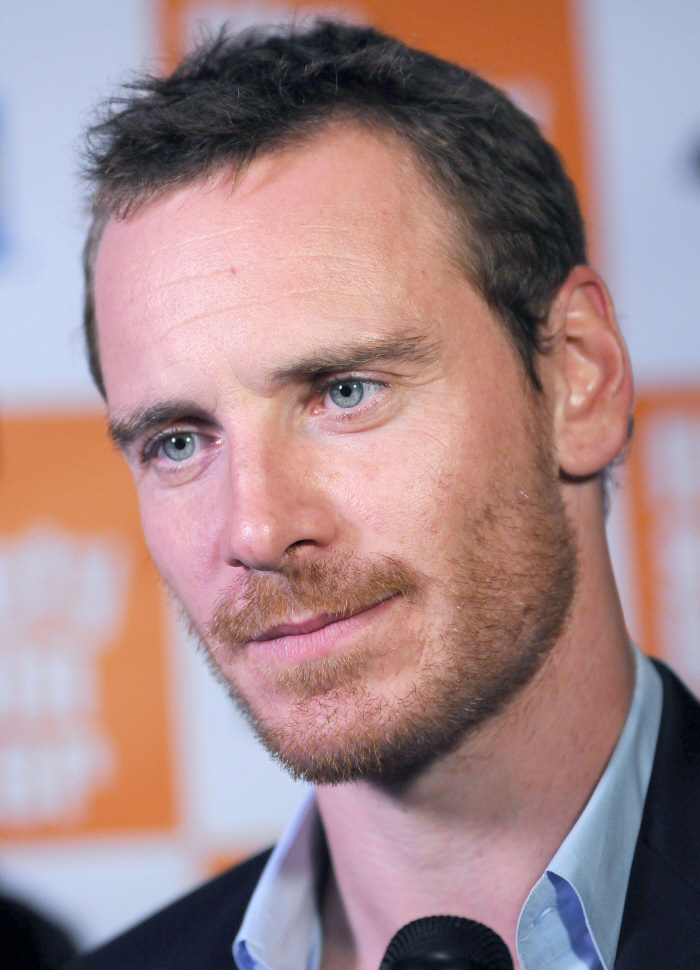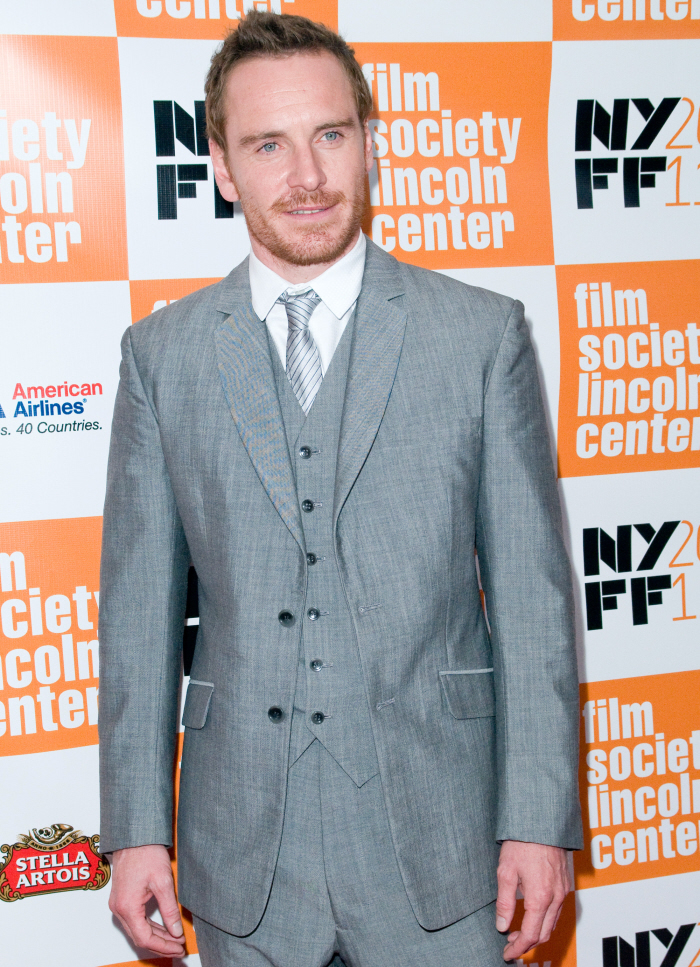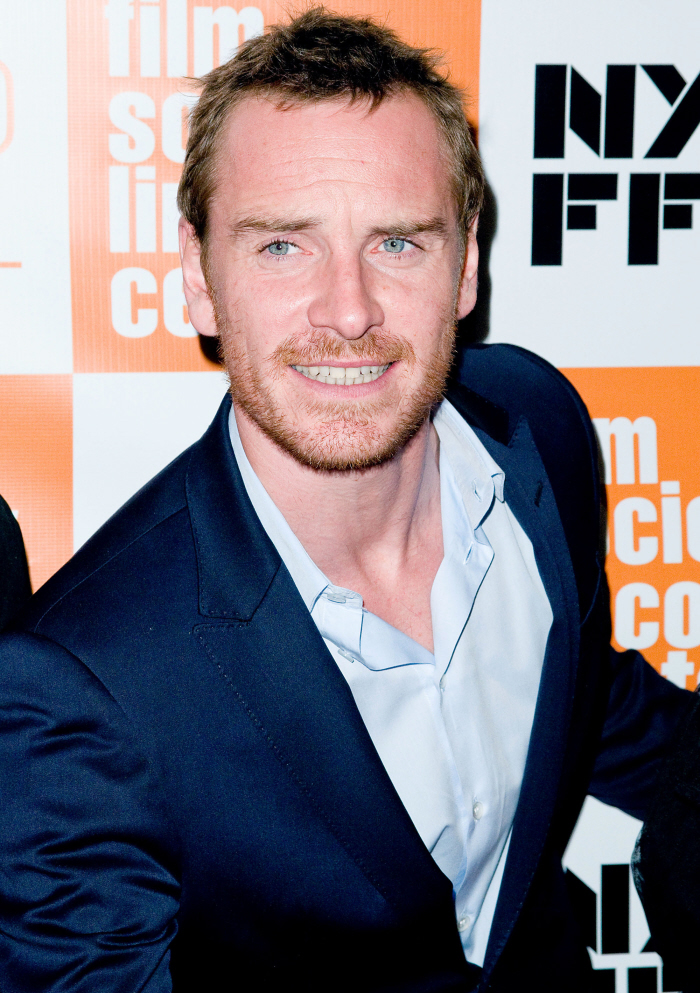 Scans from the print edition of The Times courtesy of MF Online.