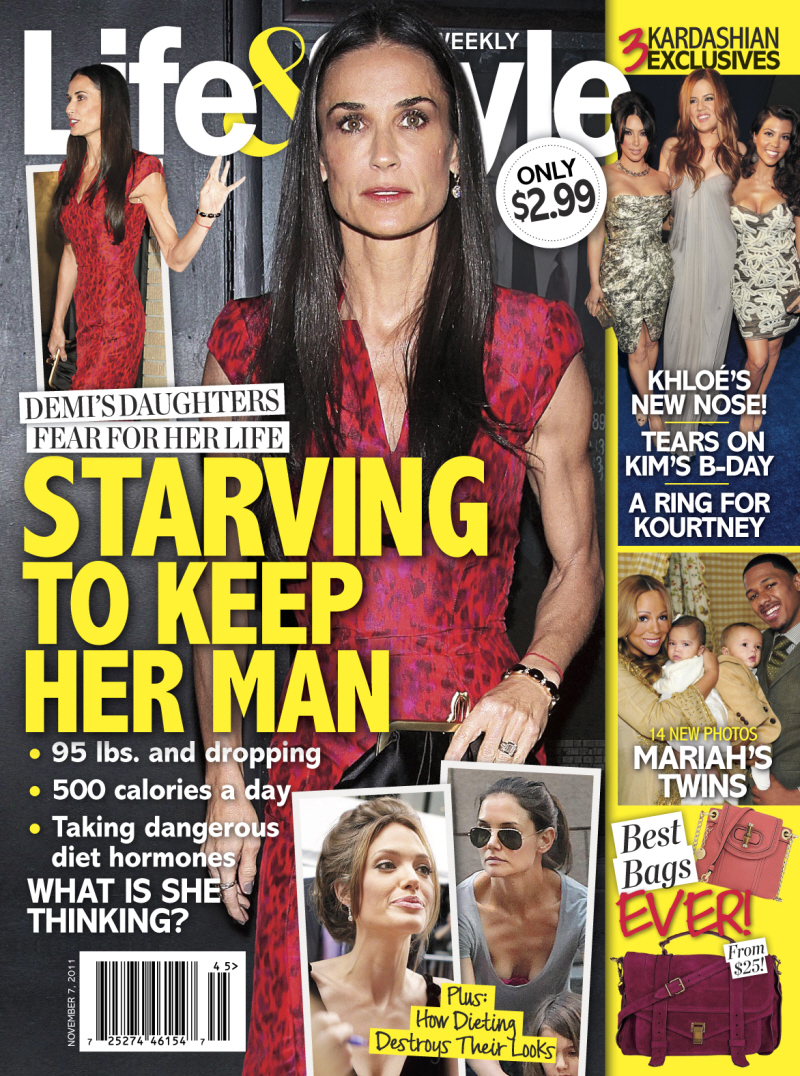 Life & Style and OK! Magazine both have big stories about Demi Moore's super-skinny body this week. Life & Style even put Demi's bones on their cover, as you can see. L&S's story is basically just people talking about how "scary skinny" Demi is now that everyone knows her husband is a filthy hot tub cheater. Jezebel points out that L&S must have overused the thesaurus, because the cover story features the following words: "swimming in her clothes," has a "bony chest," "withered arms," "gaunt cheeks," and a "shocking waistline," also "sunken cheeks," "bony arms" and "a waist thinner than a child's," and she is "painfully skinny" and almost "vanished in her dress." An "insider" notes: "She's smaller than a size 0 — her size doesn't exist." Kirstie Alley is so jealous right now. She wishes she had thought up the whole "a size that doesn't exist" thing.
On to OK! Magazine's story, "Demi's Shocking Weight Loss":
Tortured over Ashton Kutcher's affair, Demi Moore is literally starving for attention For years, from those nude Vanity Fair covers to her recent, revealing Twitter posts, Demi Moore has used her body to get noticed. And so it's fitting, perhaps, that as her six-year marriage to Ashton Kutcher disintegrates in the wake of his humiliating, Hard Rock Hotel hot tub affair with Sara Leal — a woman half her age — the 48-year-old ex-Brat Packer is reverting to form.

Only this time, it's a cry for help: Sources tell OK! that as Demi's weight hovers around 90 pounds — on a 5-foot-5 inch frame — friends fear she is literally starving herself for attention, subsisting almost entirely on cigarettes and energy drinks.

A DESPERATE NEED
"She's feeling really abandoned and what she needs more than anything is to feel loved," one insider tells OK!. "But it seems the only form that love is taking right now is sympathy — so Demi is kind of courting that. The fact that she's so skinny has everyone clamoring around her and that's the only comfort she has right now."

"Demi hasn't sat down and had an actual meal since this whole thing started," the insider adds. "She'll make a salad, and try to eat it, but she'll wind up having a few bites and then putting it back in the fridge. When she does eat, it's some kind of sugary snack, like a cookie or something. Most of the time, she's so sick to her stomach, the last thing she's thinking about is food."

COUPLES THERAPY
Demi has been thinking about trying to save her marriage — after all, she and Ashton have built a family together. Her daughters with Bruce Willis (Rumer, 23, Scout, 20, and Tallulah, 17) have regarded Ashton as a second father, and as OK! reported last week, they are devastated by his betrayal, all the more because Sara is their contemporary.

Trying to salvage their relationship, Demi, who's still wearing her wedding ring, and Ashton have sought counseling at L.A.'s Kabbalah Centre. But it's not clear whether or not she has found solace — or, more important, solutions.

"Everyone is advising her to dump Ashton, but she doesn't want to — she still loves him," the insider tells OK!. As for Ashton, he is eerily communicating through video blogs; recently, he appeared sans wedding ring while musing about how the media spreads dishonesty — but he did not even mention or deny the Hard Rock hookup.

FEARING THE FUTURE
Observes a source close to the couple: "It's so conflicting for Demi. On one hand she knows she shouldn't stand for Ashton's infidelity and a big part of her must want to just reach for her divorce attorney. And so many of her friends and family are disgusted by Ashton — as well they should be after what he's done. But the thought of being alone fills Demi with total terror."

Indeed, adds the insider: "She's hanging on for dear life." And so, as her cheeks sink in and her arms turn to bone and stringy sinew, "Demi gets morbid comfort from people feeling sorry for her," a source tells OK!. "She'll take whatever attention she can get right now — even pity."
[From OK! Magazine]
Is it wrong that I kind of believe OK! Mag's reporting? I think Demi is afraid to end her marriage, afraid to be alone. I think she's losing weight as a way to get attention, as a public cry for help. Since it is a public cry for help, should we feel bad about noting how emaciated she looks? Or should we just note and say, "Poor Demi" like she's just a mixed-up kid who can't take care of herself? She's nearly 50 years old, for the love of God. I know abandonment issues have no age limit, but enough with the sob stories! JUST DUMP HIM. And then eat something. And then eat something else.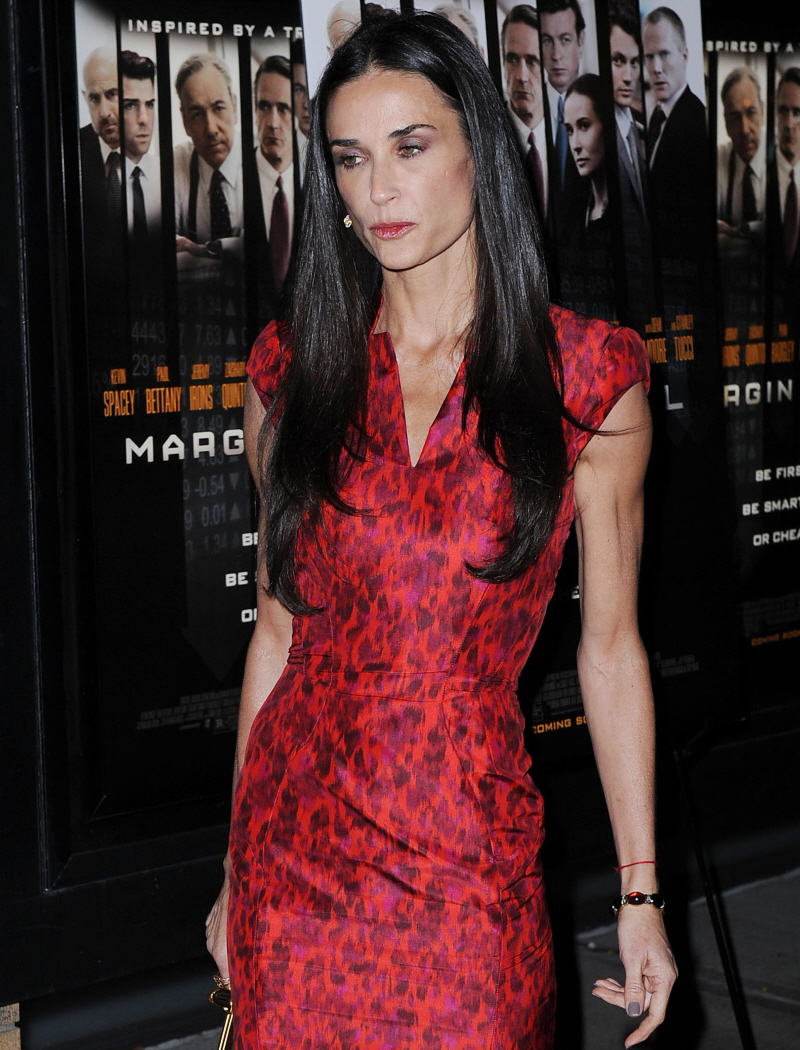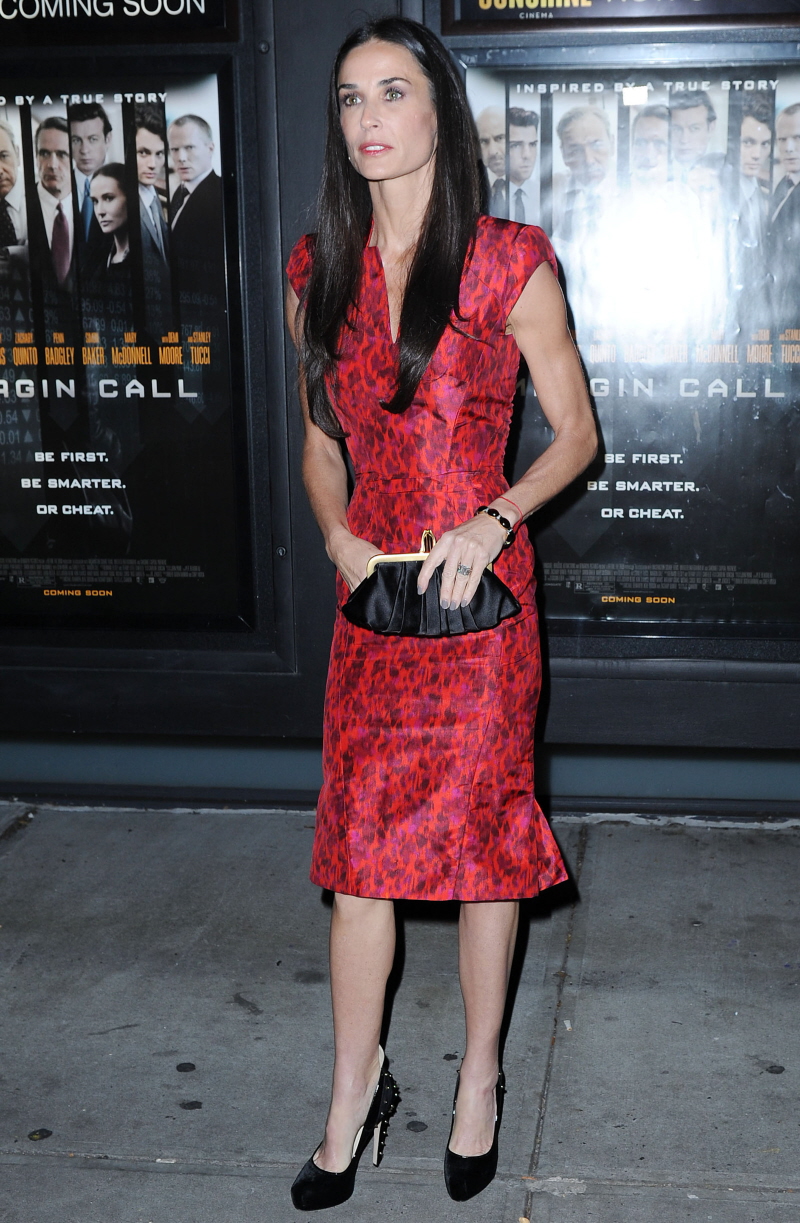 Photos courtesy of Fame.