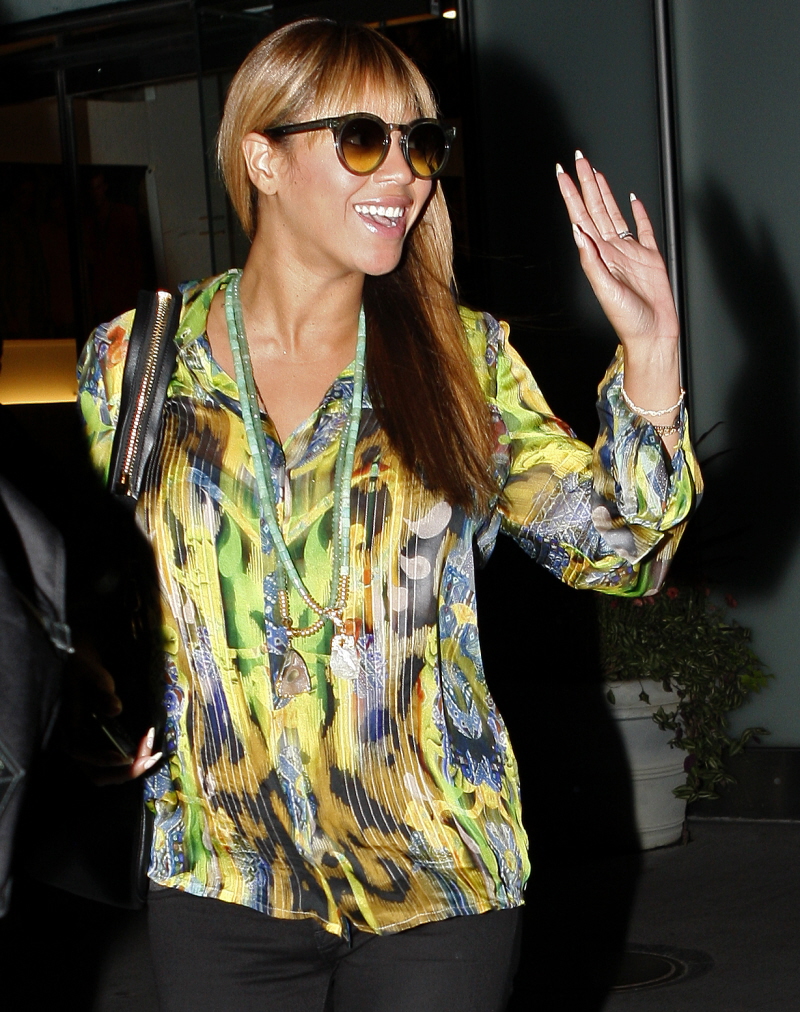 These are photos of Beyonce in NYC this week – I think they're from Monday (the black pants & blue shirt) and Tuesday (the fug acid-trip blouse). I'm so tired of talking about the state of her bump, so can I just ignore it today? Please? You can talk about it if you want, just leave me out of it.
This week's tabloids are full of Bey & Jay information, especially about their baby-to-be. According to In Touch Weekly, they know they're having a girl, and Bey is having a blast shopping for her little princess:
We know that Beyonce and Jay-Z already know the sex of their baby, and now close friends have spilled the beans to In Touch magazine — it's a girl!

"Beyonce is thrilled she's having a daughter," a friend confided.

Although friends say the couple would be happy to have a boy or girl, Beyonce had secretly hoped for a daughter!

"She and her mother are so close, and she's wanted to have that relationship with her own child," the friend explained.

The star can't wait to have a mini-Beyonce, and she's eager to start playing dress up with her baby. So eager, she's been going on expensive shopping sprees according to the mag!

"Her family's afraid there won't be anything left to buy for the baby shower in December!" the friend joked.

It's been reported that the couple are building a 2,200 square foot nursery, and they'll need that space if Beyonce keeps buying baby items from stores ranging from Gap to Gucci! She's even asked her mom Tina to design the nursery room, and her friend revealed that the singer spent more than $100,000 on a round crib, changing table and other furnishings!

However, Jay-Z has one request for the room — a Yankees mobile! "Jay-Z wants a Yankees mobile hanging above the crib," the friend said. "He's a huge Yankees fan and wants to share that with his child — boy or girl." Beyonce's agreed. "She caved on that demand, since he's letting her select everything else," the friend laughed.

Beyonce's life has definitely been taken over by the pregnancy. A friend said she's had pregnancy cravings for Popeyes chicken and ice cream with hot chili sauce! And she turned to Gwyneth Paltrow for advice about morning sickness — the actress told her to lay loose diamonds on her belly!

In Touch also reports that they've picked their new daughter's godparents! The lucky girl will have Gwyneth for a godmother and Kanye West for her godfather.
[From Holly Baby]
Loose diamonds on the belly as a cure for morning sickness? FOR REAL? Of course that came from Gwyneth. I'm surprised Goop's "home remedies" don't involve albino elephant tusks and clubbing baby seals. And Gwyneth for godmother? We'll never hear the end of that if it happens. "My dear best friend Beyonce and my goddaughter Jayonce Gwynonce are coming to visit me in Gstaad! We're going to rub diamonds on ourselves!"
Other bits and pieces from this week's tabloids: According to Life & Style, Beyoncé and Jay-Z have a $500,000 Mercedes-Benz minivan that is "more like a private jet" than a car. It has Wi-Fi, leather seats, desks and a flat-screen TV. And a shower, within a full bathroom. So it's not so much a minivan as a gigantic trailer.
Also, Beyoncé and Jay-Z are organizing and decorating three "superchic" baby nurseries for their homes in Miami, Manhattan and Scarsdale. Star Mag claims that each nursery is running about $250,000 each. A source says, "Beyonce wants 18k gold trim on everything. The crib is like a mini four-poster bed with silk curtains, and they're going to town with the cashmere throws. Plus, there's a top-of-the-line sound system with an iPod dock so they can play the baby nursery rhymes, and a flat-screen TV that comes down from the ceiling. With the help of their decorator, they've picked a mixture of calming tones and colors, combined with some serious glamour!" And Gwyneth strikes again - "The nurseries will be identical, so no matter which home they are in the baby will feel at ease — which was completely Gwyneth Paltrow's idea!" Oh, and Jay-Z wants to do a baby wear line for his Roc Kids clothing line.
Oh, and Bey has another new music video. Here's "Party". Her wigs go from "good" to "OMG, WTF?"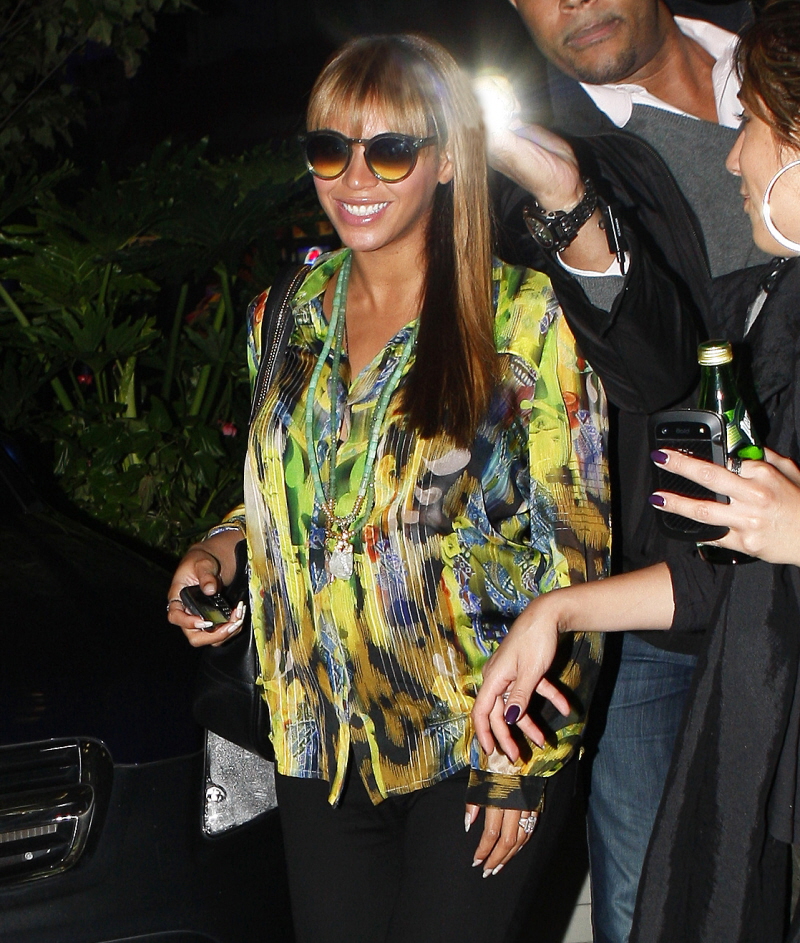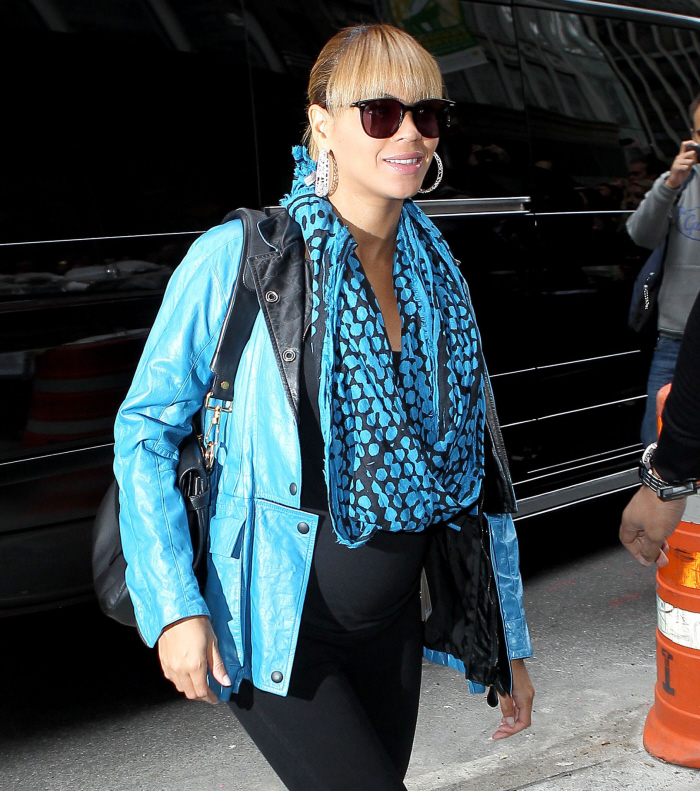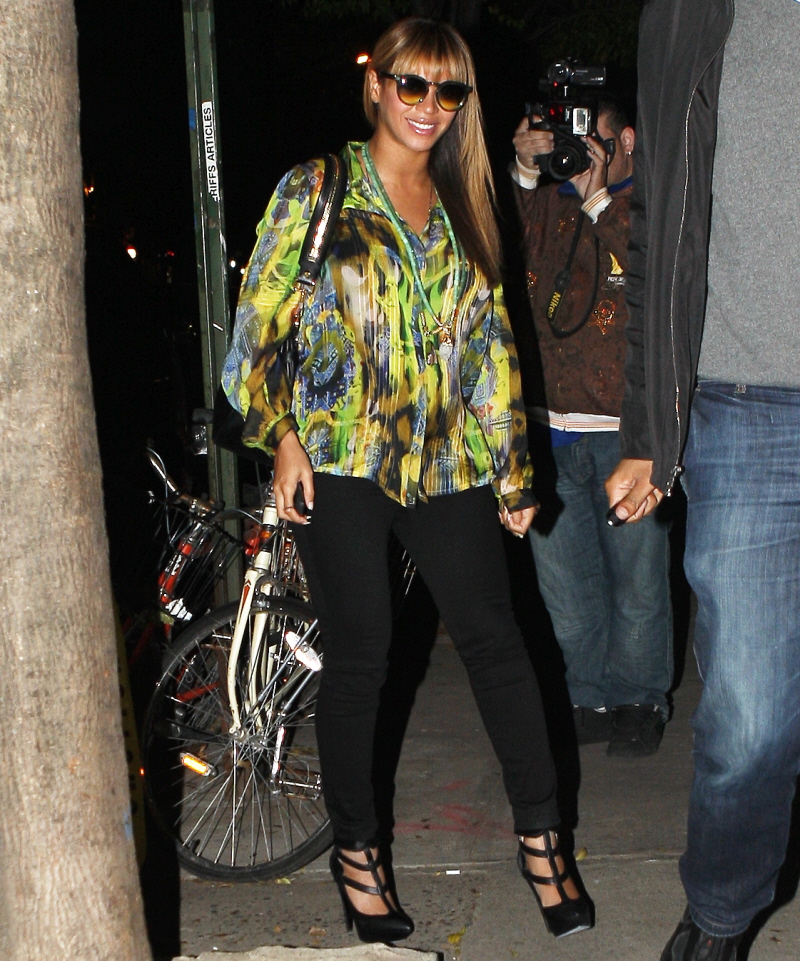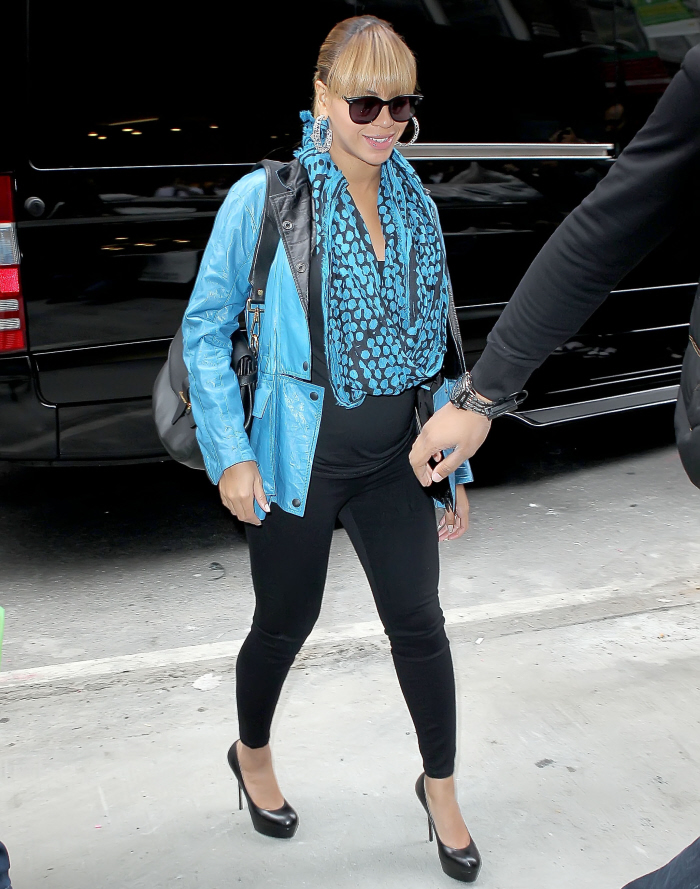 Photos courtesy of Fame & WENN.