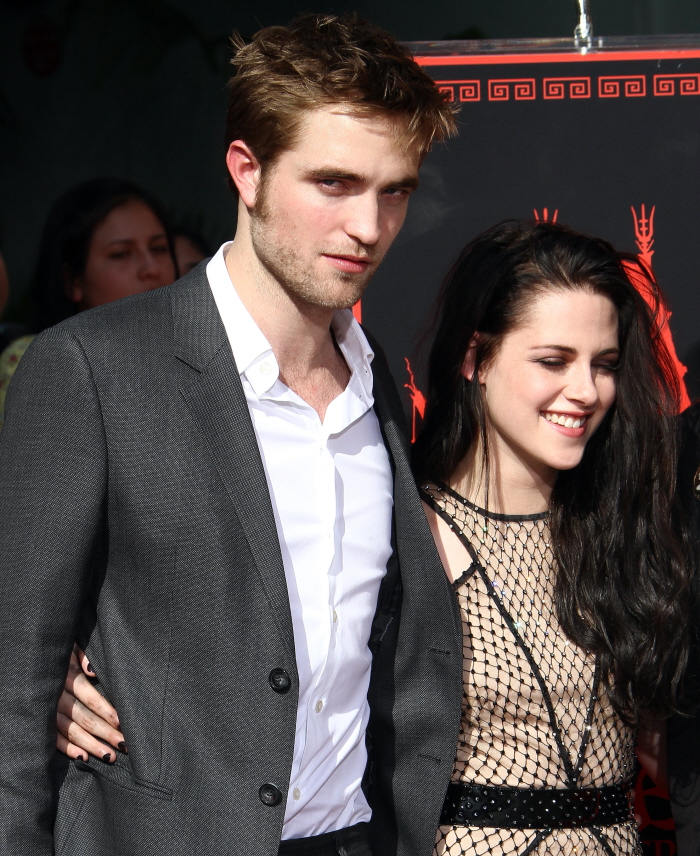 For a few months now, while Kristen Stewart has been filming Snow White and the Huntsman in England, I've been loosely keeping tabs on how often Robert Pattinson visits her. It hasn't been very often – he'll come in for a weekend every so often, but mostly K-Stew is without her boyfriend as she works in England. This lack of being-stuck-up-each-other's-bums has caused me to often wonder if they are close to shutting this romance down. Robert isn't working right now – he finished production on Cosmopolis weeks ago – and he just seems to be hanging out in LA a lot. I would imagine that he's taking meetings, hanging out with friends, and gearing up for Breaking Dawn promotion, but it's weird to me that two young people aren't spending more time together if they're in a relationship. Isn't that what being young is all about?
Anyway, Us Weekly has an interesting take on what's REALLY going on. Hint: it involves K-Stew being cold and withholding and Sparkles eating it up like a masochist.
In real life, Bella and Edward's roles are reversed.

Insiders tell the new Us Weekly — on stands now — that Robert Pattinson is "desperate for affection" from Kristen Stewart.

"He is always worried about her leaving him," a confidant of the 21-year-old actress tells Us.

"She will blow him off, and it makes him crazy," adds the friend. While Pattinson, 25, admits he's eager to settle down, Stewart is far from ready to walk down the aisle.

A friend of both the Breaking Dawn stars chalks it up to Stewart's youth: "Don't all people her age play games?"

For more on Rob and Kristen's tortured two-and-a-half-year romance, check out the new Us Weekly, on stands now.
[From Us Weekly]
Do you buy this dynamic? I used to think this was what was going on, and I think Sparkles probably still feels like he's the one more prepared to "settle down" – that boy seems like a nester. But I don't think Sparkles is sitting around, waiting for whatever crumbs of affection K-Stew deigns to drop. At least, I hope he's not.
Meanwhile, Sparkles has a new interview in The Guardian, which you can read here. I've done some highlights below – he's as neurotic and charming as always. I love his interviews. He's like a pasty, English version of Woody Allen:
The Mark Hamill Career Trajectory: "It's like being compared to people who've been in massive movies who just sort of disappear afterwards, even though they probably had incredibly fulfilling and successful lives," he says, nibbling on a fingernail. "Like Luke Skywalker." He scratches his head. "What the f–k's his name?" Mark Hamill. "Yes! People are like: 'Oh, the Mark Hamill curse.' And poor Mark Hamill. Jesus Christ." He tilts back in the chair and laughs, apparently oblivious to the state of his T-shirt. "I mean, I'm sure he did fine."

Twilight was his safety net: "In career terms Twilight was like a security blanket," Pattinson continues. Then he furrows his brow for a moment and corrects himself. "Not a blanket – a safety net. I had a three- or four-month window between each one during which I could do another job. But whatever I did I knew that I'd have another Twilight movie on the way, which is theoretically guaranteed to make a lot of money. So I could always afford to fail." Now the net is gone. The stakes have been raised. He once described choosing roles as "crippling". "After the last one comes out, you can kind of have two failures – and they'd better be low-budget failures. Because if you have one big-budget failure you're pretty much done in this environment."

He admires Kristen Stewart's career: "It's different for Kristen, for example… She doesn't think about it like that at all, because she grew up gradually, doing independent movies and stepping up the ladder, whereas I was doing progressively smaller movies in England, after Harry Potter… to the point where I was doing nine-day shoots for, like, 20p and a packet of Space Invaders. And then this happened. So I'm not just another actor who's around and jobbing. When you hire me for a job, you're hiring…" Twilight guy? "Yeah. I'm now this 'thing' that's supposed to be something. And if you then don't fulfill that expectation, what the f–k are you?"

Being cast in Twilight – and the audition was his first time with Xanex: Apparently he had the X-factor Hardwicke was looking for: as far as Pattinson was concerned, that X stood for Xanax. "I'd never had a Xanax before," he says, looking guilty for a moment. "But I'd started getting so paranoid about messing up auditions all the time that I would actually mess them up. So I took like half a Xanax. And it went really well, so when I had to go and meet the producers I thought: I'm just going to take another Xanax!" He laughs and rocks his chair. "And then I went in and almost fell asleep."

In the end: "If I do decide one day to stop acting, I just hate the idea of people going: 'Oh, did you ever do anything else besides that Twilight thing?'"
[From The Guardian]
Poor Sparkles. I don't think he'll be Mark Hamill'd. I think after Breaking Dawn, he'll have a few off-years where he gives solid performances in small films and weak performances in bigger films, and then the second wave will occur when he gets a good part that's well-written and it will be his second big break. Now, Kristen, on the other hand. I have no idea what her career future will be, but it will be interesting to see if she's still relevant in five years.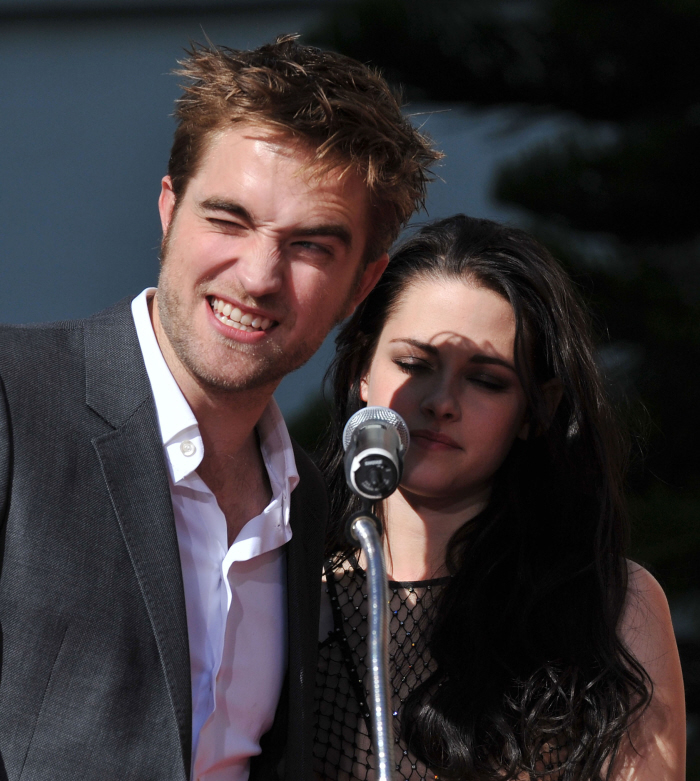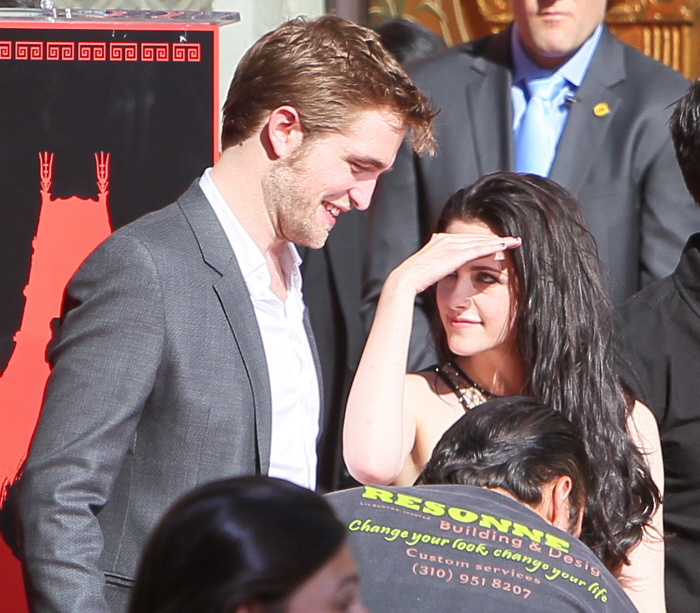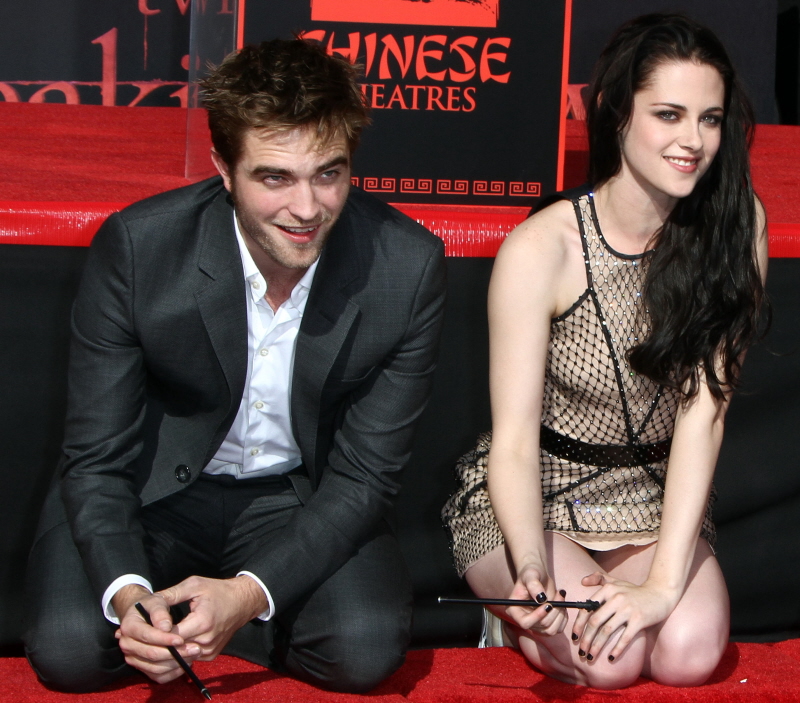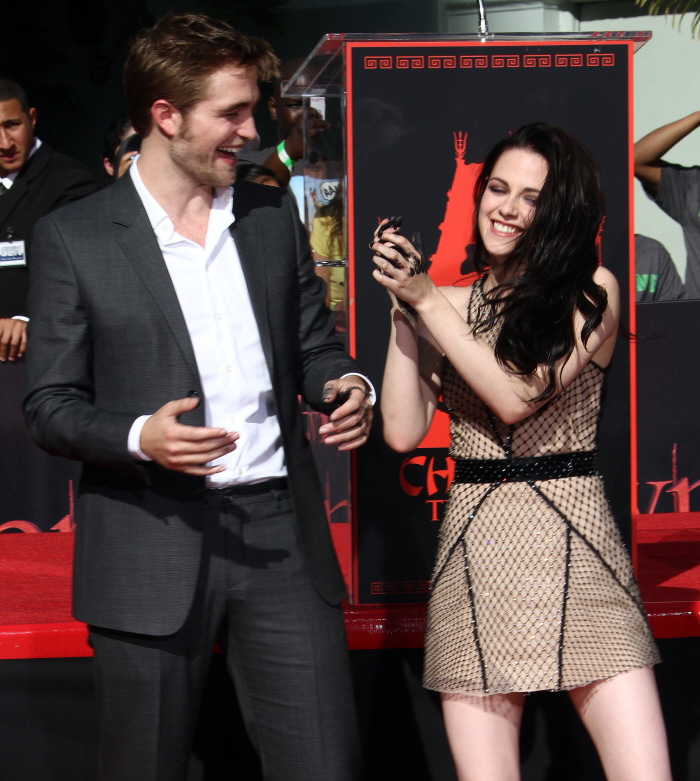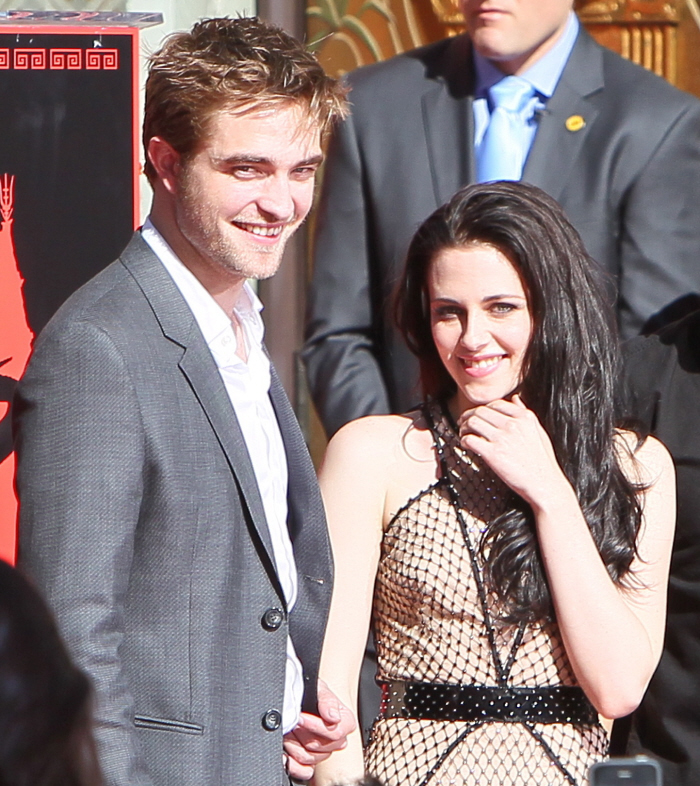 Photos courtesy of WENN.