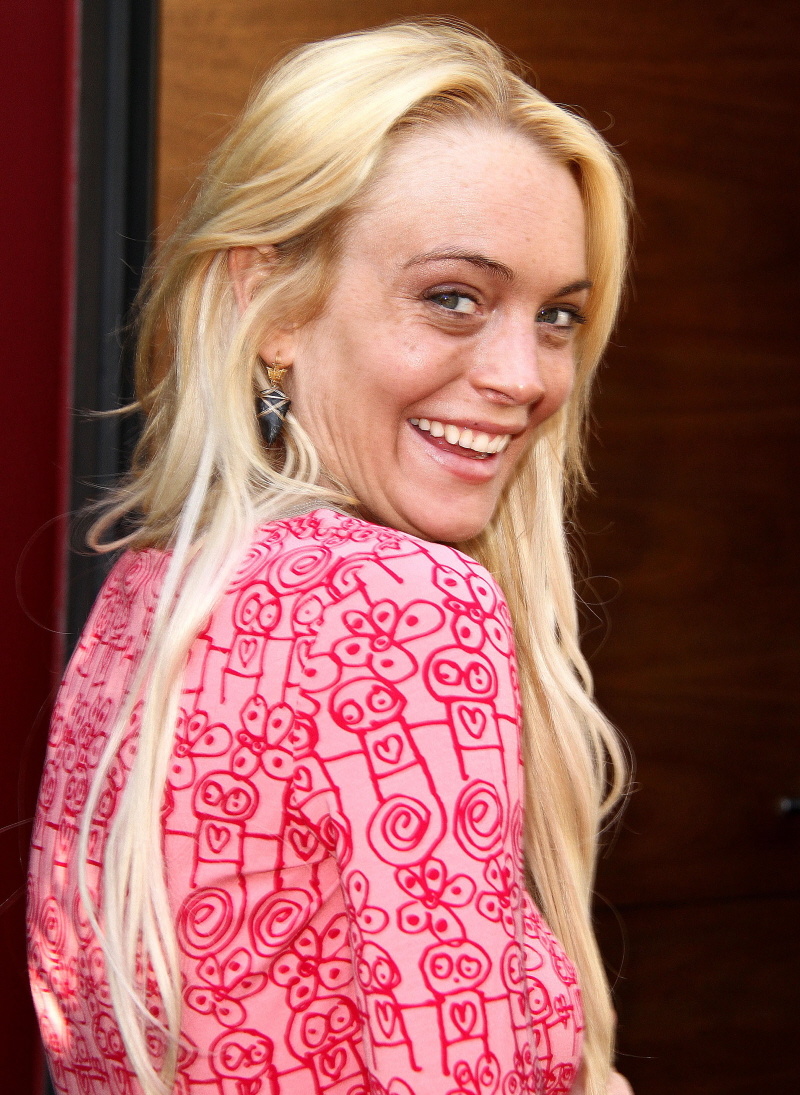 Time for our daily Linnocent post. And I'm trying not to gloat, because it's unattractive in a woman my age to be all "I was right, SUCK IT." Plus, I was right about the most obvious thing in the world. When I first heard that Linnocent was posing for Playboy, one of my first thoughts was, "Oh, I bet she's totally doing a Marilyn Monroe theme for her photo shoot." Yep. I was right. Hugh Hefner confirmed to The Insider:
Earlier this month, Dina Lohan confirmed to The Insider that her daughter Lindsay will be featured in an upcoming issue of Playboy. Now, The Insider's Brooke Anderson is the first to get Hugh Hefner to spill even more salacious details on the highly anticipated spread.

First things first — Hefner confirmed that Lindsay did go fully nude for the photo shoot, which he called "classy."

"It's a classic tribute inspired by the original Tom Kelly nude pictorial of Marilyn Monroe, a portion of which was the original playmate which was in the original issue of Playboy. Oh yes. And classy, very classy." Hefner said.

Lindsay's Playboy spread will appear in the January/February 2012 issue.
[From The Insider]
Page Six had further details of the Playboy shoot, and why there needed to be two shoots after Hef hated the first one. According to a source, "He felt the initial shots looked too much like a Kate Moss-inspired fashion story — Lindsay's choice — where he wanted more of a classic Hollywood Marilyn Monroe feel." So for the second photo shoot, Linnocent brough along "lawyers, agents and publicists" who, according to a source, "gave their two cents about what was considered 'nude' and what was not." The Cracken will definitely be naked in the photos, but in some she'll be "strategically covered up." Radar's source says that "The pictures Lindsay took last week are much better than the first set." So… from (Even More) Crackie Kate Moss to Crackie Marilyn. This is going to be terrible.
Meanwhile, Crackie Von Cracks-A-Lot's delusional, insane rep went to Radar to pay more lip service to Linnocent's commitment to her community service. According to Steve Honig, "Lindsay is highly motivated to fulfill her community service obligations so she can put all of this behind her and continue to move forward with her career."
Last story: Fox News has an interesting story about how Linnocent's four-year-long crackie legal catastrophe is a huge waste of time and money, and taxpayers should be furious:
Lindsay Lohan flitted in and out of her 30-day jail sentence in a mere four hours early Monday morning. The 25-year-old actress was booked into the Century Regional Detention facility in Lynwood at 8:50 p.m. on Sunday evening, and was home in Venice Beach by 2 am. Lohan was released due to jail overcrowding.

Given her years-long saga in the California court system that led to her hours-long incarceration, Lohan could have cost taxpayers over $250,000 per hour of the jail time she just served, experts say.

"This should cause an outrage," criminal defense attorney Joey Jackson told Fox411.com. "Why should Lindsay Lohan's hand be held? Why should she be given umpteenth chances and everyone else the book gets thrown at them? It doesn't seem to be fair."

Lohan was sentenced to report to jail for her 30-day sentence after failing to complete a court mandated community service that had been ordered for drunken driving and theft charges. The judge gave Lohan the option of taking community service at the county morgue and mandated psychotherapy, or risk serving an additional 270 days in jail.

Not only that, the judge gave Lohan a week to report to jail so she could complete a nude photo shoot for Playboy magazine. Had she been unable to complete the shoot, she could have been held in breach of contract by the men's magazine, which reportedly paid her almost a million dollars for the spread.

Jackson tells Fox411 that if Lohan were not a celebrity, she absolutely would have been booked for the full 300 days without lenience this time around.

"The real issue is the normal Joe Schmo who doesn't have her clout, her money, and her fame which gets a judge to cheer for her," Jackson said. "For a normal person a judge would say, 'You're going to jail for a year.'"

And while Lohan can afford to pay her attorneys to keep her out of jail, her consistent bad behavior is costing California taxpayers hundreds of thousands – and possibly millions — of dollars, all while gumming up the state's overloaded justice system. Since Lindsay Lohan's legal troubles began with a drunk driving arrest in 2007 she has made more than 20 court appearances stemming from additional arrests, violating probation, failing drug and alcohol screenings, and failing to follow court orders.

"From logistics to the transcript reporters to the clerks, it is exorbitantly expensive to have a court appearance. It is important we understand what a waste of time this is," former federal prosecutor Michael Wildes of Wildes & Weinberg told Fox411.com. "It costs tens of thousands of dollars per court appearance for all the clerks, the security, and those court reporters who get paid by the page, not to mention all the collateral support for something like this. Plus it diverts the administration of justice for other matters."

"It has likely cost taxpayers millions of dollars," attorney Vikki Ziegler contends. "This has been a four year ordeal that taxpayers in California must foot. That includes salaries for judges, prosecutors, court officers, court reporters, clerks, [and] other law enforcement professionals, who must all be paid, to have touched the Lohan case directly or indirectly in one shape or another."
[From Fox News]
Linnocent: Because Crack Is Worth It! Do you think that if you really add it up, she's costing taxpayers millions? I think it's more like "hundreds of thousands" – which, incidentally, what I hope Shawn Holley's legal fees cost too. But yeah… Linnocent is a huge sucking void of money, time and crack shenanigans. We know this already.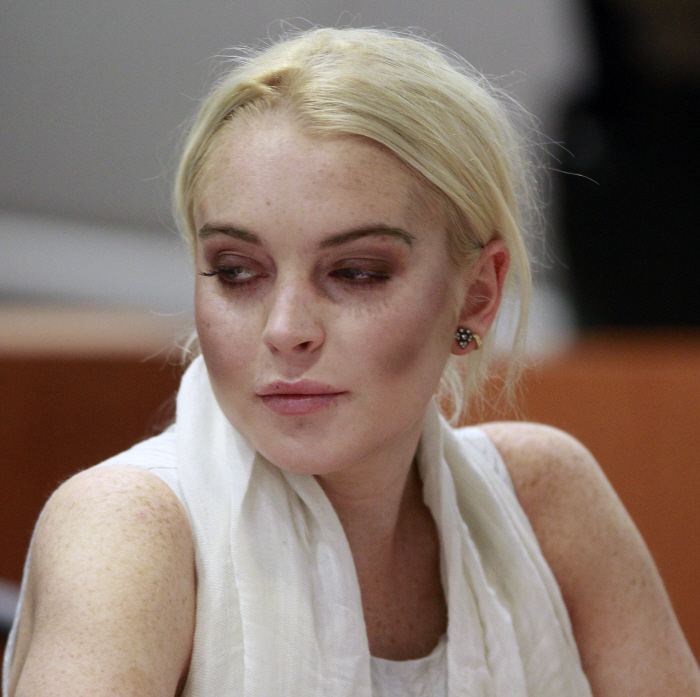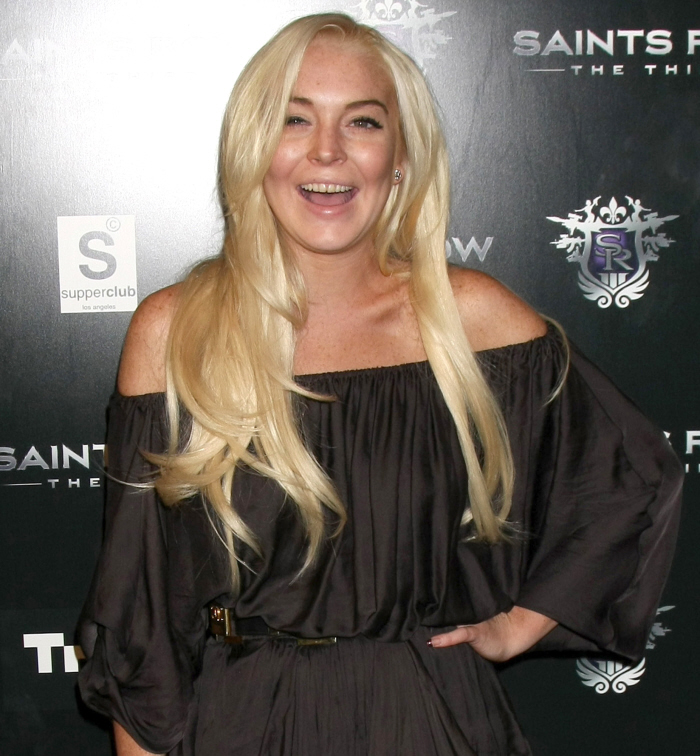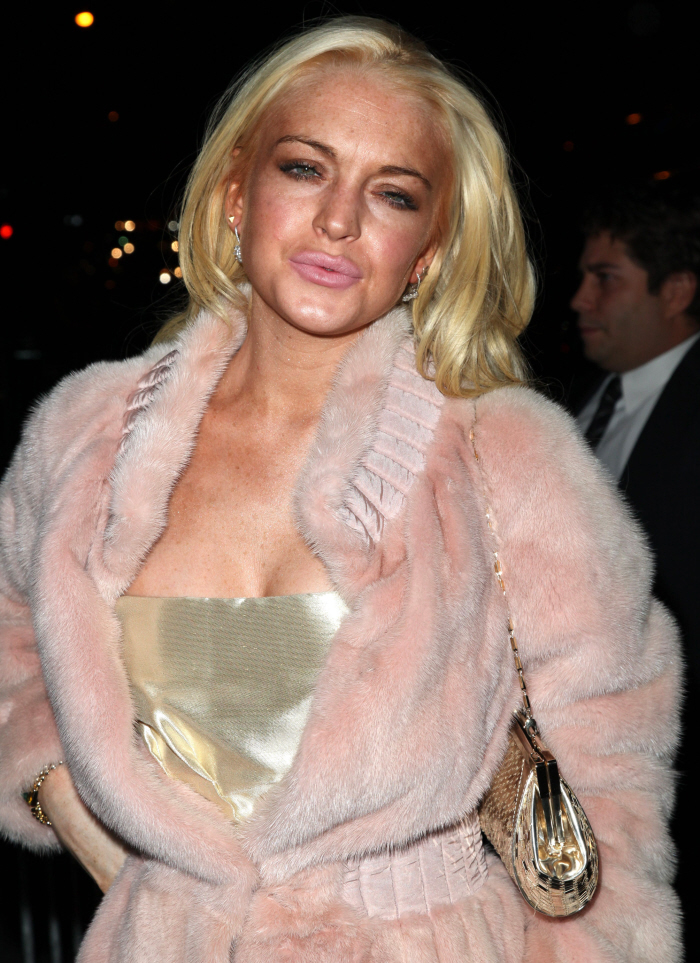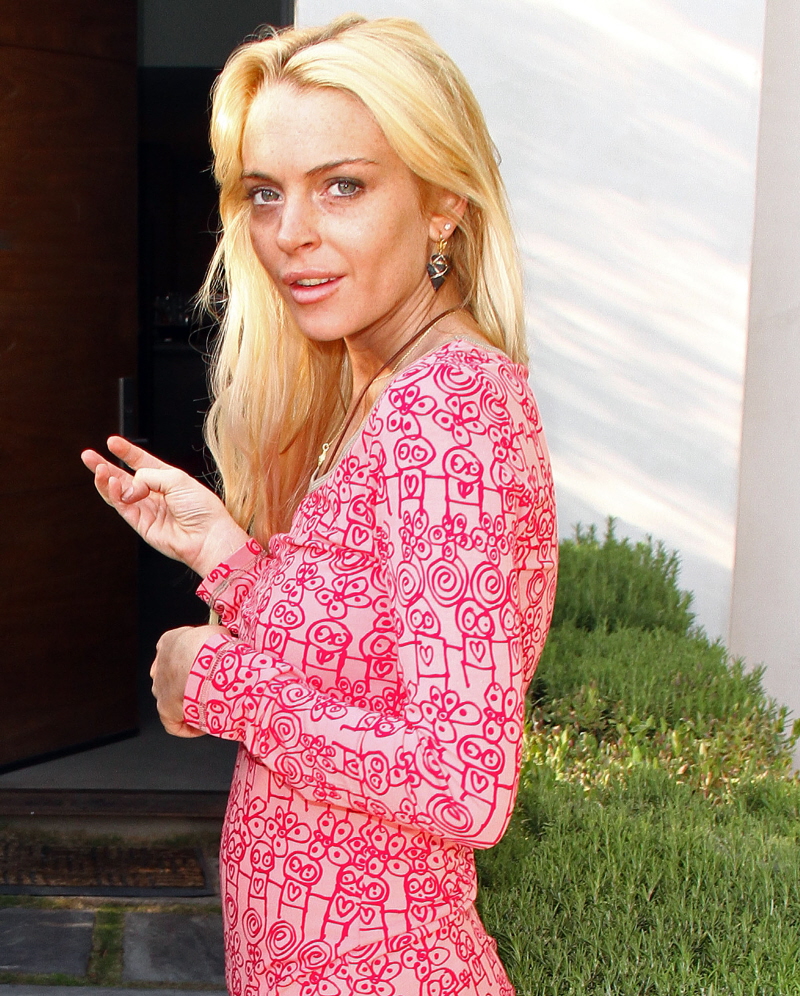 Photos courtesy of WENN.