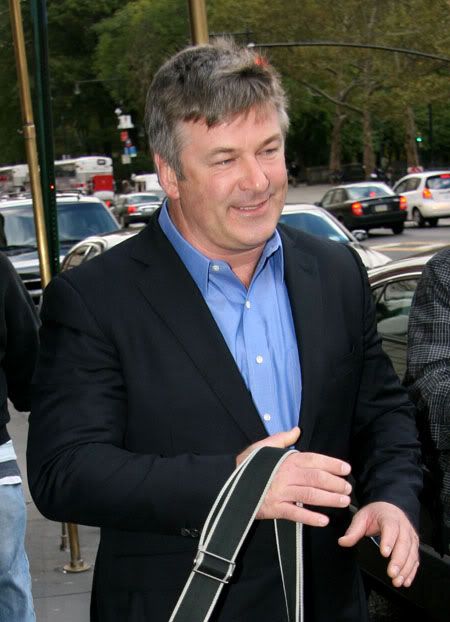 "30 Rock" star Alec Baldwin was on David Letterman last night, and he talked about meeting Vice Presidential candidate Sarah Palin during his guest stint on |Saturday Night Live." Baldwin said Palin was very nice and friendly and he called her "very game and very professional" for her appearance on SNL, which he likened to a dunk tank. He also confirmed that she's hot in person and said "she's a very beautiful woman." Imitating Palin's voice, Baldwin said that one of the first things she mentioned when she met him was that she knows one of his brothers.
"I've been talking to your brother Stephen and we've been chatting, trying to figure out how to knock some sense into you."
Alec's brother Stephen is an ardent Christian conservative. Alec told a funny story about him, and said he would hanging out with him at a restaurant and all of a sudden Stephen would look up from his soup and say all serious "You know, most of these people are going to hell."
Alec is an outspoken and committed Democrat. Of the upcoming election, he said he doesn't think it's a foregone conclusion despite the solid trend in the polls toward Obama.
"I have a person that I want to win obviously, and I don't think that's a mystery. On the other hand, if he doesn't win – if the other guy wins – if the guy who's running with Bible Spice wins. [crowd claps and Paul Shaffer repeats 'Bible Spice']
"If John McBush and Bible Spice win, we have to find a way to come together as a country, because we can't let it be the way it's been the last 8 years where there's been this acrimony and this bitterness. We have to find a way somehow to do that.
"But I do think that if Obama wins we will have seen something wonderful happen in our lifetime politically, and it's been a long time since we've had that happen in this country."
The third season of "30 Rock" premieres tonight at 9:30 on NBC.
You can watch a clip of Baldwin's appearance on the Late Show on CBS.com and on the Huffington Post. If you missed Barack Obama's 30 minute special on television last night you can catch it on YouTube.
Alec Baldwin is shown leaving his hotel on 10/29/08. Credit: WENN