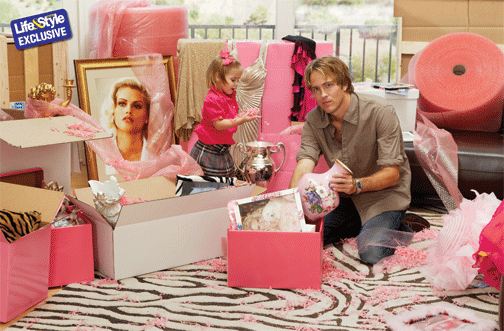 Larry Birkhead continues to pimp out Anna Nicole Smith's memory, as well as their daughter. He's let magazines into every minor and major event in Dannielynn's life since he got custody of her. Somehow I don't think his intent is totally evil, just misguided at best. This time Larry's invited Life & Style to watch him pack up Anna Nicole's old home, which he is finally selling. Larry claims he wants a quieter life, but something tells me that would actually panic him. He also says he needs a house and a neighborhood that is more child-friendly.
After being granted custody of his little girl, Larry Birkhead brought Dannielynn, 2, to Anna Nicole Smith's home in LA's Coldwater Canyon, where the two have been living ever since. But in an effort to raise her in a more stable environment, Larry has decided to move out and find a new home. While going through the bittersweet process of packing up Anna's belongings and readying Dannielynn for yet another big move, Larry, 35, spoke exclusively to Life & Style about the painful memories of the past — and why he's eager to make a fresh start for the future.

L&S: After Anna's death, what made you decide to bring Dannielynn to Anna's home
Larry: There were just tons and tons of memories. Anna's reality show was taped here, and it's the place she called home. After she passed, I just couldn't bear to part with it.

L&S: So why are you selling it now?
Larry: You know, I always said I'd never sell, but the longer we've been here, the more I've realized it's not built for children. We live over a canyon, and while the view's great, there's no backyard. I've bought Dannielynn every toy under the sun, but they can't replace a yard. She doesn't have a place to have her friends over to play.

L&S: You've kept an entire closet of Anna's clothing, accessories and jewelry. Is that another way of preserving her memory for Dannielynn?
Larry: Yes. Every piece in there has a story. Someday, I hope to show them all to Dannielynn and tell her what event her mom wore them to and what they meant to her — from the casual T-shirts to the fancy dresses. I want her to understand how beautiful and glamorous her mom was.
[From Life & Style]
Larry also says that he and Anna wore matching crosses around their necks, and she was wearing one of them when she died, which he was wearing during the interview and says he never removes. He plans on giving the matching one to Dannielynn when she's older.
I think it'll be a good idea for Larry and Dannielynn to move a bit further away from L.A. and give her a shot at being a regular kid. But he needs to stop selling her story right away. She's going to grow up with so many people scrutinizing her to see if she's at all like her mother. Combining that with Anna Nicole's legacy and the way that she died, the kid is naturally going to have some issues to deal with. Larry would serve her best by not spoiling her (remember the first birthday party?), and giving her some space from L.A. to grow into a normal kid.
Here's Larry Birkhead and Dannielynn departing from Los Angeles International Airport on July 23. Images thanks to Bauer-Griffin.