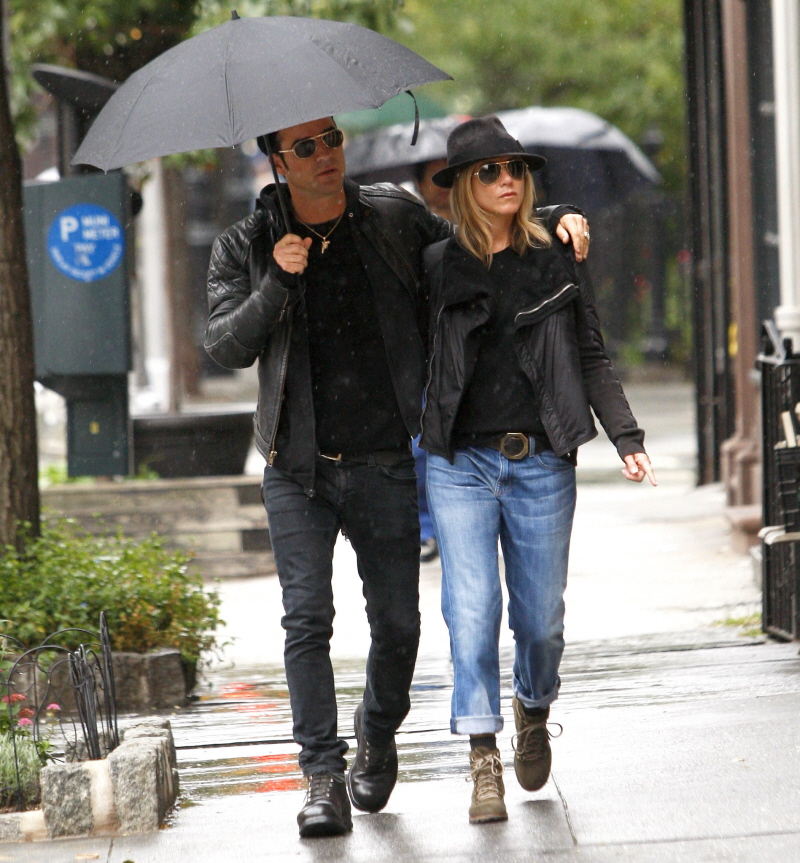 Jennifer Aniston and Justin Theroux are back in NYC after a brief stint in LA, where they were rarely, if ever, pap'd. Now that they're back in NYC, of course they're getting photographed regularly, although we don't have those photos – go here to see. They look the same as always – Aniston really is giving this hipster girlfriend look a good go. Poor thing. You know she just wants to be at the beach in her flip-flops. Anyway, Star Mag has an absolutely *fascinating* story about Justin and what he's getting out of this relationship – MONEY. As in, ever since he started up with Jen, his per film asking price has gone way up – to $10 million.
Dating Jennifer Aniston certainly brings more fame, and for Justin Theroux, it may mean more fortune too! Justin, 40, quickly became a household name mere weeks after he started seeing Jen – and his asking price per movie just went way up too.

"Justin is now considered an A-lister, and a lot of it is because of Jen," a friend says. "He hopes to command at least $10 million per movie since he's suddenly famous."

Says the friend, "Justin's been working for years, but now just about everyone knows who he is – and who he's dating."
[From In Touch Weekly, print edition]
Would you pay $10 million to see Justin in a movie? I mean, is he worth that? Are you going to see a film just because he's in it? No. Besides that, he hasn't been working so much ever since he and Aniston started up. He's a kept man now! But I really do find the money thing interesting – I'm sure it's partly true, and partly because he switched agencies. He's now being rep'd by CAA, Aniston's agency (she's like the CAA princess over there).
Meanwhile, The Enquirer has a rough story about Jennifer Aniston "wicked mean streak" and crazy "mood swings". Girl, it's the change (actually, it's probably quitting smoking):
Jennifer Aniston's fiery outbursts are driving a wedge between her and fed-up boyfriend Justin Theroux, says a longtime pal.

"Jennifer has awicked mean streak and wild mood swings, and Justin is bearing the brunt of them," revealed the pal. "I think her temper is taking a toll on their relationship."

The pal says Jennifer throws temper tantrums when Justin leaves clothes on the floor or dirty dishes in the sink overnight – and when he leaves the toilet seat up.

"She even gets annoyed is moves her beauty products around and disorganizes them. Jen can be sweet and nice one moment, and then ranting, raving and throwing things the next.

Insiders say that Jennifer has been under enormous pressure lately. Not only is she worried about the ticking of her biological clock, she's also dealing with the slow recovery of her 75-year-old mom from a devastating stroke.

"I think Jen is super stressed-out… she puts up a public front that she's all Zen, calm and cool, peace, love and yoga. But behind closed doors, she can be a shrew – and it's creating problems with Justin."
[From The Enquirer, print edition]
Basically, she's annoyed because he's such a dirty hipster and he's all "You're such an immature drama queen!" and she's all "You're such an immature douche!" And then they put on their matching black outfits and hold hands during one of their daily outings. Meh. The only thing I really believe is that Jennifer isn't so "peace love and yoga" when you really get to know her. I think she's more "maniac workouts, vodka and dirty sex."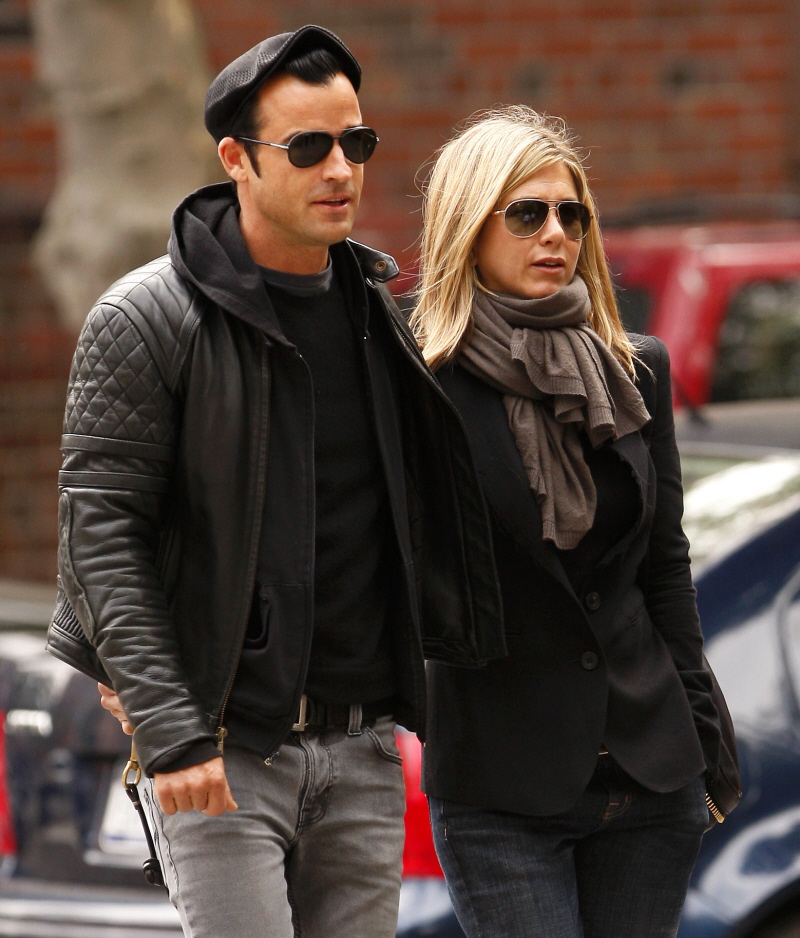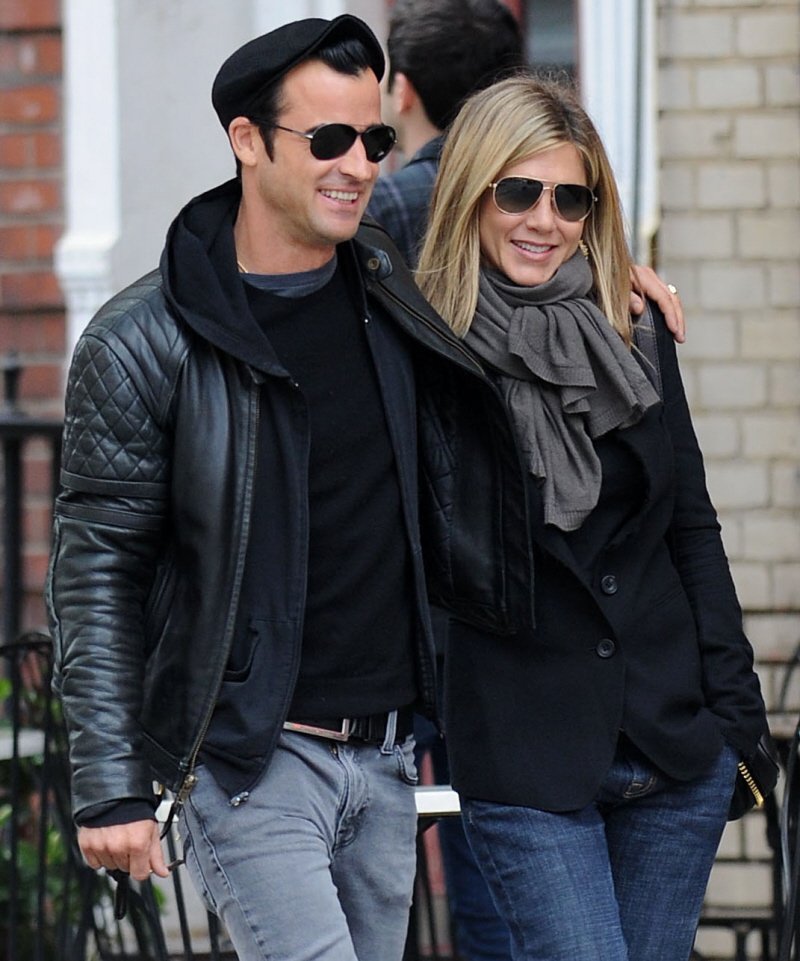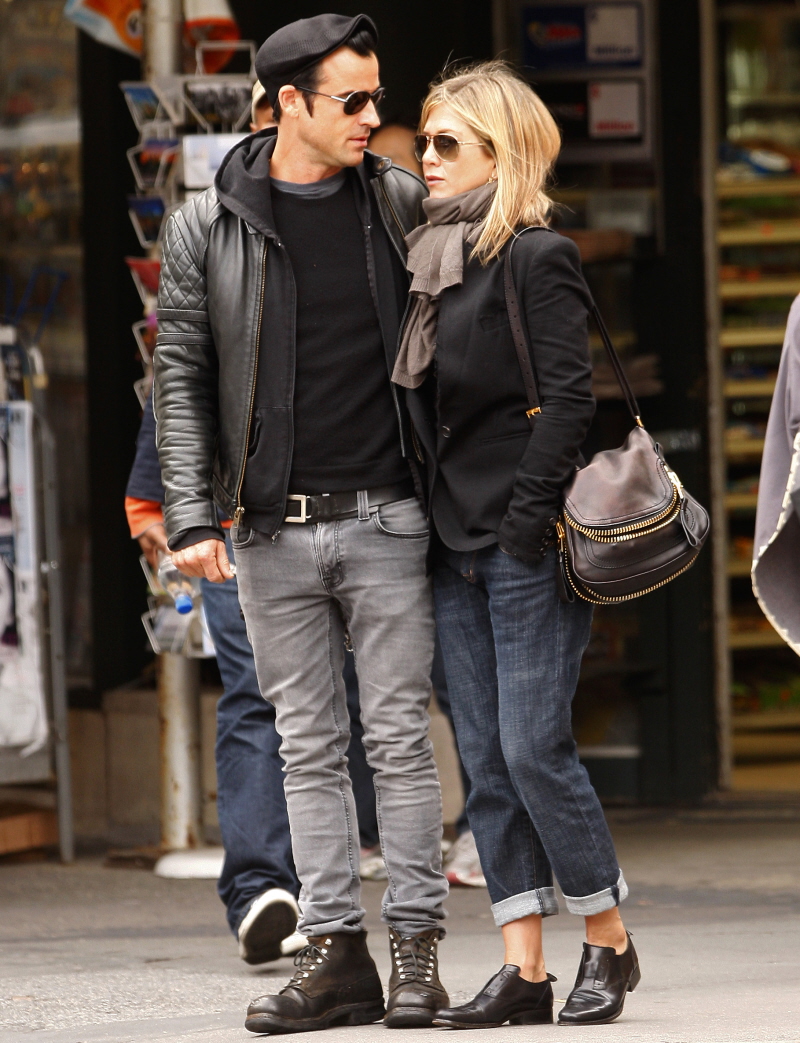 Photos courtesy of Fame.