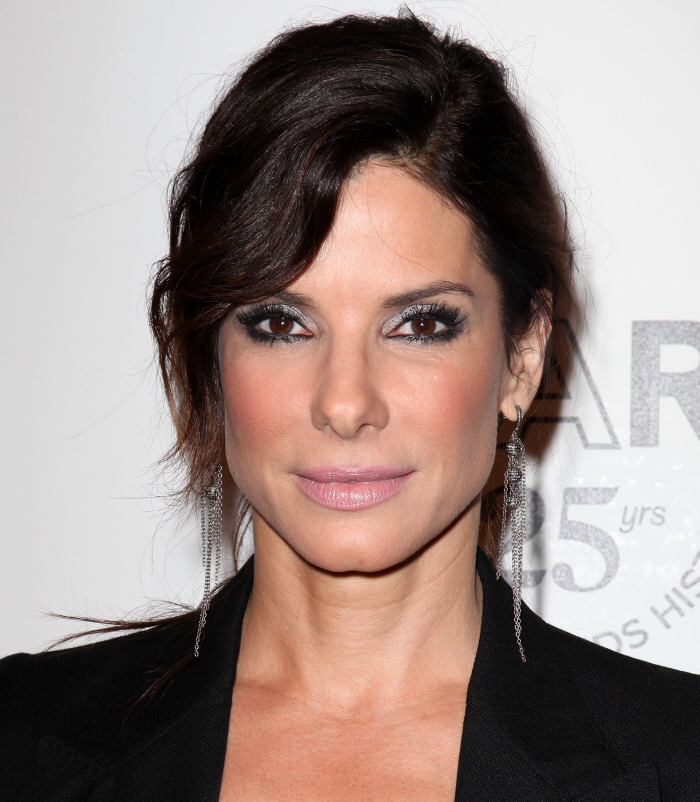 Last week, Sandra Bullock was photographed out and about looking only slightly tweaked. We don't have the photos, but you can see them here, at The Mail. Her lips looked slightly fuller, her skin looked fantastic, but she basically looked like the same woman, which means that the work was good. OK! Magazine devoted an entire article to Sandy's "plastic surgery makeover" though – even though they're claiming that she only went in recently for some fillers and injections, not surgery.
As Sandra Bullock made her way through the check-in line at JFK airport, the actress sported lips that looked noticeably poutier and fresh-looking skin. "It looks like she got a little bit of help with her lips and her smile lines," says a friend. "Her skin looks smoother and her pores look smaller."

A CONFIDENCE BOOST
Sandra, 47, has been frequenting the same plastic surgeon for the past 15 years, says a source.

"She appears to have had a forehead lift a few years ago and now undergoes a regular regimen of injectables," the source explains. "It looks like she's had Botox injections on the upper and lower outer corner of her eyes, which soften crow's feet and pulls up the outer edges of the brow and lifts the lid. It also seems like she's a regular fan of Radiesse, a filler injected into the folds around her mouth."

Although her rep denies Sandra has done anything to her lips or face, the friend explains that Sandra's stalled relationship with Ryan Reynolds may have had something to do with her recent overhaul.

Sandra and Ryan, 35, spent time together this summer when he admiringly called Sandra "the ultimate catch, no matter what — age, particularly with her, is completely irrelevant." However, after their relationship cooled (Sandra's rep consistently denies they had a romance), he began dating Gossip Girl actress Blake Lively, 24, and suddenly, age seemed to matter a lot.

"Sandra'd never admit it, but losing Ryan to Blake has been a big blow to her ego and she is definitely panicking," says the friend. "Things didn't really work out the way she planned. She probably never imagined she'd wind up competing with the young kid from Gossip Girl!"

SHE'S EMBRACING LIFE
And she's not only looking younger, she's been acting it. In 2009, Sandra made a resolution to enjoy her life more.

"Right now, I'm kind of getting into my childhood," she said. "I didn't have a teenage or early-20s experience that was free and without worry. I missed the 'screw everything, have-a-good-time' phase. Now I'm trying to have fun."

Her divorce from Jesse James the following year made her even more determined to stay young and embrace life. Her fresher face, says the friend, is just one more way of taking revenge on everything that threatens to curtail her happiness — especially aging. "She has kind of thrown the whole 'growing old gracefully' thing out the window," says the friend. Although, the friend says Sandra is taking a "conservative approach to her makeover. Sandra always wants to look like herself, just a little bit better."
[From OK! Magazine]
I actually think OK! Mag and their "experts" are right on the money – about a decade ago, I think Sandra had some real plastic surgery in the form of an overzealous eye job or something in that area. Remember Two Weeks Notice and how funky her face looked? That's when it happened, and I think that since then, Sandra has only been doing little stuff, like fillers here and there.
As for Sandra and Ryan Reynolds and Blake Lively – meh. Whatever was happening between Sandra and Ryan, it either wasn't romantic or it wasn't romantic for very long. At this point, I just believe that they were really close friends. And I don't think Sandra's fillers have anything to do with Blake specifically – they're probably more to do with aging in the industry generally.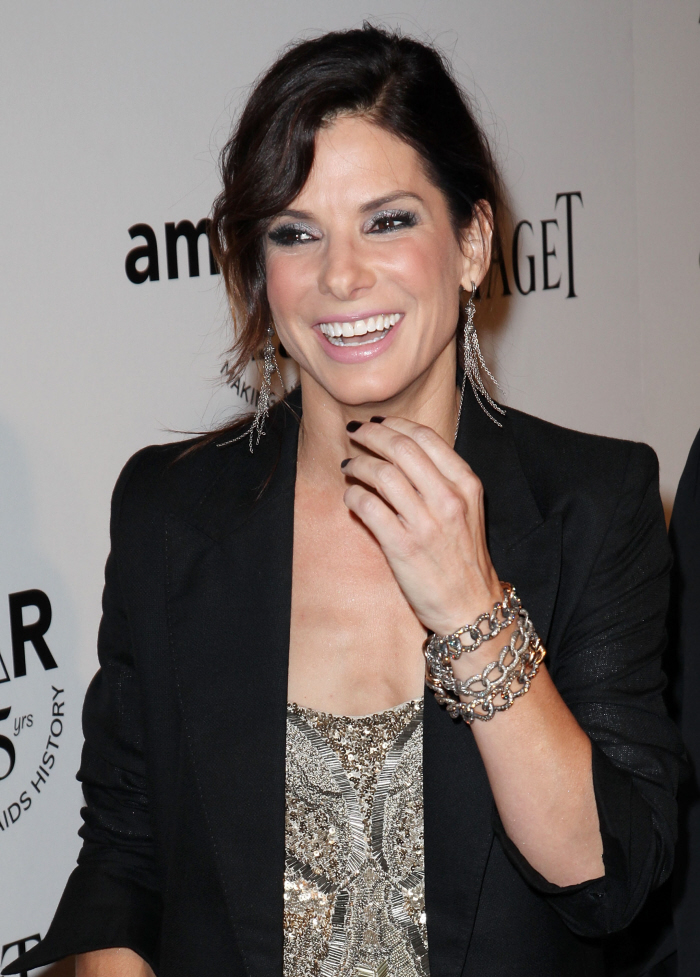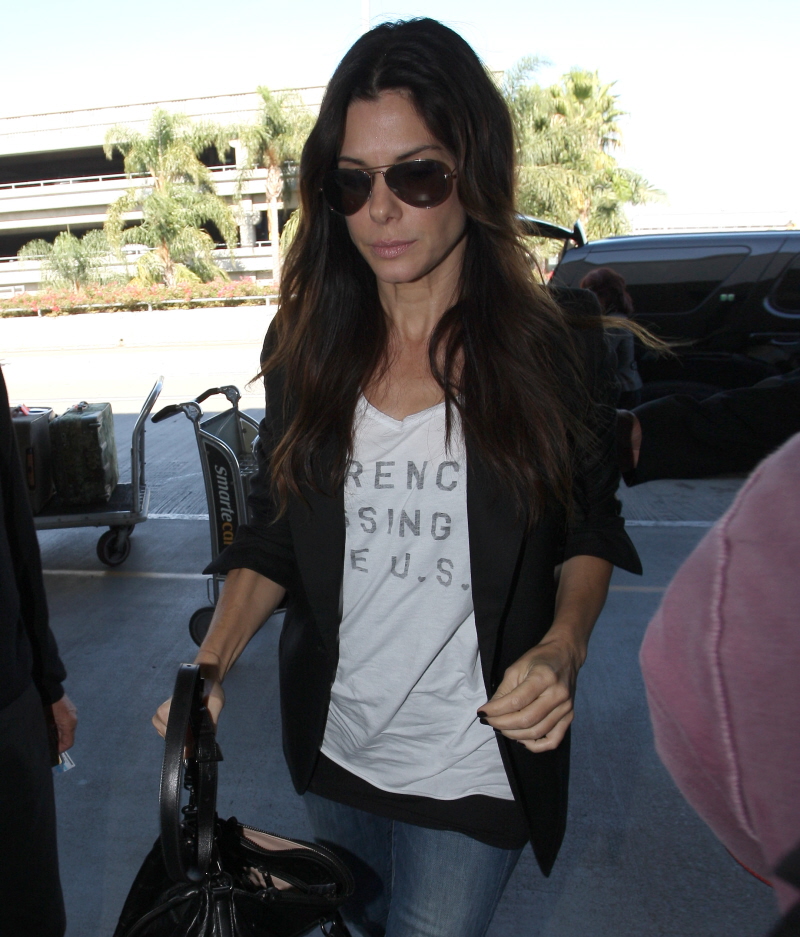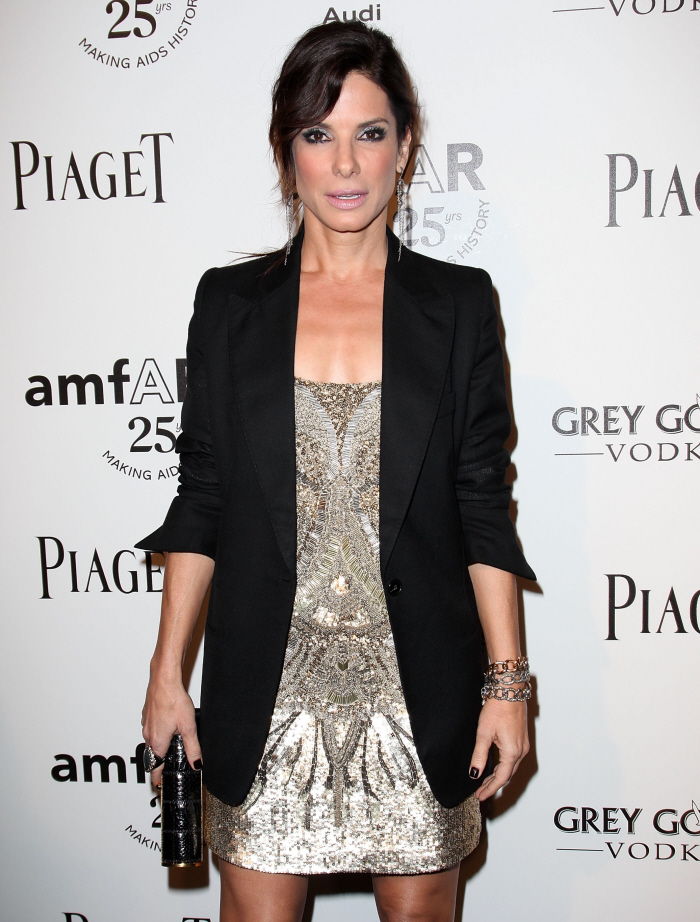 Photos courtesy of WENN & Fame.