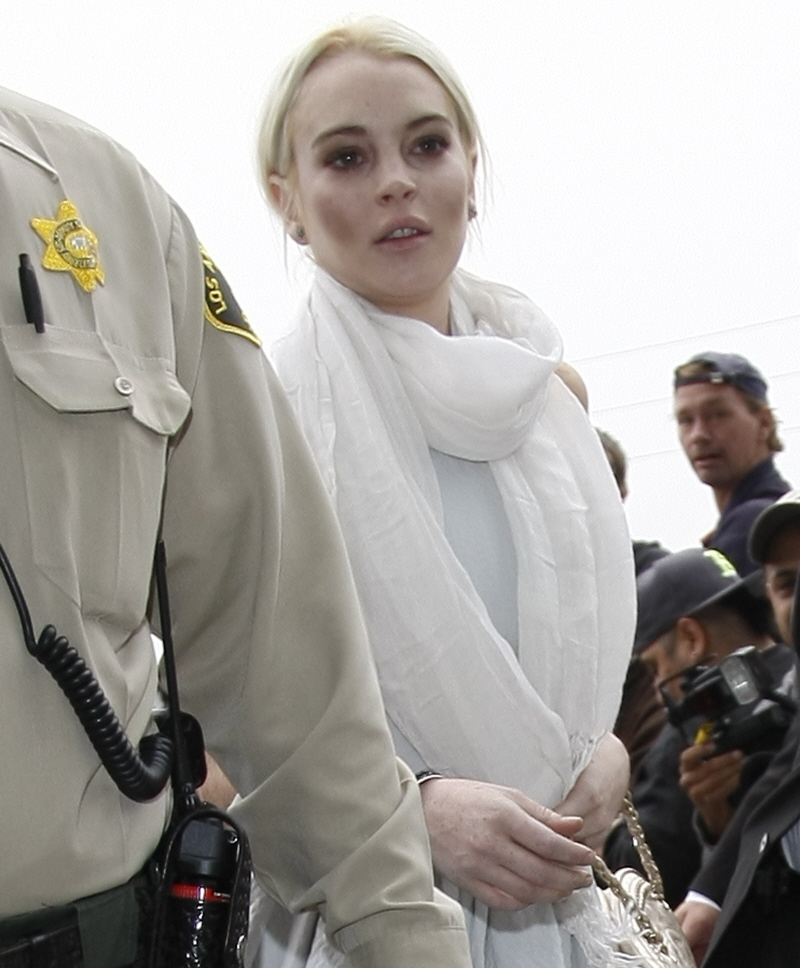 For whatever reason, the tabloids are full of Lindsay Lohan stories this week. My theory for the sudden reemergence of The Cracken: she's going to be everywhere promoting her Playboy cover in the hopes that her dusty firecrotch will bring her career relevance again. The Enquirer has a BS story about that too – something about Linnocent being prepared to do "anything" (wink, nudge, beej) to start working again. I know the report is BS because they claim LL is even prepared to dump Dina Lohan as her manager. That will never happen – Dina and the Cracken are forever intertwined now. They will never NOT coexist.
I'll start with the Star Magazine story about LL's 2008 "diary". Radar already released some of this a few days ago – in January 2008, LL was writing in her diary non-stop about Heath Ledger being the "love of her life." The print edition of Star had more details and diary entries, and I just want you to note how LL makes Heath's death all about her. Her needs, her crack drama, her narcissism. It's never NOT about Lindsay.
Jan. 22, 2008: "Today, Heath died. I'm in love with him… He was the love of my life. He taught me so much, and he was everything I've ever wanted and more. I want to hear him laugh and hold me. I crave his touch and care."

She writes that she had plans to visit Heath in New York on Jan. 25: "He was going to meet my mom and everything."

Lindsay reportedly broke down in tears at La Scala when she was informed of Heath's death: When a person dies the world stops. I'm numb. There's an emptiness. A whole [sic]. And a desire to feel loved. A need to be held in the arms of someone who understands. But what do you so when the one who understands is gone?"

"I'm sick. My vision is blurred and it's like a black hole has surfaced overhead. It's like a game of Jenga, and when one piece slips, it all falls apart. One pill, one sip and it goes down the slope, crashes and burns and it's over. Why? I ask myself over and over. Cry is all I can do."

More than a week after Heath's death, on Jan. 31 2008, LL wrote: "Heath is a prime example of what this industry can do to someone. It craves to see someone fail… It brings enjoyment to us to watch one die. The tragedy and cravings for it can kill. And will. They have."
[From Star Magazine, print edition]
The saddest/funniest line, in my opinion was, "He was going to meet my mom and everything." Dina Lohan and Heath Ledger were going to meet… how would that have gone? Did Heath even know that was happening? Or was LL just some girl he boned and LL built up the one night stand like it was the most epic crack drama of her life? Life is totally like Jenga.
Meanwhile, the Enquirer also had excerpts from a new book that's making the rounds. It was written by a man named Lee Weaver, who was a "Hollywood bodyguard" for more than 20 years. The book is Memoirs of a Celebrity Bodyguard, and Weaver details the year he spent on Cracken Detail:
Lee Weaver insists his worst client was Lindsay Lohan, whom he protected during most of 2007.

"When she was sober, she was charming. But when she'd done drugs or had been drinking, she was a demon!"

She once told Weaver: "I can dress like a princess and still fight like a whore."

And one night she almost got them both killed. Weaver says she called him at 4 a.m. and asked him to take her to Beverly Hills to "pick up a script." But when they got to the location, Lindsay approached a man waiting in the front yard and screamed: You ripped me off, you bastard!" With no warning, Lindsay "slapped him so hard that I almost felt it." She then slapped him again, Weaver writes, and "before I could stop him, he held a gun to Lindsay's face."

Weaver moved in to save his client and found himself looking down the barrel of the gun. When a noise distracted the gunman, Weaver says he "punched that man as hard as I could in the side of his neck."

The man went down and Weaver sped away in the car with Lindsay.
[From The National Enquirer, print edition]
"I can dress like a princess and still fight like a whore." That's her epitaph. That or "Move that headstone, I'm Lindsay Lohan!" Anyway, that story about Linnocent slapping some random – that's her dealer, correct? Pretty much.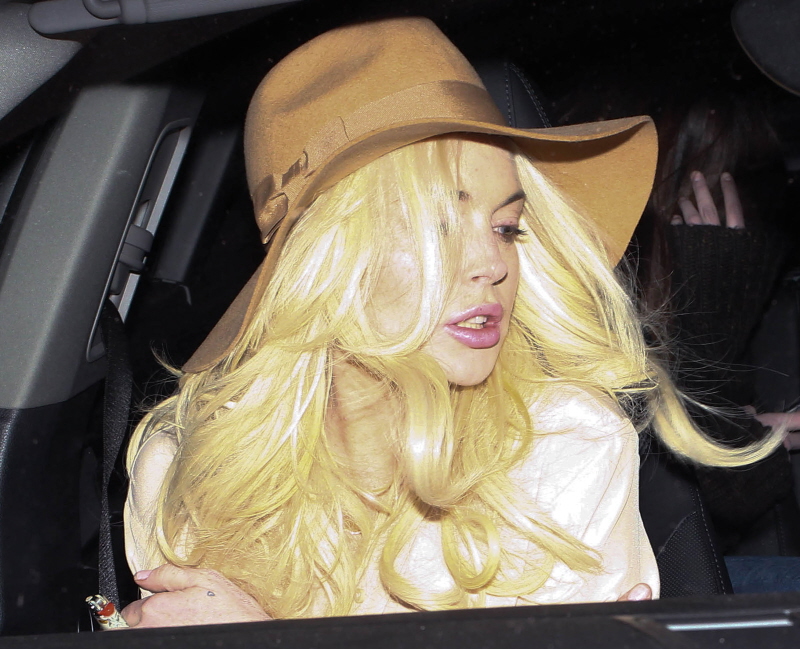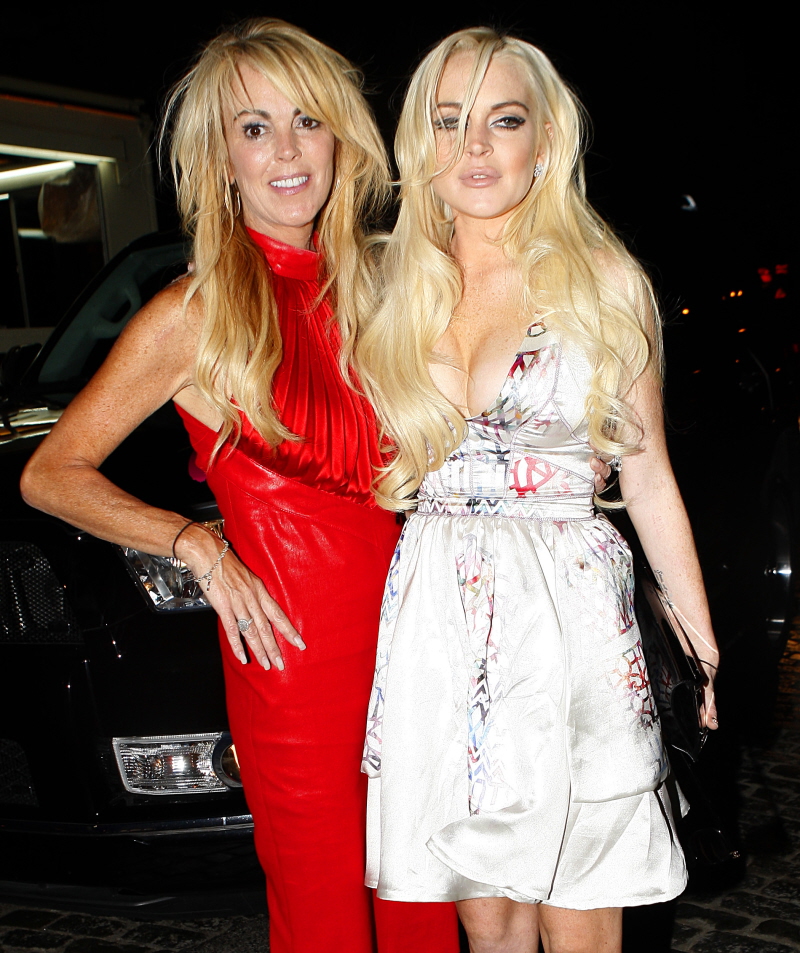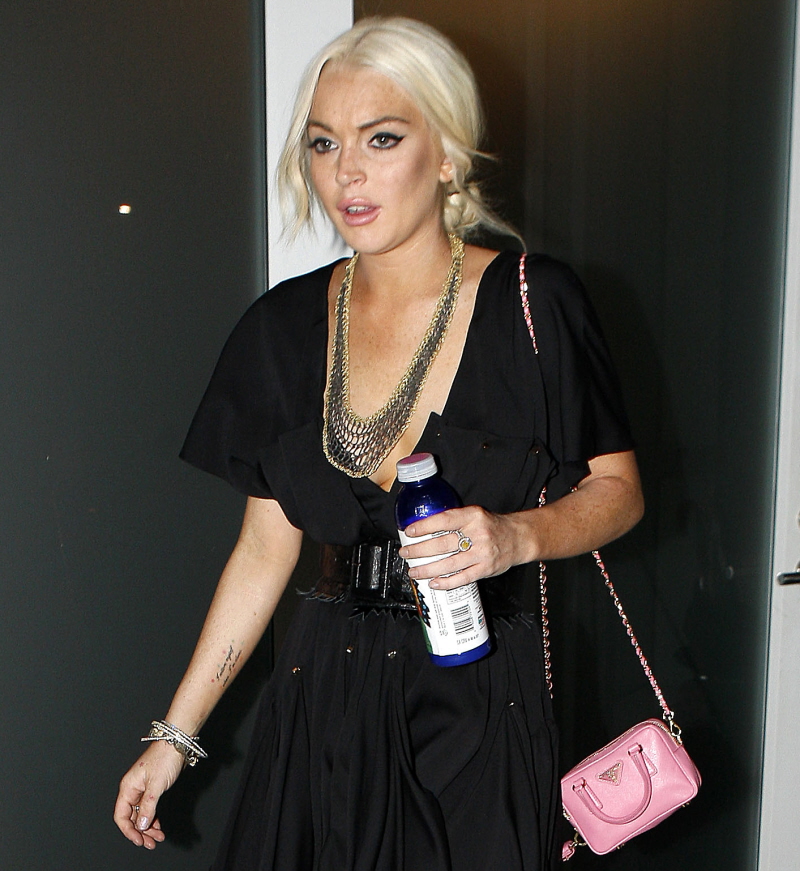 Photos courtesy of Fame.