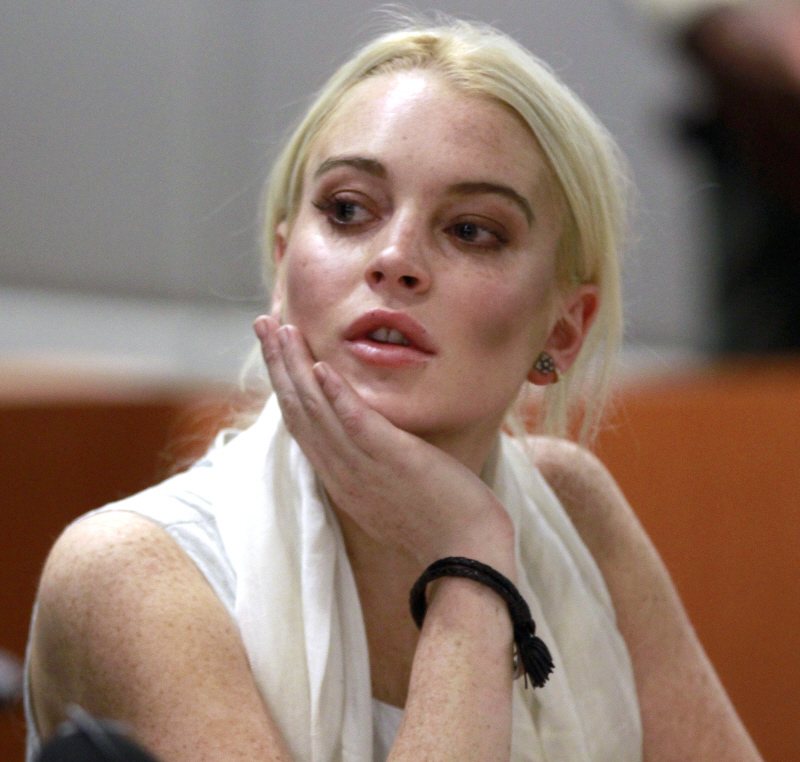 For the love of all that is holy… Lindsay Lohan has more crack drama. But the bitch is so stupid, she's just repeating old crack dramas at this point. A few days ago, LL decided she needed a vacation – probably because she's been working SO HARD at the morgue. So LL, Ali and Pootie flew to Hawaii – see photos here. Apparently, her probation officer said it was okay, and you know that LL has a court date this week too, so she traveled to Hawaii with the understanding that she would be back for her court date. Unfortunately, LL is a crackhead who creates her crack drama wherever she goes – she left her Chanel purse unattended and wouldn't you know, it got stolen. OH NOES. How ever will she be able to make it back to California? How 2010 Cannes Film Festival of her.
Lindsay Lohan's Hawaii vacation just got a whole lot more stressful — TMZ has learned, she got her purse stolen last night … containing everything from her passport to tons of cash.

Sources close to Lindsay tell TMZ, Linds had been at a house party in Laie, Hawaii for about two hours — NOT drinking — and accidentally left her $5,000 Chanel purse in the car. When she came out, the purse was gone.

According to sources, the purse contained her passport (and other ID), her probation paperwork — giving her permission to take the trip — and lots of cold hard cash … good idea.

But it gets crazier — Lindsay is due back in California court on Wednesday for a hearing about her probation. It's extremely unlikely, but if she misses her court date, the judge could find her in contempt and revoke her probation, landing her in the pokey.

If it all sounds familiar — it's because the same exact thing happened to Lindsay last year while she was in Cannes … 'Memba that?

Kahuku Police are currently investigating the situation.
[From TMZ]
Wait until the bench warrant is issued, then suddenly her purse and her passport will no longer be "missing" and she'll be able to fly home right away. Some of you were wondering why she's carrying her passport – I was assuming it's because of all of the drama with her driver's license, right? She needs a photo ID to fly, so she's probably just using her passport? Or she's just carrying her passport because she's a dumb crackie and why not? Whatever.
UPDATE: Yeah… the purse has been returned, minus $10,000 cash.
Lindsay Lohan's purse has made it back to its rightful owner safe and sound — passport and everything — but sources tell TMZ, the thief kept one massive jackpot … $10,000 in cash.

TMZ broke the story … Lindsay's $5,000 Chanel purse was stolen last night from a Hawaii house party — and inside the bag … her passport, important probation docs, and a boatload of cash.

Sources tell us, Lindsay stayed long after police left — driving the entire party into a frenzy for hours looking for the purse — and up until this morning, she had come up empty.

But that's when one of her friend's eyed a suspicious-looking local, and asked if he knew where the bag was. We're told the local denied everything, but showed up with the bag minutes later … claiming he found it on the street somewhere.

We're told Lindsay was so ecstatic to have the bag back, she didn't bother asking questions — despite the missing $10,000.

Traveler's checks, people.
[From TMZ]
Dumb crackie. You know that $10,000 was her drug budget. She's such a stupid drama queen.
Would you like more excerpts from LL's Playboy interview? They're pretty bad:
"Sex and sexuality are a part of nature, and I go along with nature," the Mean Girls star says of her in-the-buff photos, which are an homage to the late Monroe's own iconic Playboy spread. "Knowing yourself and your body is so important because it gives you confidence, and in life, women need confidence."

In the leaked pics, Lohan wears just a pair of a pumps, with her blonde locks in retro-style waves and with her lips a bright shade of vampy red.

"It's a very male-dominated world to begin with, so knowing yourself and being comfortable with your body is an important thing for me as a woman. Everyone is entitled to their opinion, but this is mine."

The former Disney cutiepie, of course, hasn't had the most confidence-building several years, as her movie roles dried up and she ran into frequent troubles with the law over her partying, her drug and alcohol abuse, a related DUI, subsequent probation violations, even the theft of an expensive necklace.

But, looking forward, she says she's learned from those transgressions. "Ultimately we are each responsible for ourselves and for our actions," says the star, who has dodged long-term jail sentences more than once. "Looking back, I probably would have listened to and taken more advice from the people whom I admire and would have followed through with it more."

How did the real trouble begin? Muses Lohan: "My stubbornness at 18 and 19 years old got in the way. During the past five years, I've learned that time flies faster than you think, and because you only live once you have to learn from your mistakes, live your dreams and be accountable."
[From Us Weekly]
"…because you only live once you have to learn from your mistakes, live your dreams and be accountable…" ??? Is she living her dream as an international call girl? Is anything about her cracked-out legal dramas about accountability? Does she ever learn from her "mistakes"?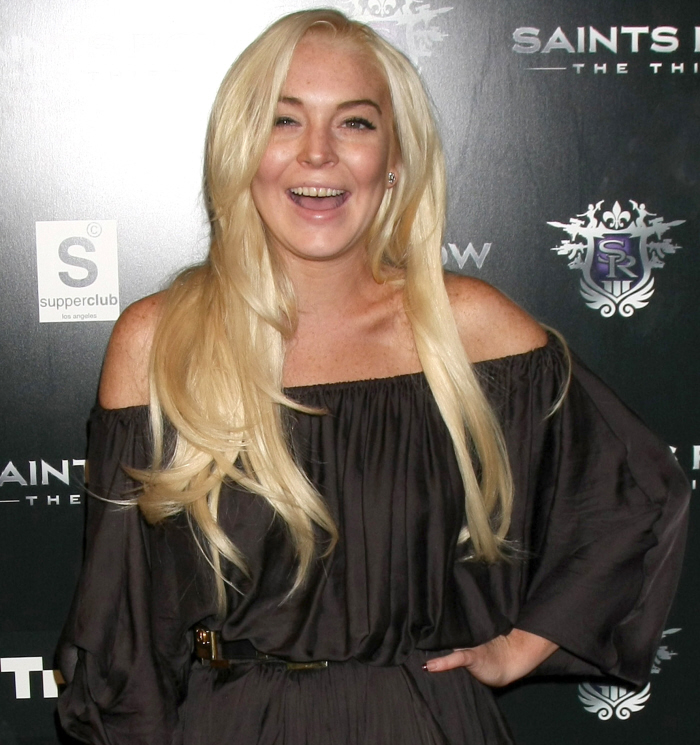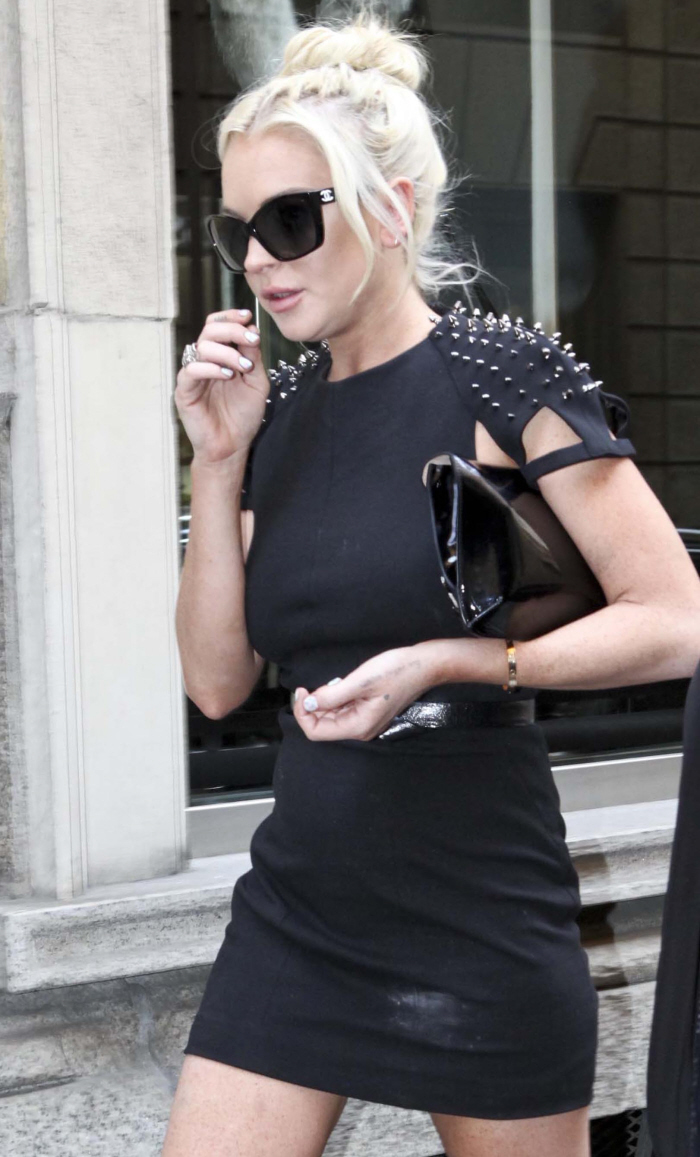 Photos courtesy of WENN.