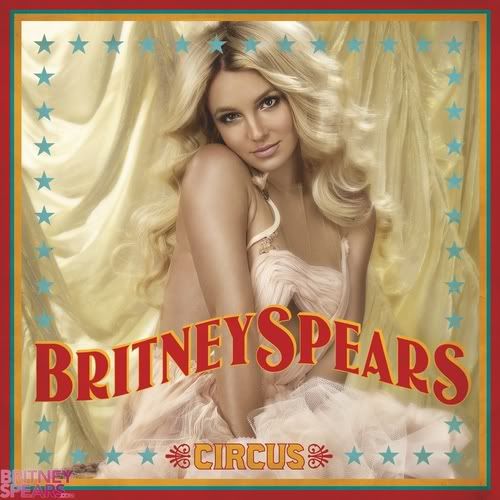 Britney Spears has released the cover image and tracklist for her upcoming album, Circus, on her official website. Britney has attempted to create a more controlled and together image in the press with videos and photos on her site and it seems to be working. Last week we saw two workout videos of Britney, one in which she lifted weights with her trainer and another that had her out running with her mom.
All these official photos from Britney mean there's less paparazzi interest in her, which is likely a good thing for her well being and sanity, although she's not getting the constant press she used to. A couple of weeks ago Britney tried to escape photographers waiting outside her estate by hitching a ride with her gardener. The paparazzi were quickly tipped off by the fact that her bodyguard was following the landscaper's truck. Britney laughed it off when she was discovered, but she must have had several paparazzi-free days after that incident because we just haven't seen as many photos of her.
She's creating an image that draws on the sexy Britney of days past, but mature and more world-weary. She hardly looks like herself on the cover of her album, but that's because she's already morphed into Britney 2.0. It's her circus, and she's in charge of choreography and costumes now.
Circus is out in stores on December 2. Here's the tracklist. Britney's site also mentions that the next single will be the song "Circus."
1. Womanizer
2. Circus
3. Out From Under
4. Kill The Lights
5. Shattered Glass
6. If U Seek Amy
7. Unusual You
8. Blur
9. Mmm Papi
10. Mannequin
11. Lace and Leather
12. My Baby

Bonus Track:
13. Radar
[From BritneySpears.com]
Simon Cowell has confirmed rumors that Britney will appear on his UK talent show X Factor. Britney is set to perform songs from her upcoming album at the end of the month. Simon said "I'm really excited about it, because she has got her act together and the new record is terrific. She has come back from a very dark place and is a terrific artist."