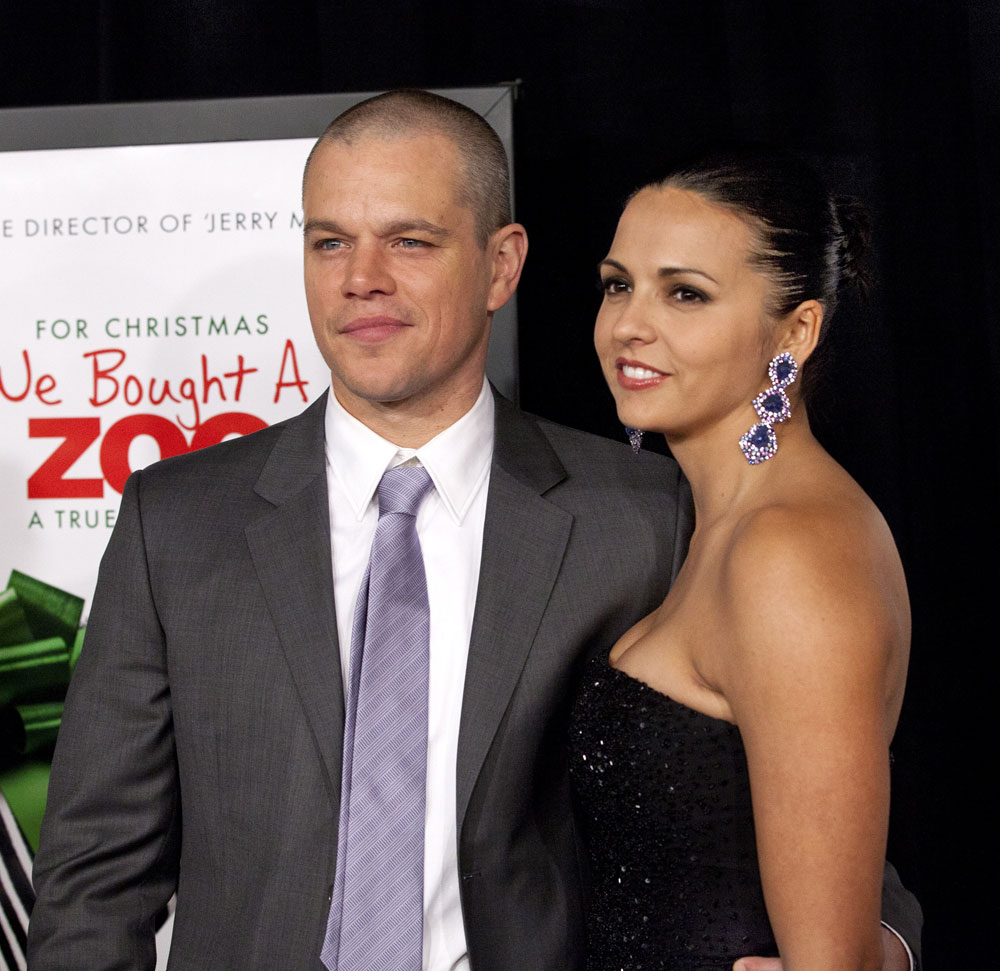 Note that I wrote most of this story focusing on the angle that Damon is leaving the door open to return to the Bourne franchise, and explaining his beef with the current writer/director. Then I listened to the full interview and he gave more quotes about Brad and Angelina, yet again. So if you're interested in that part of the story and don't give a whit about Bourne, you can skip to the end, the part after the second line.
---
I love
KCRW's The Business
, and I often download the podcast, (I'm
like Britta
) so
this interview with Matt Damon
, which aired yesterday, was a treat. On The Business, Damon explained why he made
those comments to GQ trashing the Bourne screenwriter
and he said that he'd love to reprise his role.
To recap – in GQ Damon was quoted as saying that screenwriter Tony Gilroy handed in a script for Bourne Ultimatum (the third movie, he also wrote the other two and the upcoming fourth, starring Jeremy Renner as another spy) that was "unreadable." Damon said "I don't blame Tony for taking a boatload of money and handing in what he handed in. It's just that it was unreadable. This is a career-ender. I mean, I could put this thing up on eBay and it would be game over for that dude. It's terrible. It's really embarrassing. He was having a go, basically, and he took his money and left." Later in that GQ article, the journalist explained that Damon called him up afterwards and tried to smooth over his statements. Damon said "If I didn't respect [Gilroy] and appreciate his talent, then I really wouldn't have cared.. My feelings were hurt. That's all. And that's exactly why I shouldn't have said anything.." Only of course GQ still ran those quotes, because they were awesome.
On The Business, Damon gave the background for why he said all that about Gilroy: he was filming another movie that just happened to be right next to the offices for the fourth Bourne film. Gilroy is both writing and directing this version, which Damon clearly considers a travesty. He's loyal to director Paul Greengrass (who also has issues with Gilroy) and has said that he'll do another Bourne movie only when Greengrass is on board.
In a radio interview with this reporter for KCRW's The Business, Damon explains that he was caught off guard in Vancouver on the set of his next film, Neill Blomkamp's Elysium, when he found himself next to the just-opened offices for The Bourne Legacy, the fourth movie in the franchise, which is being written and directed by Gilroy — and has no role for Damon.

Those offices "opened up right outside my trailer," says Damon. "I was seeing this every day, and then I came back to New York and did this interview and kind of blurted it out. … It was idiotic of me to say anything. At the end of the day, it's between me and Tony, and we'll figure it out or we won't."

The sight of that office was so disturbing because of a deep years-long rift over who is the true keeper of the Bourne flame: Greengrass, who directed the second and third films to ever-growing grosses, or Gilroy, who has been a writer on every Bourne. As a result, it is not clear that Damon ever will reprise the Jason Bourne role, though he says that's what he wants to do.

The first Bourne film, directed by Doug Liman, was a deeply troubled production, and Gilroy, along with producer Frank Marshall, pulled it back from the brink. But when Greengrass came on to direct 2004′s Bourne Supremacy, he and Gilroy began to loathe each other. "Paul and Tony have clashing styles," says a source with knowledge of the conflict. "Tony does all the work before and delivers a finished script. Paul wants the script to be ever-evolving during shooting." But Damon believes the director is king, and his loyalty was and is to Greengrass.

So Gilroy would not even have worked on 2007′s Bourne Ultimatum, except Greengrass couldn't develop a script in the time allotted. And the clock was ticking: Not only had author Robert Ludlum's estate imposed a timetable, but also the studio did not want to let Bourne disappear for too long. "It was an important franchise," says Stacey Snider, then chairman of Universal. "We went to Tony and said, 'Can you come up with something?'"

Gilroy did, and though Damon bashed him for walking away after writing one (allegedly lousy) draft, several sources including Snider say Gilroy had made it clear that he would do only one draft and possibly a revision because he was committed to his directing debut, Michael Clayton.

Damon's allegation that the draft was "unreadable" is something that Snider and others dispute. Universal co-chairman Donna Langley says she was "thrilled with the script Tony submitted and greenlit the film based on that script." (Greengrass subsequently brought in other writers, including Scott Z. Burns and George Nolfi, who were awarded credit alongside Gilroy.)

Bourne Ultimatum grossed a robust $443 million worldwide, and Universal naturally wanted another movie. The studio had backed Greengrass in making the $100 million-plus bomb Green Zone with Damon in hope of keeping them on board for the next Bourne. But again, Greengrass failed to come up with a workable script in the time
allotted.

In November 2009, with Greengrass still uncommitted, top Universal brass — Ron Meyer, Adam Fogelson and Langley — flew to New York, took Damon to dinner and explained that they wanted to move ahead. Damon said that for him, there was no Bourne without Greengrass.

After that, says Langley, the Ludlum estate turned again to Gilroy, who had an idea for a script. This one would focus on another agent (Jeremy Renner) but leave the door ajar for Damon's character to return. To Damon's camp, this seemed like good news because Universal had considered pulling a "Bond," simply replacing Damon in the lead.

Fast-forward to October 2010, when news broke that Gilroy would write and direct the next movie. No one from Universal had informed Damon that Greengrass was being replaced by his old adversary. The studio has not discussed it with him since. "It certainly wasn't an omission for any reason," says Langley. "You just have to move on with your business." For now, she adds, "the franchise can live on [with Renner]. If at some point it can include Matt Damon, fantastic. If it can't, we're reconciled to that."

Damon says he fully expects to return to Bourne. "I think if [Bourne Legacy] doesn't work, we can just ignore it and pretend it didn't happen, and that'd be fine," he says. "But I expect that it will work and only help us if we did another one, which I'd love to do."
[From The Hollywood Reporter]
To me the takeaway from this is that Damon really cares about Bourne, that he's committed to that character, and that he's open to doing another one. Whether that will ever happen given the complicated issues between director Greengrass and the studio remains to be seen. It is to Universal's credit that they didn't just replace his character with another actor. They're going to make bank either way, and there's no other Bourne than Damon.
---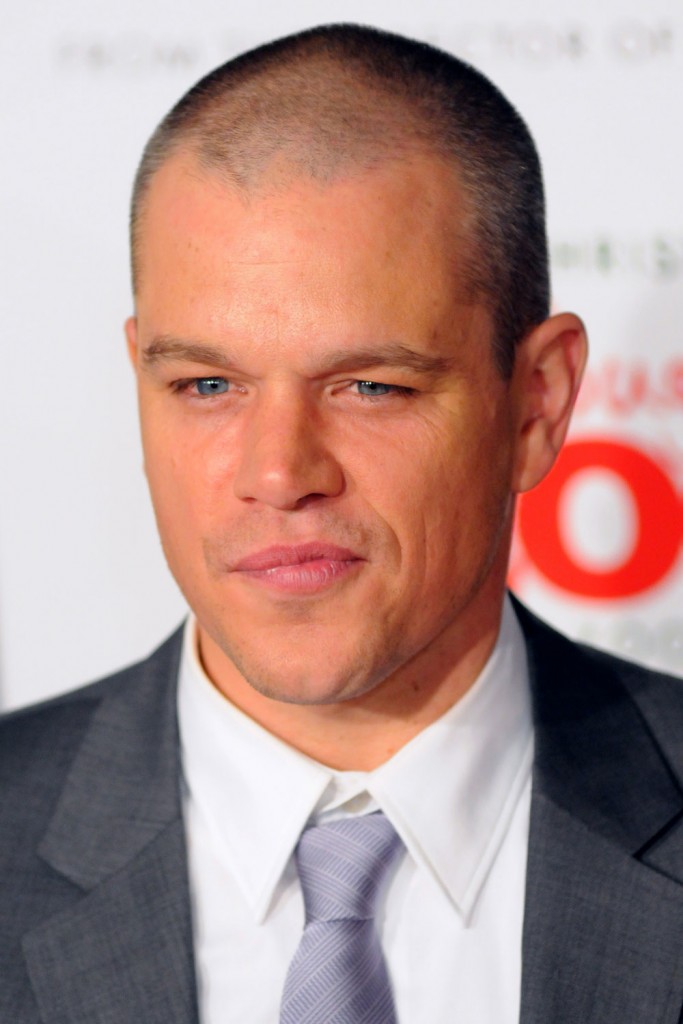 There's more in Damon's interview with The Business, including how Cameron Crowe wooed him to play the lead in We Bought a Zoo. (Crowe brought Damon his intended soundtrack and a film called Local Hero that he wanted to capture the mood of.) Damon also talked about Brad and Angelina yet again and added Aniston in there for good measure. The dude has talking points. I've heard him repeat himself several times in this press tour. (He told the same story about a young barista in Starbucks to both Parade and on The Today Show.) So I don't think he is fixated on Brad and Angelina so much as he just says the same things over and over again. (He also repeated on The Business the same thing he said on The Piers Morgan show about coming to terms with fame.)
On the paparazzi and Brad and Angelina
When there's potential sex or scandal, that's really what sells those magazines. My life now is so normal that it's not really worth their money. They go after the picture that's going to make the money. If you look at Brad and Angie, they're not doing anything to encourage it and yet what these magazines do is they just make up new stories about Brad and Angelina and Aniston and like, that marriage ended 6,7, 8 years ago. I don't know, but they just try to keep it going so those pictures are worth something. But in my case there's just, I really lucked out. I fell in love with a woman who's not in the business… When you have two actors who are kind of in the spotlight that really increases things.

On Ben Affleck's tabloid predicament after J.Lo
That was horrible. During that time, talking to him, he was very… sober about what it meant for his career. He knew that it meant he was going into the penalty box for an undetermined amount of time. The worse place you could be is where you're selling magazines instead of movie tickets. That's really purgatory, it's really tough to get out of that. The good news is that what it took for him to get out of there, was what it took for us to get our careers going in the first place. We had to write our way into the game. He had to do it again. With Gone Baby Gone, he wrote that and it was beautiful and he directed that… That still didn't break him out of jail. He did Hollywoodland and he still couldn't get out, so he finally did The Town. He wrote that, directed it and starred in it because it was the best acting job he could get, and he was great. And the movie was great, and now it looks like he's back on the list.
[From KCRW's The Business]
We get it, Damon has a happy family, is a devoted husband and father and he's above rapproach. I hope that's true. I hope Lainey's blind item about Cuba is in no way about him. Or if it is, that it's not true. He's awesome, even if he's like a cranky old dude who tells the same stories every time you see him.