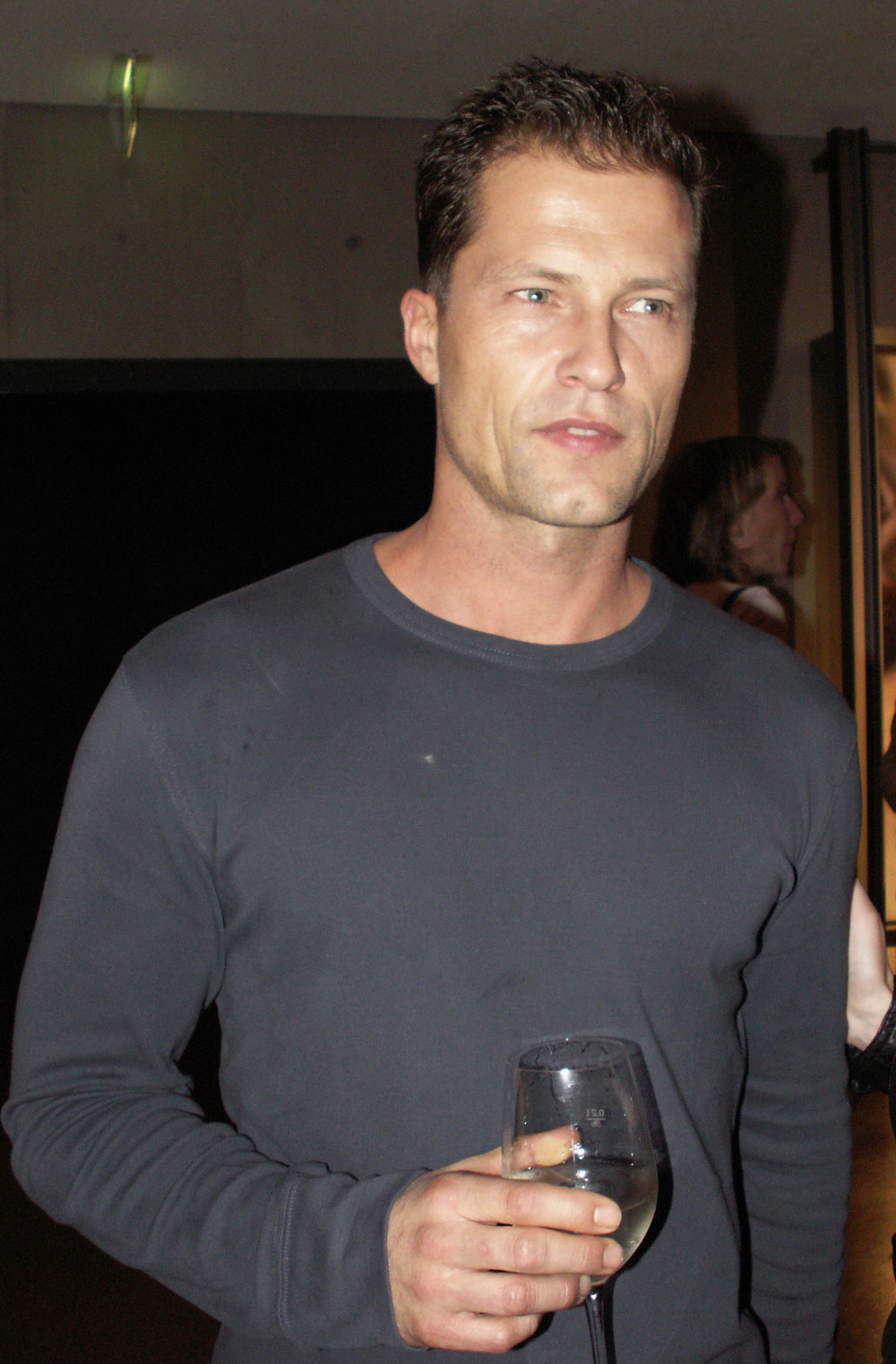 German actor Til Schweiger, one of Brad Pitt's costars in the upcoming Quentin Tarantino film Inglourious Basterds, personally blames Pitt for the terrible hangover he suffered after their cast party in late September. Schweiger was photographed looking incredibly wasted that night as he left at 2am. He explained in a recent interview that it's not that Pitt particularly forced anyone to drink, but he did insist that they drink sweet wine, which made him feel awful the next day.
Schweiger also praised Pitt as a co-worker and said he's a great guy with an excellent sense of humor and very down to earth. Here's a translated transcript of his interview.
Reporter: You were out with BP and probably relaxing from the day at the set. How is the guy? Did you have some beer or is he really so introverted because nobody sees him, nobody hears him. How would you describe that?

TS: He is an incredibly congenial coworker, extremely funny, likeable, zero pretentiousness, a truely awesome colleague. I only can say the best about him.

Rep: And the big party, was it really such a binge? It was said the last people left at 5 am. Was the there until the end, did you both really take off?

TS: I cannot really judge on that because I was the one who was knocked out the most. The next morning I saw everyone and none of them looked fresh. I think I was shot the most.

Rep.: How did that happen?
TS: How did it happen? Because Mr. Pitt wanted us all to drink sweet wine, he compelled everybody. I never drank sweet wine before and it somehow killed me.

Rep: Is Quentin Tarantino a a good director? Is he rather dominating or more collegial?
TS: both, a mixture
[Translated from interview at TIKOnline.de by my husband]
Til Schweiger has incredibly rugged good looks and is often called "the German Brad Pitt." You may not be able to understand what he's saying, but if you want to check out the video of that interview you might become a fan. He is one fine specimen of a man.
Exclusive: filming details and how Brad Pitt arrives on set
This is a pretty weak exclusive or I would make it the headline, but remember when I waited for like 4 hours on the set of Inglourious Basterds near my where I live in Berlin only to be told that they weren't filming that day? Well now they're "filming" down the street at the old American Embassy on Clayalee and I stopped and talked to some of the workers there. They have half the street blocked off and guards posted to keep cars away, but one of the guys I talked to yesterday said they've been there for a few days and no one has shown up to film yet. Apparently Quentin Tarantino is good for business because people are hired to guard the potential set even if no one films there. The day I was waiting last week they even had a whole catering truck but the filming was still canceled.
The worker also told me that when they were outdoors (I think he said Nauen, but it could have been another town that started with an "N") that Pitt arrived by helicopter and was able to evade the paparazzi that way. The crew was advised to make sure that no paparazzi captured photos of the cast in uniform, which is probably why they released that official photo of Pitt last month. Schweiger arrives on set by car, though.
Til Schweiger is shown on 10/31/08 at the party for his new shoe line with Birkenstock, Footprints, at Kosmos in Berlin. He is shown with Gedeon Burkhard and Wotan Wilke Mohring. Credit: WENN