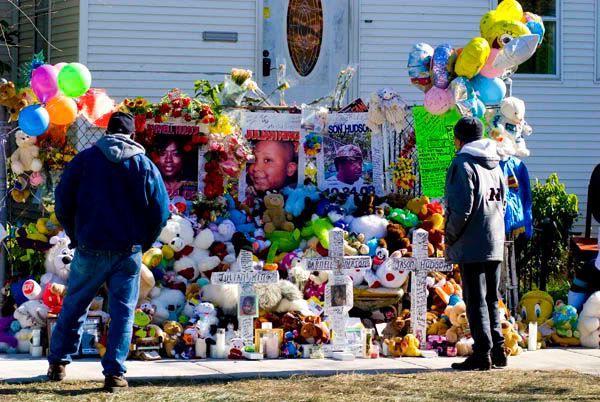 Mourners outside the home where Jennifer Hudson's family was murdered. Taken 10/29/08. Credit: WENN
The memorial for Jennifer Hudson's mother, brother and nephew was held Monday afternoon at a church in Chicago. The memorial was attended by over 450 people paying their respects and supporting Jennifer Hudson and her family, some of whom were a little more well-known than her neighborhood friends and family.
On Monday afternoon on Chicago's South Side, Beyoncé, Rev. Jesse Jackson, Fantasia, Missy Elliot, Patti LaBelle and Queen Latifah were among the 450 mourners packing the pews of the Apostolic Church of God for the memorial ceremony to celebrate the life — and mourn the loss of — Jennifer's mother Darnell Donerson, her brother Jason, and her 7-year-old nephew, Julian King…
[From OK! Magazine]
Another famous attendee, Oprah Winfrey, has been a great support and shoulder for Jennifer Husdon through her grief. Oprah, who lives and films her show in Chicago, has opened one of her homes to Hudson. Jennifer has been staying in one of Oprah's condos in the windy city, where there is said to be plenty of privacy and security.
450 people paying respects to these three people is a touching show of love and support. In everything I've read about Jennifer's mother, she was loved in her Chicago neighborhood. Even though Jennifer had asked her mother to leave the violent area, Darnell Donerson refused to leave her friends and her church. Obviously she was not forgotten when it came time to say goodbye to her, her son and her grandson.
Jennifer attended the memorial with her fiance, David Otunga. Fantasia sang at the services.