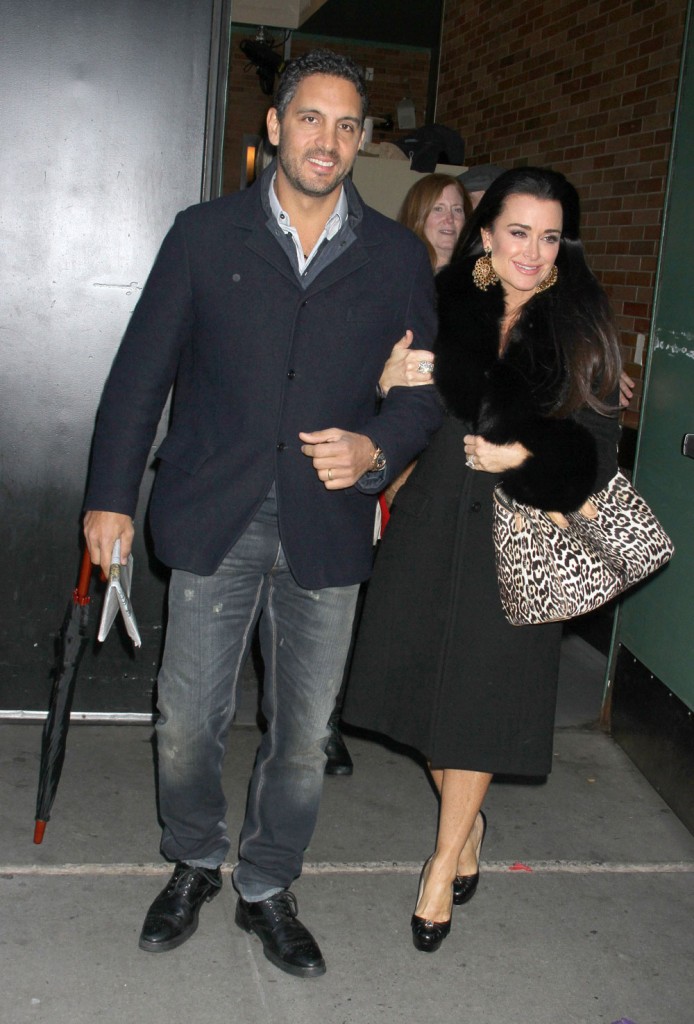 The last time we covered RHOBH's Kyle Richards, there was a lot of back and forth about whether she is a superficial bully (my belief) or whether she's just using tough love to deal with a sister who is a drug addict. (She very well may be, but that doesn't mean she's not a bully IMO.) Kyle is promoting her new advice book, where she thinks we all want her relationship, her fake-looking hair, and her makeup tips on how to finely skirt the line between looking puffed up and overdone and looking like a drag queen.
Kyle was on Good Morning America yesterday, and host Robin Roberts asked her what she meant in her book by claiming that cheaters should get one free pass to step out on their spouses. Kyle claimed that of course she wasn't writing about herself or her husband at all (yeah right) but that she knew a couple who had dealt with infidelity and survived and that it's possible.
Good Morning America host Robin Roberts confronted the socialite about her beliefs on US breakfast TV this morning.

The presenter said she wanted to ask Kyle what she meant by saying: 'If you cheat on your spouse once do not tell. You get a free pass…'

But the star was unapologetic.

Kyle said: 'I know [sic] I was going to get some heat for that.'

She then went on to describe one scenario saying: 'I've seen circumstances with people that I know are in love with their spouse and they made one mistake and I said – this is somebody that I know, nobody that anybody knows here,
"Listen, if this really was a one time mistake, and you did not put this person in jeopardy, I personally think you should deal with it with yourself and with God and not go and say: 'Honey look what I did,'" because I knew that this would ruin their relationship and their life.

'So I said: "It did not happen".

'And I can tell you that many, many, many years later they're happy and together and she did make that mistake and she has to carry that and live with that…'

Mix and match: Kyle says she pairs expensive designer clothes with high street brands

Perhaps sensing that people would think she was the person in question, Kyle quickly said: 'And it's not me!'

Looking at her husband who was obviously on set, unseen by the cameras, she went on to say jokingly: 'My husband is over there sweating bullets.

'I know I get a lot of heat for that, but I do feel that and I know they're still going strong.'

When it comes to her own marriage, Kyle said the secret of her success is appreciating her relationship.

Speaking about Mauricio – who is her second husband – she said they have been together for 17-and-a-half years because she appreciates him and what they have together.

Kyle said: 'I'm very appreciative of my marriage and my husband…

'I know what we have and I make sure to never forget that and make sure that he feels appreciated every day and he makes me feel appreciated every day.

'He makes it easy to.'
[From The Daily Mail via ONTD]
So Kyle is describing a scenario where a woman cheated on a man once and didn't tell him. This was allegedly a friend of hers whom she counseled not to tell the husband. That sounds like b.s. to me. That sounds like something she went through with Mr. Nice Guy Rico Suave Muaricio and forgave him for since he convinced her it was a one-off. "Baby, I'm so sorry, it was just the one time. She meant nothing to me." Yeah, it was the one time he got busted and after that he was much more careful about it.
Should cheaters get a free pass? I think that should be their partner's decision.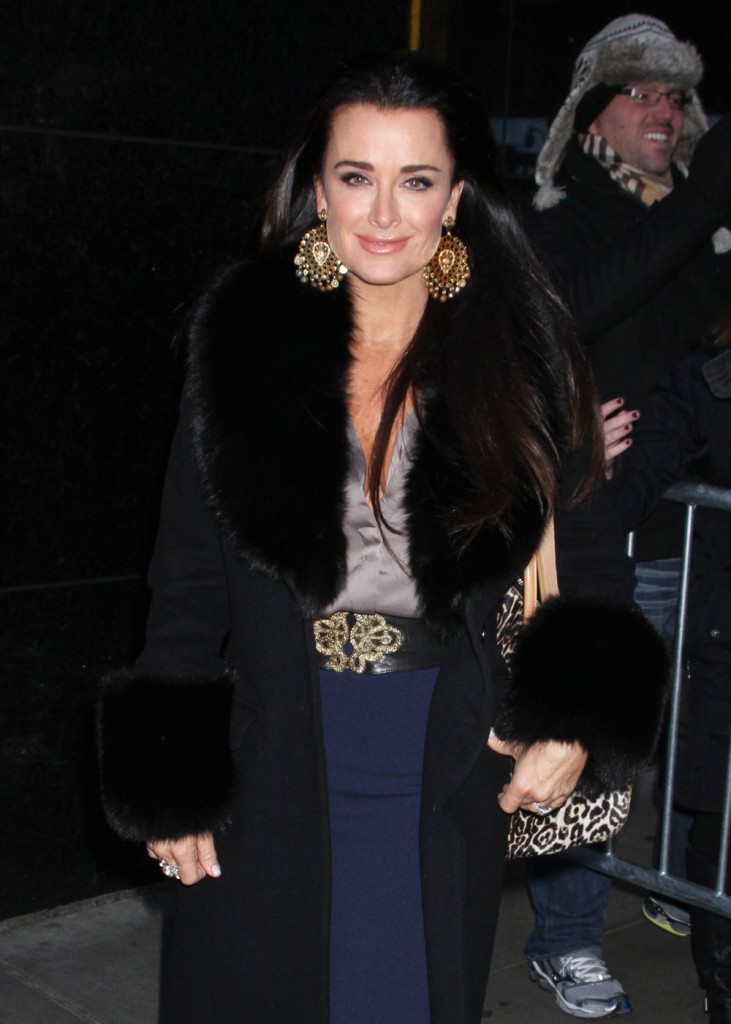 Photos are from 1/2/12. Photo credit: GG/FameFlynet Pictures