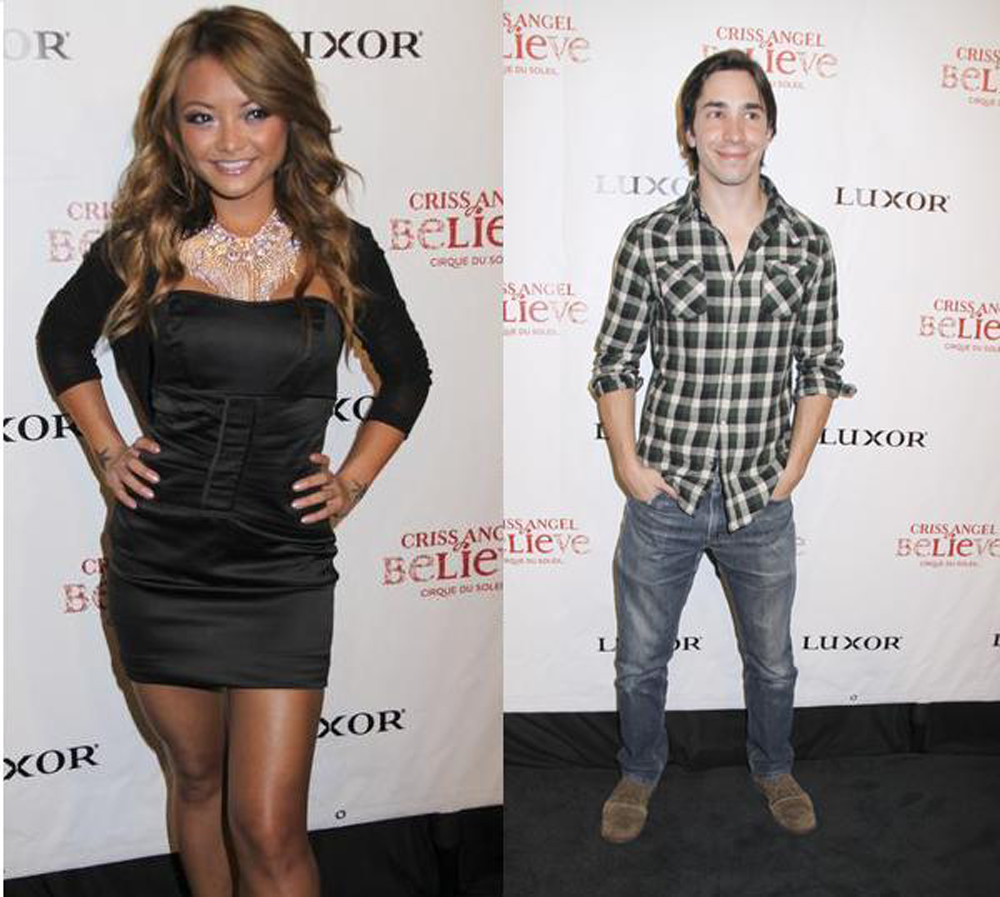 Justin Long's dating life seems to have gone into a tailspin since breaking up with Drew Barrymore a few months ago. He's been spotted with a lot of girls, including on-and-off lady friend Kirsten Dunst. Even though people made a lot of jokes about him dating Dunst, Justin has clearly found someone even more disliked to hook up with: Tila Tequila. Yes, none other than ferret face.
JUSTIN Long is in a downward spiral when it comes to women. After Drew Barrymore broke up with him, Long took up with Kirsten Dunst, maintaining an on-again, off-again relationship for months with the "Marie Antoinette" star. But on Halloween, the "Mac Guy" hooked up with trampy bisexual Tila Tequila in Las Vegas. Spies said the two were spotted at Los Angeles airport and nightclub Noir, where Long "asked her to straddle him while making out. Eww," our spy sniffed. A rep for Long didn't get back to us.
[From Page Six]
This might suck for Kirsten, since supposedly she and Justin were still dating. In Touch claims she's not serious about him so maybe she won't care. Or maybe that's why Justin made out with Tila. Or maybe Kirsten is curled up in a ball gently weeping – though somehow I doubt it.
Kirsten Dunst and Justin Long are still hooking up. The pair, who began dating in August, were spotted on October 24, eating at Katsu-ya in Studio City before heading to Bar Lubitsch. "The made out and weren't hiding that they were together," says an onlooker.

But that doesn't mean it's a committed relationship. "Kirsten is not too serious with Justin," an insider says. "She"s been seeing other guys." One is musician Will Berman, reveals the insider, who adds, "Kirsten is not ready to settle down and she doesn't need a boyfriend."
[From In Touch, Nov. 10th 2008, print ed.]
Justin is really working the young single bachelor angle. He's getting a lot of women to straddle him in public lately. Yes, we get it, you're not really a geek, you just play one on T.V. You are filled with sexual prowess and can get any woman you want – as long as it's not Drew Barrymore. But seriously, there is nothing more shameful than hooking up with Tila Tequila. She is lower than Paris Hilton. If you're going to do something like that, have a little class and take it into the bathroom like a respectable person.
Here's Tila and Justin at the black carpet premiere pf 'Criss Angel Believe' held at the Luxor Hotel & Casino in Las Vegas on Friday. I don't think Justin is actually that small, it seems the photographer just took the photo from a funny angle. Images thanks to PR Photos and WENN.