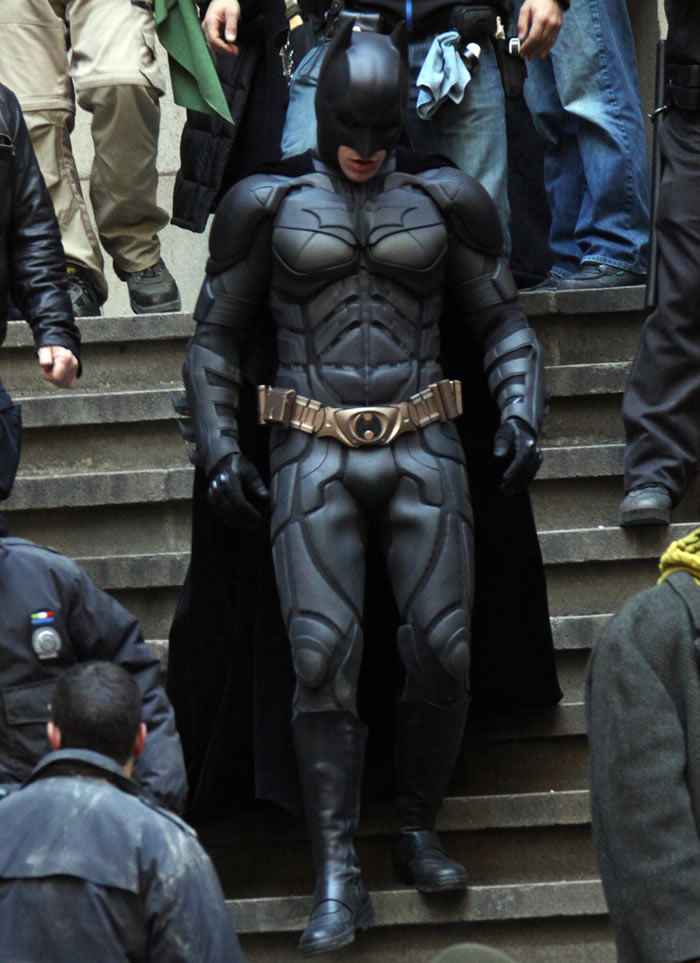 Christian Bale has always seemed like a fairly decent guy to me. Sure, he's got a demonstrated temper and can be a bit of a jagoff to journalists, but he knows when to rein it in and has seemed to calm down over the past few years. Maybe it was because he got paid to beat up Mark Wahlberg and, in the process, got the fighting tendencies out of his system? Speaking of which, I'd love to know how Mark Wahlberg would have truly reacted to this situation described in this story since, you know, he's such a badass to think he could singlehandedly kill all of the terrorists.
Apparently, Bale (perhaps taking a cue from a recent similar action from Ryan Gosling) stepped in and broke up a violent altercation in a shopping center. According to eyewitnesses who spoke to The Enquirer, Bale did so primarily because there were many families and children present, and it only took a few moments before he had the situation under control:
The Dark Knight Rises star Christian Bale is a real-life superhero!

The actor, who plays Batman in the film, saved the day recently when he swooped in to break up a fight between two homeless people in his California neighborhood.

The British-born actor, who lives in the affluent Brentwood section of Los Angeles — where celebrities such as Jim Carrey and Arnold Schwarzenegger also reside — spotted the heated exhange in a busy shopping area over the holiday period. And as soon as the 38-year-old saw fists flying, he raced to the rescue.

"I could not believe what I was seeing," said a nearby store owner, who witnessed the event. "It wasn't clear what the people were arguing about — but it soon became apparent that their conversation was heading toward a violent incident. One of the homeless guys cocked back his fist and was just about to strike the other man — but out of nowhere Christian Bale appeared and got in the middle of them! Christian acted like a referee and told the homeless men to take it elsewhere — and away from all the families that were enjoying the peaceful surroundings."

According to eyewitnesses, as soon as the action star said he was calling the police, both men quickly ran off.

"Christian then got a standing ovation from the passers-by," added the source. "He smiled, saved his hand in the air to thank those clapping, and went into Starbucks to grab a coffee. Christian swooped in like a bat to save the day — just like the caped crusader does in the movies!"
[From Enquirer, print edition, January 30, 2012]
So Christian Bale decided to step in the middle of a street fight and tell the guys to "take it elsewhere," but, uh, exactly where would homeless guys decide to take the matter? I know, it's just an expression, but I have to wonder if either of these dudes realized that the man coming between them was actually Patrick Bateman from American Psycho. Now that would be a much better tale to tell than admitting the guy from The Notebook told you to cool it.
Meanwhile, here are a few photos of Bale on December 8 of last year, when he departed from the Four Seasons in Beverly Hill and delivered "a friendly hug" into the arms of his waiting assistant. Maybe he's just a much friendlier guy than we ever imagined?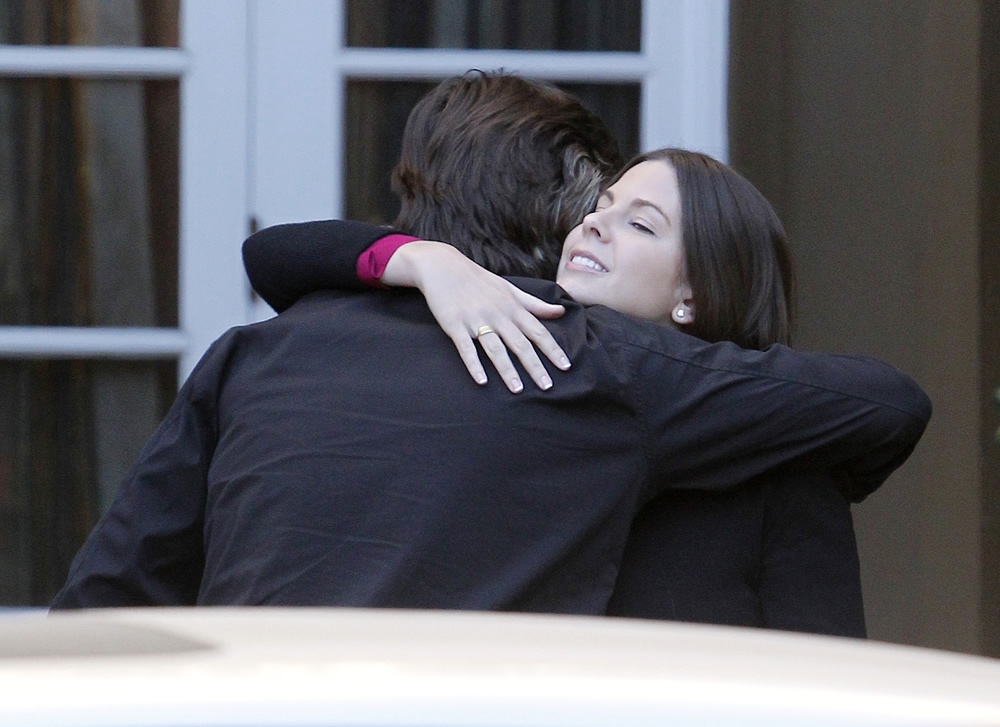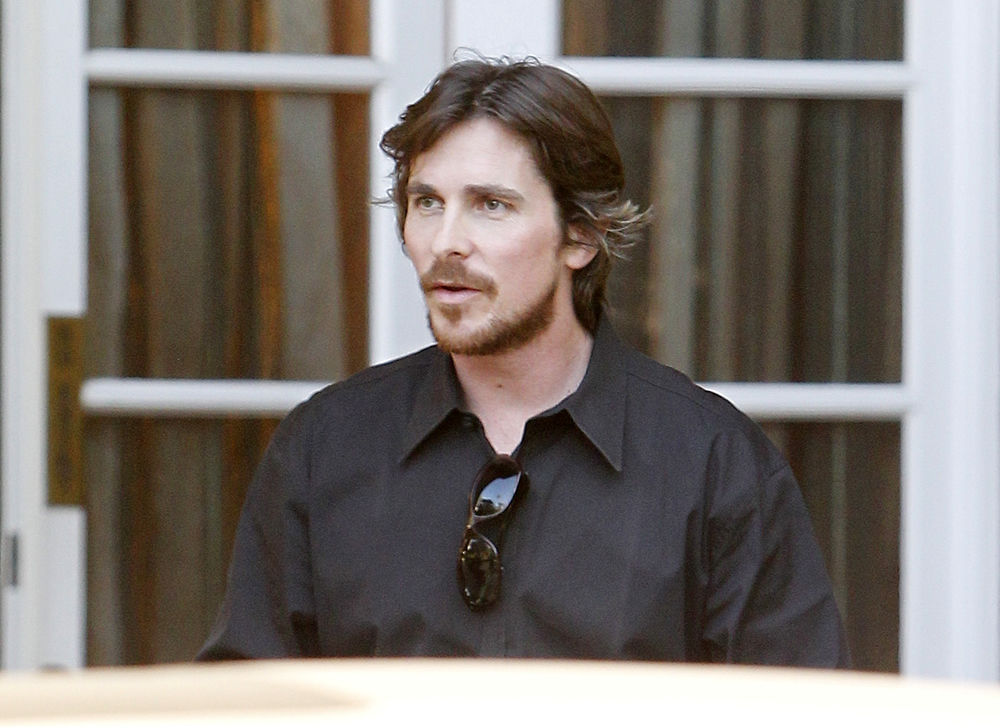 And of course, here is Bale in costume while filming The Dark Knight Rises on Wall Street on 11/6.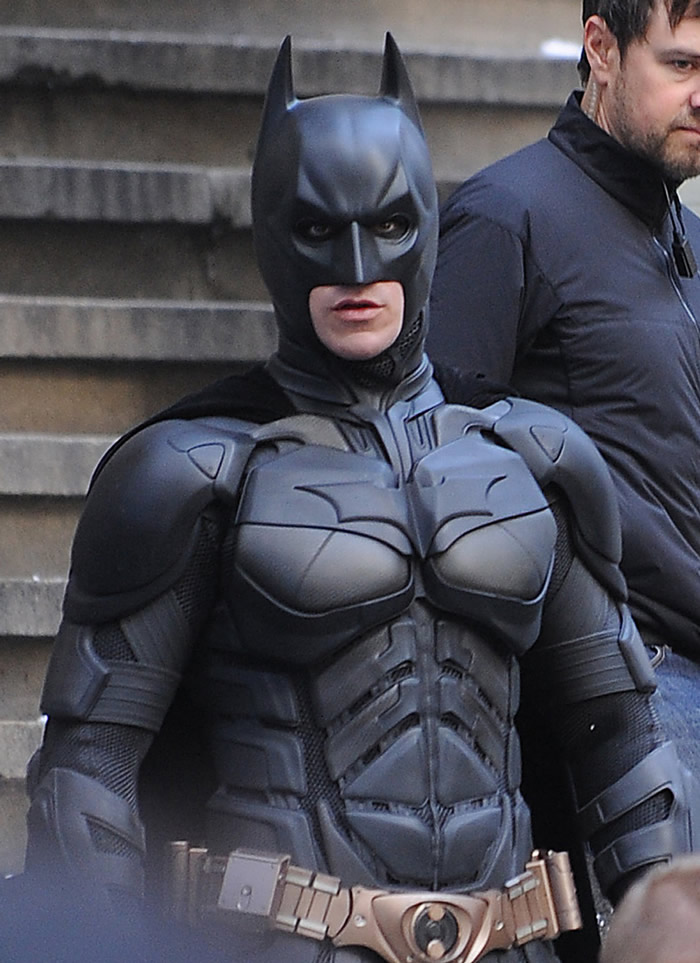 Photos courtesy of Fame/Flynet