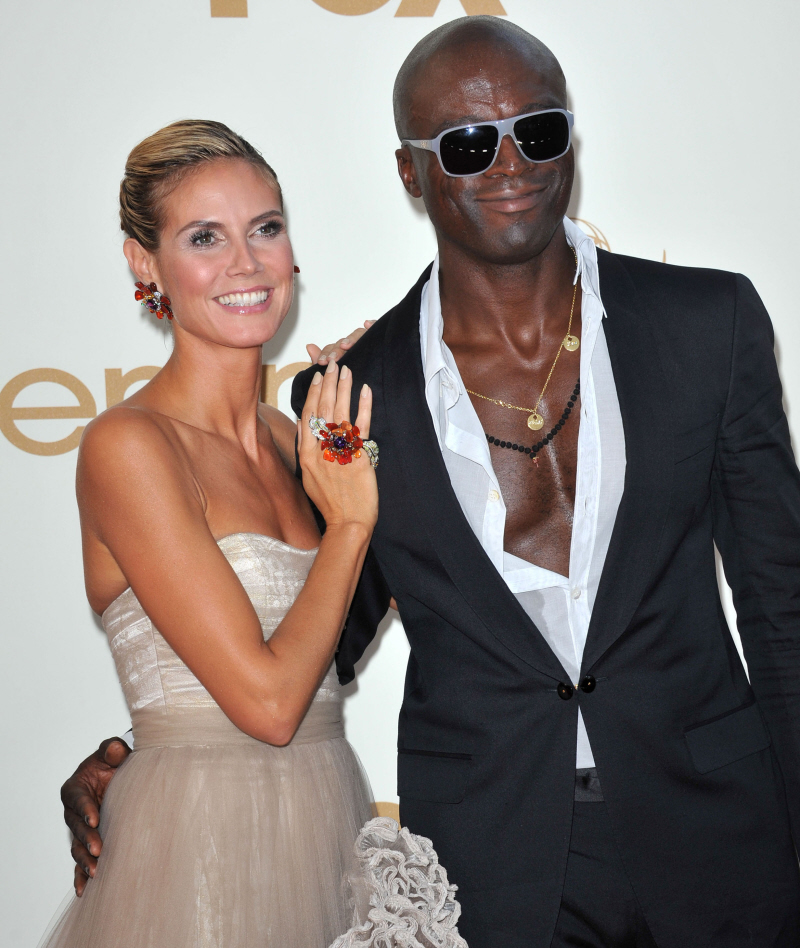 As CB discussed yesterday, Heidi Klum and Seal might be close to divorce, according to a report on TMZ. Since TMZ released the shocking news – that Heidi WILL file for divorce shortly – other media outlets have been playing catch-up, trying to get a statement from either Heidi or Seal. So far, "unnamed sources" are the only ones talking. First up, Us Weekly:
On Saturday, TMZ reported that Heidi Klum and Seal were heading for a divorce, and that Klum would be filing the papers citing "irreconcilable differences" as the reason for their split. But Us Weekly has learned, exclusively, that the supermodel, 38, and her husband of six years, 48, are still together — for now.

"Nothing is finalized or for sure. Seal flew back from the UK yesterday and he and Heidi are in the house together now," friend close to the couple tells Us. "They've had a very rough road lately. They're either madly in love or having crazy fights."

The friend goes on to say that the couple's recent trip to Aspen was full of tension, adding "they fought a lot. It was a very hard trip."

Seal, who's famous for his 1994 single "Kiss from a Rose" is set to spend the next month in Australia, where he will serve as a coach on the Aussie leg of the vocal competition show The Voice, alongside Joel Madden.

"It's been very hard. but there is a lot of love there, and any decision that will be made is a tough one because they have beautiful children who they both love very deeply," the friend says.

The couple has three biological children, Henry, 6, Johan, 5, and Lou, 2, plus Klum's 7-year-old daughter from her previous marriage, Leni, whom Seal adopted in 2009.
[From Us Weekly]
People Magazine's source has the same idea – the source says: "They've been fighting a lot lately, but they have no plans to announce a split right now. They're not divorcing." While Seal has been away from LA, their relationship struggled, but now that he's back at their Brentwood house, the source says "they seem to be doing a lot better… They're both wearing their wedding bands."
So what could have caused all of the rumors and reports of a split? The Mail claims that Heidi wasn't pleased with Seal's recent partying ways:
New claims have emerged that Heidi Klum is divorcing her husband Seal because of his hard partying. Hollywood's golden couple and their management are still yet to comment on yesterday's reports of a split, but a source has said their relationship was in trouble because the singer was 'off the rails'.

The tension is believed to have started when the pair holidayed with their three children, and Heidi's daughter from a previous relationship, in Ibiza in August.

A source told the Sunday Mirror: 'They were always the couple everybody strived to be but lately it all started to change. Seal seems to have been partying a lot more often than usual. When they had their holiday in Ibiza last summer, Seal hit it hard, was out at clubs and with his friends a lot and Heidi was left with their kids trying to enjoy herself. The cracks were appearing and everybody was talking during that trip. He seemed off the rails.'

The insider added: 'They've spent a lot of time apart too on work assignments and that hasn't helped matters. Then when Seal came back to the UK to do promotional work for his next album, he seemed sleepy and not with it on shows like Loose Women, when he was very late for his appearance.'

German-born Heidi, 38, is reportedly expected to file papers at Los Angeles' County Superior Court this week citing irreconcilable differences between the pair who married at Seal's beachfront home in Mexico in 2005. A spokesman for the former Victoria's Secret model yesterday said a statement was being prepared which would be released imminently.

A spokesman for Seal, 48 – real name Seal Henry Samuel – did not return calls but a cryptic message posted on the singer's Twitter page on Friday read: 'The End.' The message was attached to a picture that appeared to show the star's forearm bearing an imprint of a set of wings – a possible reference to Miss Klum's role as a Victoria's Secret winged 'Angel' model.

The split paves the way for a multi-million-pound divorce battle between the golden couple. They have three children together – Henry, six, Johan, five, and Lou, two – as well as Miss Klum's daughter Leni, seven, from a previous relationship with Italian businessman Flavio Briatore. Heidi, one of the world's most in-demand models, is reported to have earned more than £12 million in the past year alone.

Seal, who is best known for his Kiss From A Rose single, has sold more than 20 million albums and won three Brit Awards and three Grammys in a career spanning 20 years. The couple own a home in Mexico and an £8.4 million mansion in Los Angeles.
[From The Mail]
Here's what I think happened/is happening: I think Heidi, for whatever reason, had enough and was speaking to lawyers and she gave Seal an ultimatum. The ultimatum was probably something like, "Stop partying so much, stop traveling so much, spend more time with the family." And it looks like Seal is trying to meet her ultimatum, I think. Out of all celebrity couples who claim that they're "working things out," I actually believe it with Seal and Heidi. I think she was probably trying to give him a wake up call, and it might have worked. I do hope they work out, if just for the sake of all of those babies.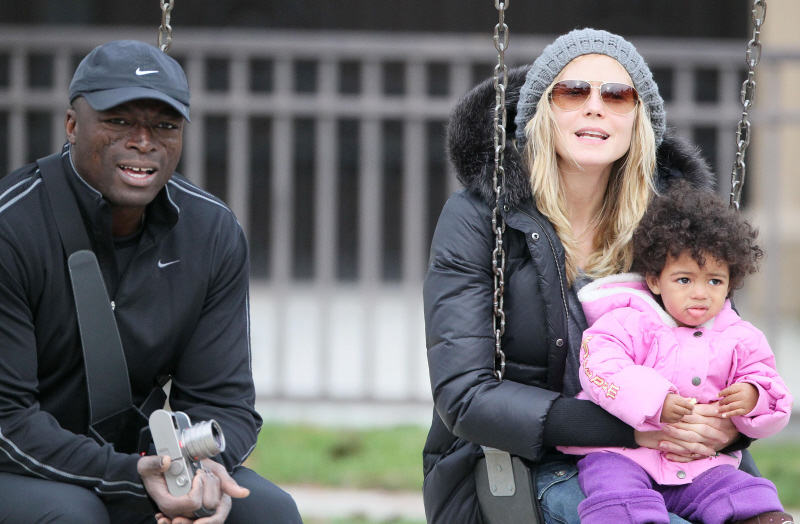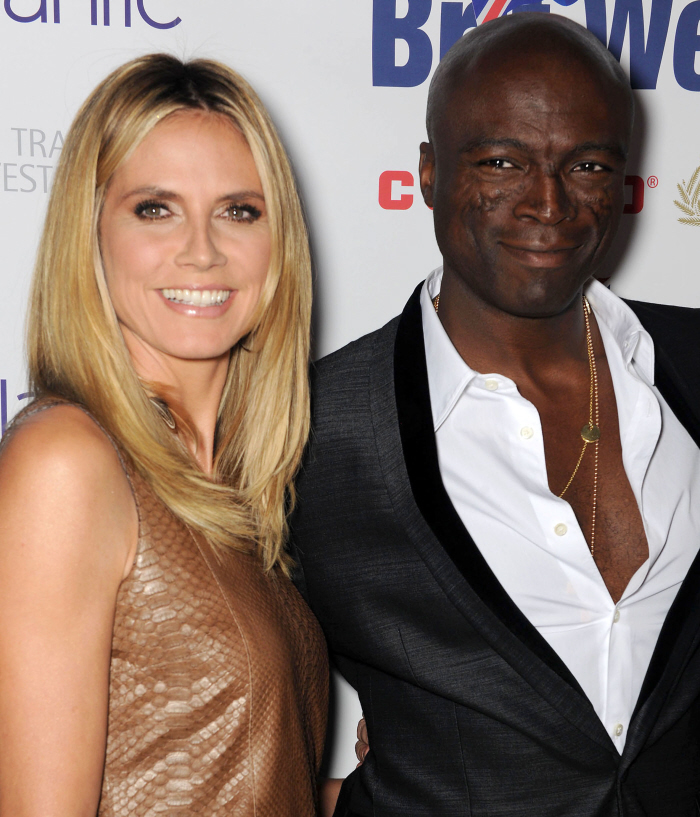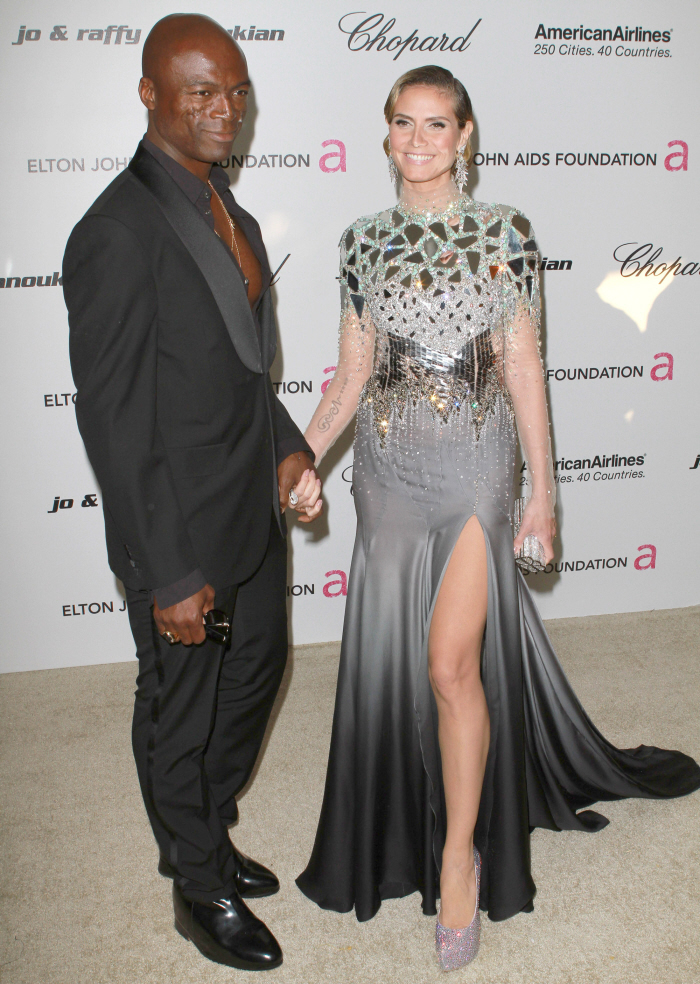 Photos courtesy of WENN.